Don't cha just LOVE when the peaches are on? (FYI that's southern slang for "it's peach season")
Well, actually, I have no idea if that's real southern slang or not. All I know is my Grandma says it all the time and she's from the south, so it's prolly legit.
Canning fresh, ripe peaches couldn't be easier. All you basically need are:
peaches
1/2 c. of lemon juice
mason jars (I used pint-sized jars, but you can use whatever size you like)
one big 'ol pot
this nifty tool for lifting your cans out of your big 'ol pot without burning your hands.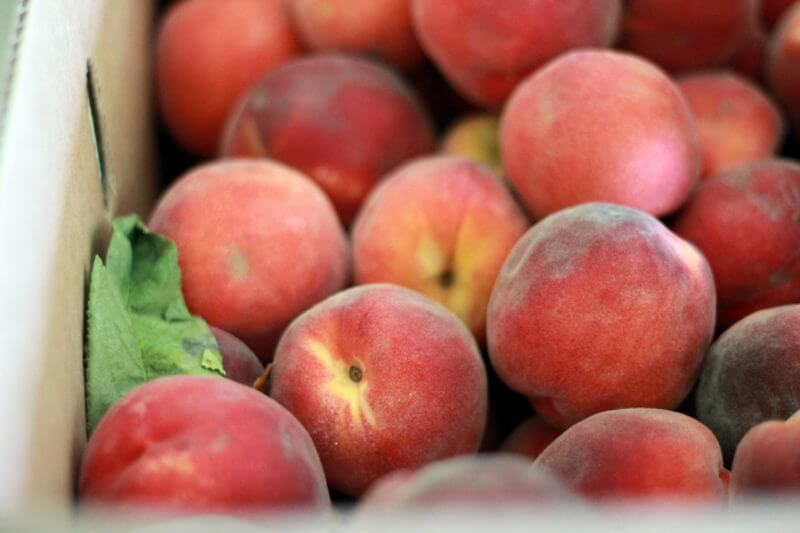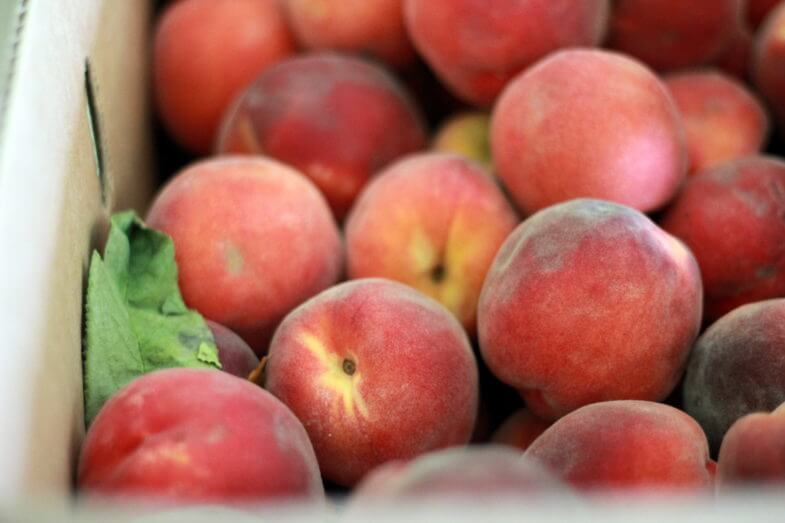 Millions of peaches. Peaches for me. Okay, and for my family, I guess.
The easiest way to peel peaches are to first blanch them for about 2 minutes in boiling water, then dunk them right into cold water. Those peach skins'll peel right off! It's a peach miracle! After you peel the peaches, you can slice them into halves, quarters, or slices. I'll leave that decision up to you and yours. Just let those peaches bob in that cool water until you're ready to place them in the cans. Resist the urge to dunk your head in there and bob for peaches.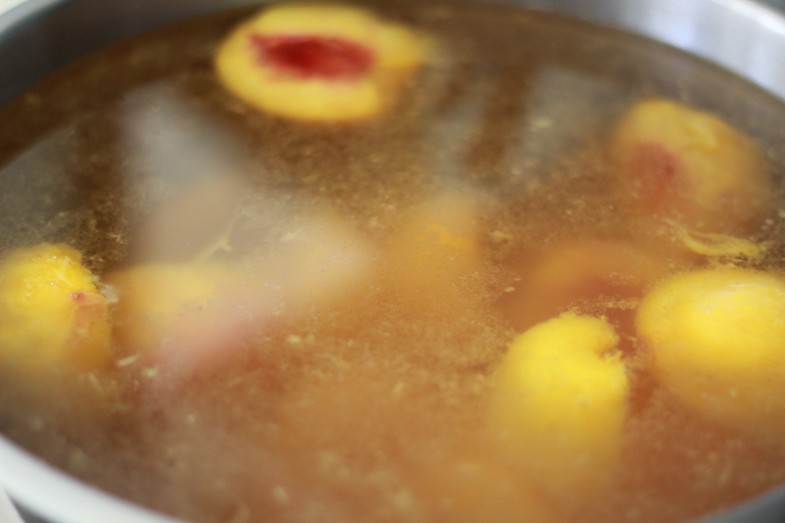 Sterilize your mason jars real good. You can do this either in your dishwasher on the hot/sterilize setting, or just bring a big ol' pot of water to boil and sterilize them for about 5 min. You'l also want to sterilize your lids and rings as well.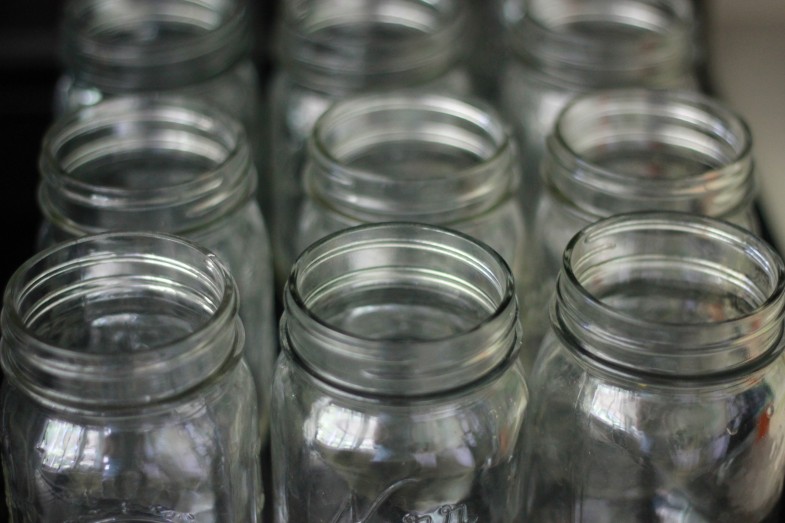 Once your jars are sterilized and your peaches are skinned and sliced, simply add them to the jars. When using ripe peaches (or any fruit for that matter), you really don't need additional sweetener at all. And even if you do, you can always add that later when you open them up.
Instead of adding a nasty syrup like in most canning recipes, you're going to add boiled water with a bit of lemon juice to help the peaches retain their color. For 12 pint jars of peaches, you'll need to prepare 1 gallon of boiled water + 1/2 c. of lemon juice. Fill your jars with as many peaches as you can fit, then fill almost to the top with your lemon water. Leave about a 1/2 inch of head space, throw on those lids and rings, then process the canned peaches for 30 minutes. When I say 'process', I mean you boil them in a big ol' pot of  water and make sure the water level is about 2 inches above the cans of peaches.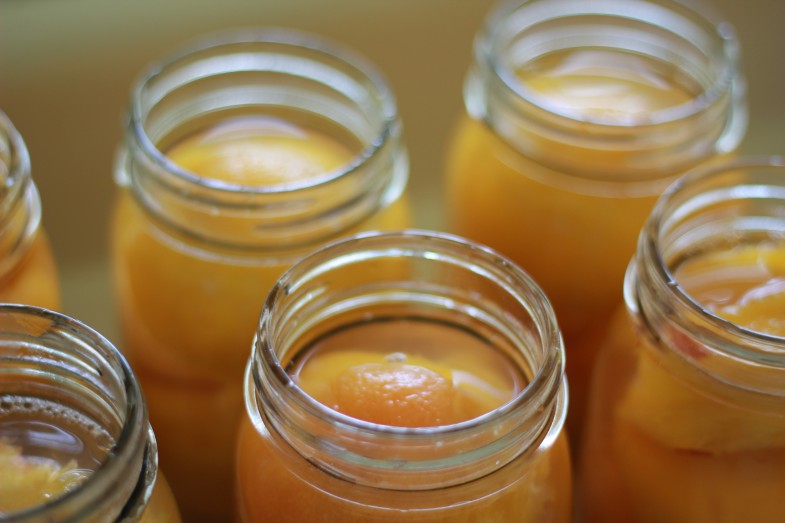 After 30 minutes, remove your beautiful canned peaches from the boiling water with your nifty tool and place somewhere undisturbed to cool for about 30 minutes. This is the awesome part where you'll hear little "pings", meaning your peaches have sealed successfully. You can make sure they've sealed by pressing the top. They shouldn't bounce back, but instead should have a sort of vacuum effect and be sucked down tight.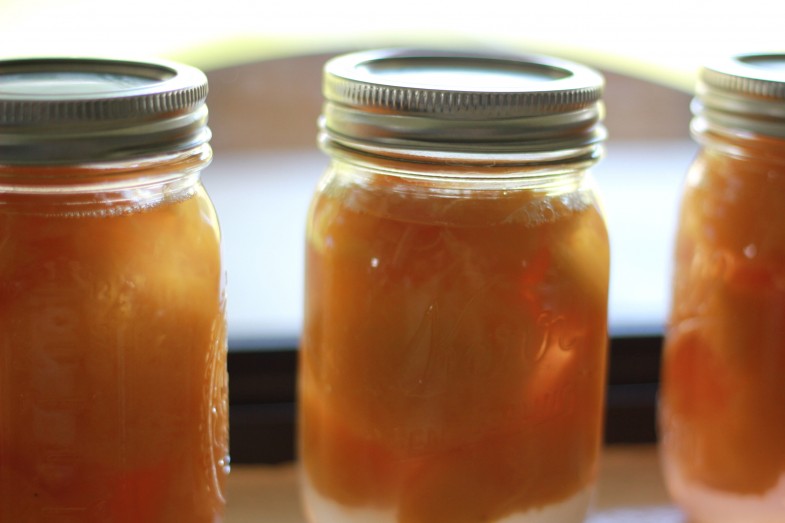 Now you have delicious peaches for your eating pleasure year-round! Deee-lish!