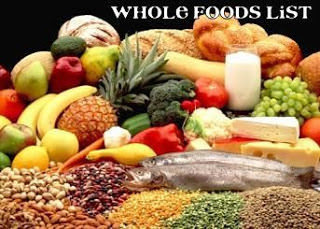 I get asked a lot about what it is we actually eat. Well, here you have it! We really try to stick to these on the list and it has really helped me maintain my weight loss and I think prevented us from getting any colds or flus or stomach bugs this school year. Health, in my opinion is more important than being skinny (but it doesn't hurt am I right or am I right?) What an awesome opportunity we have to be able to accomplish BOTH at the same time!
Also, it goes along with THIS VERY IMPORTANT PRINCIPLE too. It takes a while to transition over so my best advice would be to
take. it. slow.
This is a lifestyle change so don't set yourself up for failure by trying to switch the whole family over in one grocery shopping trip. Just start trying some recipes, and start replacing the bad for some good whole foods! YOU CAN DO IT!
(p.s. We are not perfect in fact I still eat cow's cheese sometimes*gasp* and I let the kids eat organic hot dogs too:)
Wheat or Spelt
Oats
Quinoa (Steamed or Sprouted)
Millet (Steamed or Sprouted)
Buckwheat (Steamed or Sprouted)
Amaranth (Steamed or Sprouted)
Whole wheat pasta
Quinoa pasta
Steamed legumes (lentils, garbanzo beans, etc.)
Peas
Brown rice
Brown rice products (pasta, rice cakes, etc.)
Non-GMO corn products
Beans
Cooked whole potatoes
Sweet potatoes
Yams, squashes, pumpkins
Whole grain bread
Egg yolks
Egg whites
Chicken
Fish
Turkey
Goat's cheese (preferably raw)
Goat's milk (preferably raw)
Goat's sour cream (preferably raw)
Goat's cottage cheese (preferably raw)
Steamed vegetables
Fruit
Nuts
Seeds
Dried fruit
Vegetables
Avocados
Olives
Flax crackers
Natural nut and seed oils
Olive oil
Grapeseed oil
Coconut oil
Apple cider vinegar
Seaweeds
Sprouts
Legumes
Fermented foods
Preserved vegetables in oil
Bee products (honey, pollen, royal jelly, etc.)
Dehydrated foods
Superfoods (goji berries, maca, acai, etc.)
Algaes
Raw cacao
Salt (e.g. sea salt, Himalayan salt)
Whole spices and herbs
UPDATE: Read why a TRADITIONAL DIET is better than a WHOLE FOODS diet.