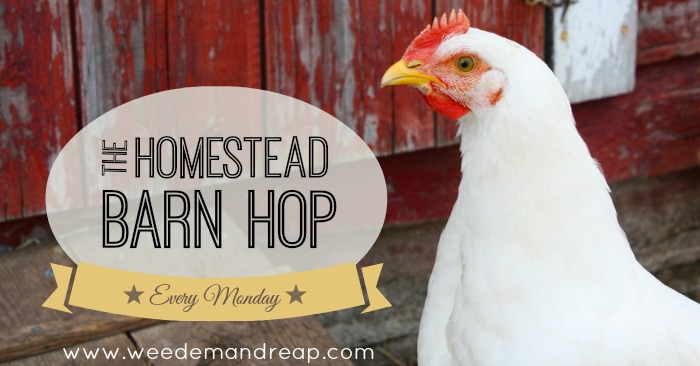 This week on the farm…
I have been busy, busy, busy! Homeschooling has seemed to just run right into the summer, and we couldn't love it more! Somebody forgot to lock up the chickens at night and something killed one of our chickens, but it's all good. We got lucky that the chicken who was killed was the old non-layer who were were going to turn into soup soon anyway. Whatever predator got that chicken just saved me some time, so thanks for that Mr. Predator!
Welcome to the Homestead Barn Hop!
Every week I will give you the opportunity to share your blog posts! Did you share any homesteading related posts on your blog this week? If so, we'd love to have you link up below! Even if you don't have a blog, we always welcome your comments!
Have fun, get to know some new homesteading friends, and be sure to join us every Monday! (If you are reading this post via email, click through to see all of this week's links!)
This hop is hosted by:
(Please read the rules before proceeding.)
Some Simple Guidelines:
Please remember that the Homestead Barn Hop is meant to be a place to share homesteading related encouragement and inspiring ideas specifically related to homesteading. In an effort to keep our weekly round-up clutter free, links which are not specifically homestead related, and any promotions such as giveaways, contests, carnivals, etc, will be deleted in order to maintain the integrity of the Barn Hop.

Please remember this is a family-friendly link up. Any pictures or posts linked to the hop which aren't appropriate for our children to view or read will also be deleted immediately. We're pretty conservative, so we ask that you use good judgment and err on the side of caution.

Make sure that you link to your Barn Hop post, not your blog's main page, so your guests won't have any trouble finding your great tips.

Please link back to the Homestead Barn Hop site in the post that you share. Feel free to grab the banner at the top of this post to link back to us with.

5. Occasionally there is a problem posting due to glitches in the internet or the Linky Tools. If you have difficulties posting and it does not show up immediately, please wait a little while and try re-posting (this helps avoid double posting). We're sorry for any inconvenience this may cause, be we do not have absolute control over the internet. Thank you for your patience and understanding!