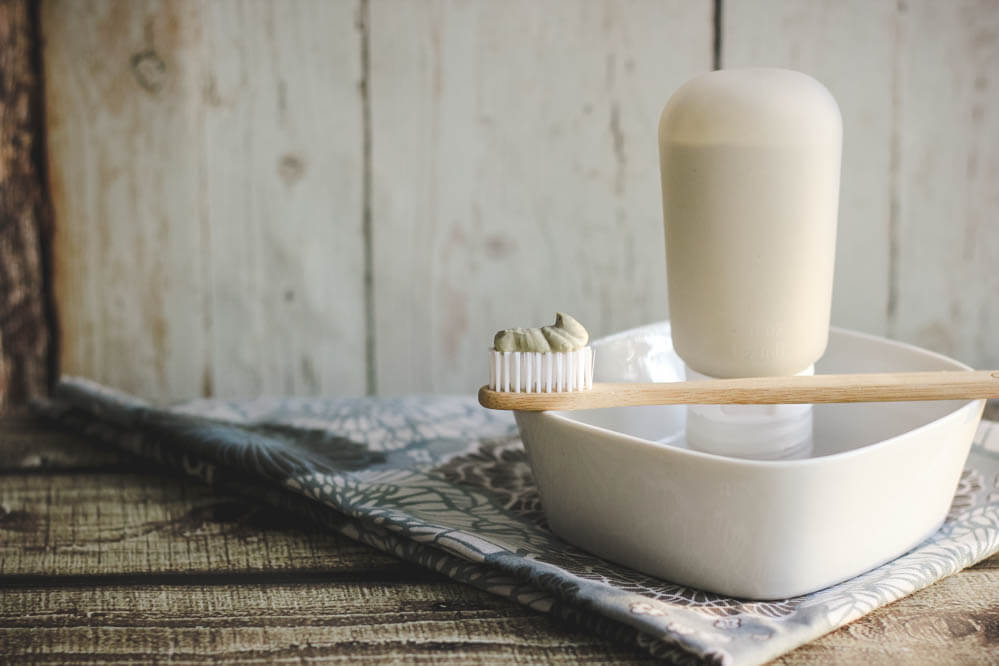 Looking for a homemade toothpaste that really works? Is your goal to have white, strong and cavity-free teeth?
I was hesitant to try a homemade toothpaste recipe for a long time, because I was more than happy to purchase a "natural" brand at my local health food store. Being a real foodie, blogger, farmer and homeschooler, I have to pick and choose which items I make homemade and which I buy from the store. Sometimes, I just like a little luxury like store bought toothpaste. The problem is that even natural brands contain glycerin, which can inhibit remineralization. That's important!
What is remineralization and is it possible?
If you know about my history of research for a healthy diet, you'll know that I stumbled across the work of Weston A. Price a few years ago. To make a long story short, Dr. Price traveled the world in the 1930s in search of traditional societies that were free of degenerative illness and cavities.
Guess what? He found them. He also found a surprising link between the societies that were thriving in health and those that weren't. It was fat soluble vitamins.
Yup, vitamins that are soluble in fat. That includes A, D, E, and especially Vitamin K2. Each of the 14 cultures he studied, which were scattered across the globe and had never met or even heard of each other, all considered fats sacred in their diet. They took care to eat animal fats from seafood, organ meats, whole meat that includes the fat and skin, raw milk, and cheese.
Dr. Price later discovered that it was these fat-soluble vitamins to be the key to assimilating our minerals. Vitamin K2 in particular plays an important role in telling our bodies where to correctly place minerals (in our teeth and bones) and where to NOT place them (places like arteries and joints).
Dr. Price went on to found the research department of the National Dental Association. If you haven't already, you should check out Dr. Price's book Nutrition and Physical Degeneration.

Why don't modern dentists believe that remineralization is possible?
There are a host of opinions on why today's dentists don't believe that remineralization is possible, but my opinion is because they really haven't seen it happen. It's rare for our society to focus on the traditional fats found in lard, tallow, organ meats, whole meat, bacon, seafood and raw milk. Even though butter was recently declared healthy by Time magazine after 50 years of butter slander, American can barely dare to drink whole milk without worrying about packing on the pounds.
Meanwhile, the rest of us all maintain good health and have strong, mineral-rich teeth.
Using a homemade toothpaste can help remineralize, whiten, and strengthen your teeth.
Like I said before, even if you are purchasing a natural toothpaste you should check out the label. It's probably got glycerin. Glycerin keeps the toothpaste smooth and holds it together, but it also creates a strong coating on the teeth that can make remineralization difficult. In fact, according to Dr. Ramiel Nagel of Cure Tooth Decay, it can take up to 30 days of not using glycerin for it to completely wash away from our tooth enamel.
How long does it take to work? Well, that depends on your diet (and how many traditional fats you embrace), your stress level, sleep, metabolism, and general health. Do you have to eat perfect to remineralize? In my opinion, no. But I think it's important to make big changes if you need some serious remineralization.
Want strong teeth? Just look at nature.
Did you know that dogs who are fed a diet of raw meat have perfect teeth without decay? Did you know that when we feed our pets (who are designed to eat as carnivores) grains, they develop tooth decay? It's the same with humans. We need OUR indigenous diet. We are omnivores, so we need a variety of nutrient-dense food from plants and animals.
Nature has given us the map for perfect tooth enamel, impervious to tooth decay. We can maintain a high immunity to tooth decay provided we obey Nature's laws, eat a proper diet rich in calcium, phosphorous, the fat soluble vitamins, and avoid overly-processed nutrient-devoid foods. (source)
Homemade Toothpaste Recipe – Remineralizing, Whitening, and Cavity-preventing
Before we get to the recipe, let's go over each of the ingredients and why they're so important:
Filtered water – The last thing you want in your toothpaste is fluoride, chlorine and other "who knows what" additives. Shoot for filtered water in this recipe.
Bentonite clay – Bentonite clay has the ability to absorb toxins, heavy metals, and impurities.
Calcium/Magnesium Powder – Calcium and magnesium help provide a good source of minerals and can whiten as well.
Coconut oil – Coconut oil is a natural anti-bacterial and anti-fungal material, and it also helps bind the ingredients together.
Baking soda – Baking soda helps whiten the teeth by removing stains. It also contains minerals and is alkaline.
Trace minerals – Adding a boost of bio-available trace minerals will provide an array of extra minerals to your toothpaste.
Essential oils – The essential oils I use in this recipe are peppermint oil and the Protective blend, which

is a blend of the essential oils wild orange, clove, cinnamon, eucalyptus, and rosemary. It is a powerhouse blend formulated to support healthy immune function in the mouth.

Peppermint oil is refreshing and cooling to the taste. It also supports circulation to the gums and teeth.
Stevia – This is totally optional, but a small amount of stevia can add a touch of sweetness to your toothpaste. Be sure to look for one WITHOUT added glycerin.
**optional** These simple electric toothbrushes work perfectly for us.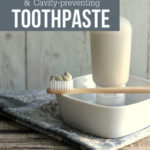 Homemade Toothpaste Recipe | Remineralizing
A refreshing homemade toothpaste recipe that the entire family will love! Safe for kids to use!
Print
Want to make more simple, homemade body products like chapstick, soap, body wash, body butters, & more? Take my free class below.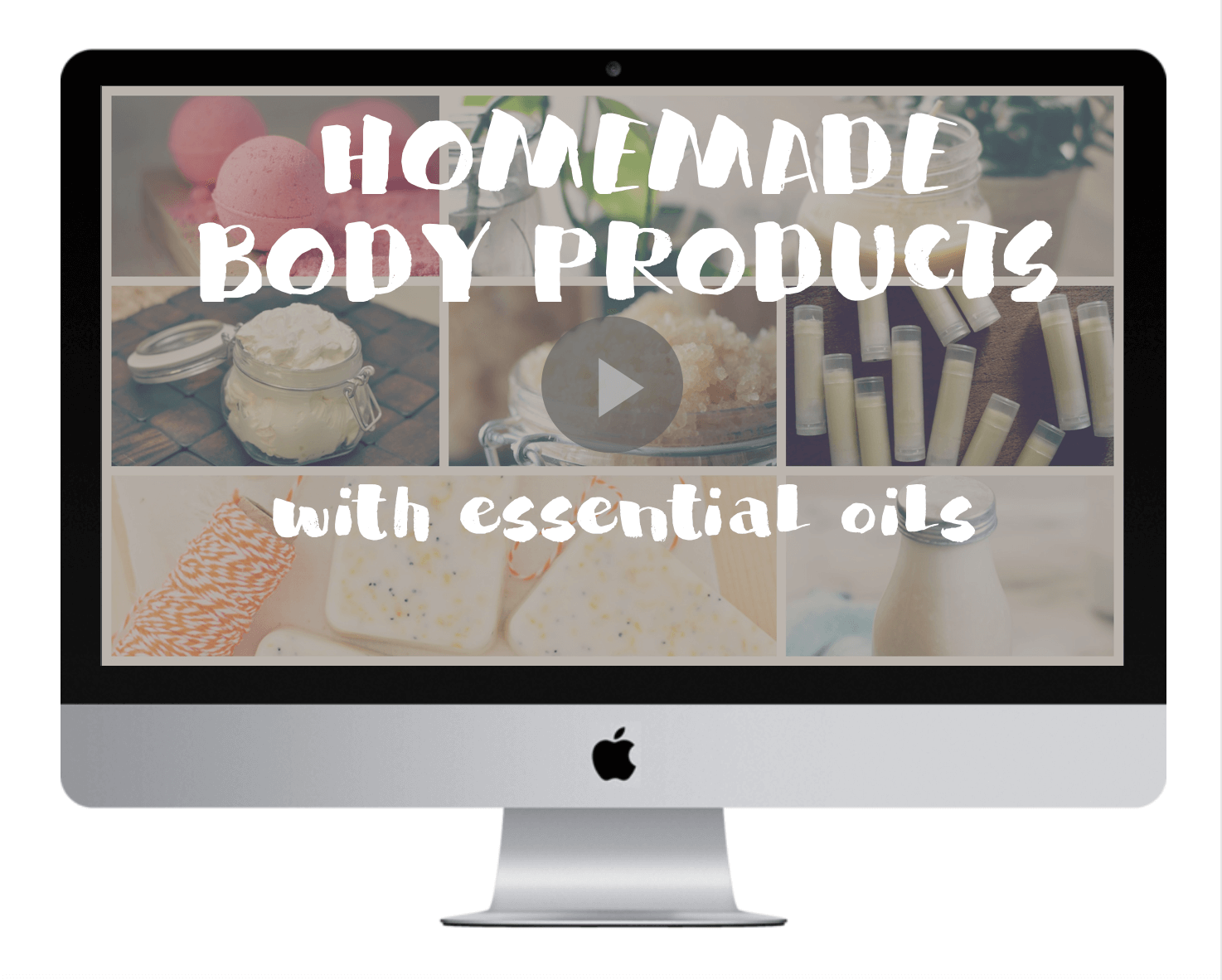 WATCH MY FREE CLASS ON HOMEMADE BODY PRODUCTS