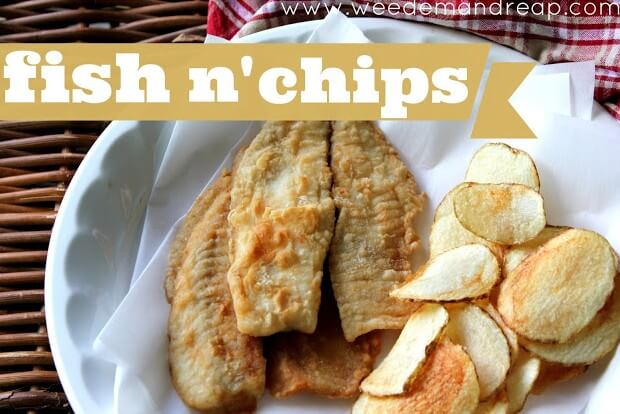 Mmmmm….I love me some fish n'chips. And while I know that the "chips" in fish n' chips really means french fries, I decided to make some real chips to go along with my fish.
You're probably all like, "Whoa DaNelle, who do you think you are?"
What can I say? I am a rebellious girl.
Today's recipe also happens to be gluten-free & grain-free. Not that I typically eat gluten or grain-free or anything, but since it was so incredibly easy for me to do, I decided to go for it. You're welcome, grain-free friends!
It's probably best to use a firm whitefish to fry up in this recipe — tilapia, pollock or cod will work fine. As for your chips, whether you're making real chips or french fries, russet potatoes work best. The high starch makes 'em nice and crispy….
Fish n' Chips
Serves 6

Chips
8 russet potatoes
2 quart water + 2 TBS. lemon juice
2 c. coconut oil
salt + any kind of additional seasoning you like – onion, chili, garlic powder, etc.
Directions:
1. Wash & slice potatoes with a slicer (like this one).
2. Soak potato slices in lemon water for 10 minutes.
3. Remove potatoes & pat dry with a dish towel.
4. Heat coconut oil in pan until it reaches about 320 degrees.
5. Fry potato chips in batches about 5 min until lightly brown.
6. Dry on paper or cloth towels and season when hot.
Fish
2 lbs. fish filets
Coconut oil from cooking chips or 2 c. coconut oil if you opted out of the potato chips
1 c. arrowroot powder
1/2 tsp. salt
1/2 tsp. paprika
1/4 tsp. turmeric
Directions:
1. Pat fish dry.
2. In a shallow bowl, mix arrowroot powder with salt, paprika & turmeric.
3. Heat coconut oil in pan until it reaches about 320 degrees.
4. Dip fish in seasoned mixture, then fry in your pan about 3-4 min on each side or until golden brown.
Yum! This is making my mouth water just writing about it! Are you a rebel enough to make fish n' chips with real chips?