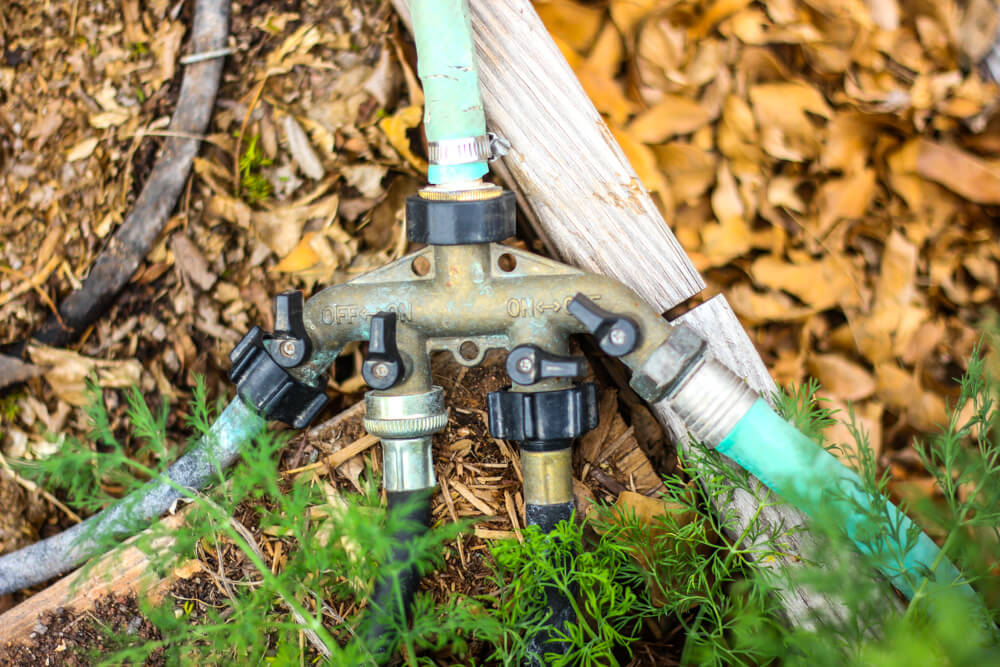 Sure, we all want gorgeous watering systems with automatic timers and moisture sensors.
But, let's face it. You need to water your garden NOW.
And fully installed systems aren't necessarily in your budget.
So, today good ol' DaNelle's gonna help you out.
I'm going to show you how to create a simple and effective watering system with just a few materials. This does a great job of watering your garden, and giving you the flexibility as you get more comfortable with gardening.
If there's anything to know about gardening, it's that your needs will change over time, so I think a movable watering system is the best for beginners. As you become better at gardening, you'll be more certain of the exact system you want to install, and then you can spend all your monies on an elaborate watering system that will be Instagram-worthy.
Part 1) Hose bib to hose (and everything in between)
This one's pretty simple, but you have a few options to adjust it depending on your needs. We started with our hose bib and first attached a hose splitter so we could still use that hose for other purposes without having to detach the system.
Then, we attached a manual timer. BEST $10 INVESTMENT EVER! I cannot tell you how many times I turned on my garden water, only to run out 3 hours later cursing and realizing that once again, I had flooded everything.
Next comes the hose, or if you're health conscious like me, a water filter. The reason we added a water filter was to filter out any harmful contaminants as well as chlorine. A garden is a living, thriving mini-ecosystem of microbes, and they don't take too kindly to chlorinated water. So, we use the filter. And I swear, my veggies are brighter, richer, and healthier for doing so. Here's where we bought our water filter. It removes chlorine, chloramines, VOCs and pesticides/herbicides.
After that, we attached our main hose.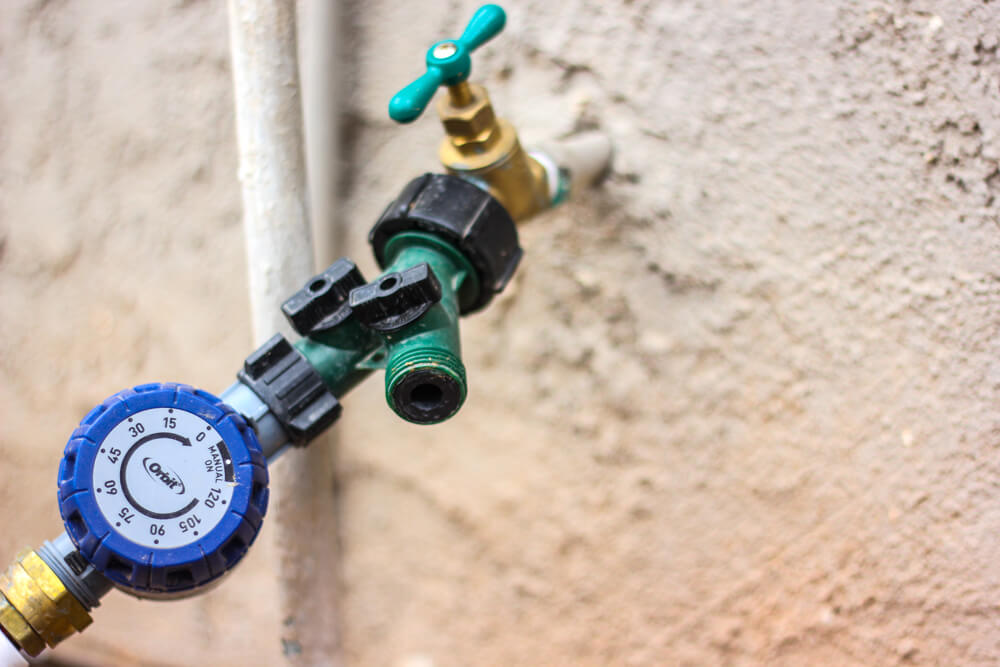 Part 2) Splitting the water flow into sections
This part is also really simple. We attached a four way hose splitter so we could control the flow into different areas. We knew from past experience that sometimes one area will get sopping wet, while the other will be dry. You can adjust each spigot to your desired water level. You definitely need a four way hose splitter!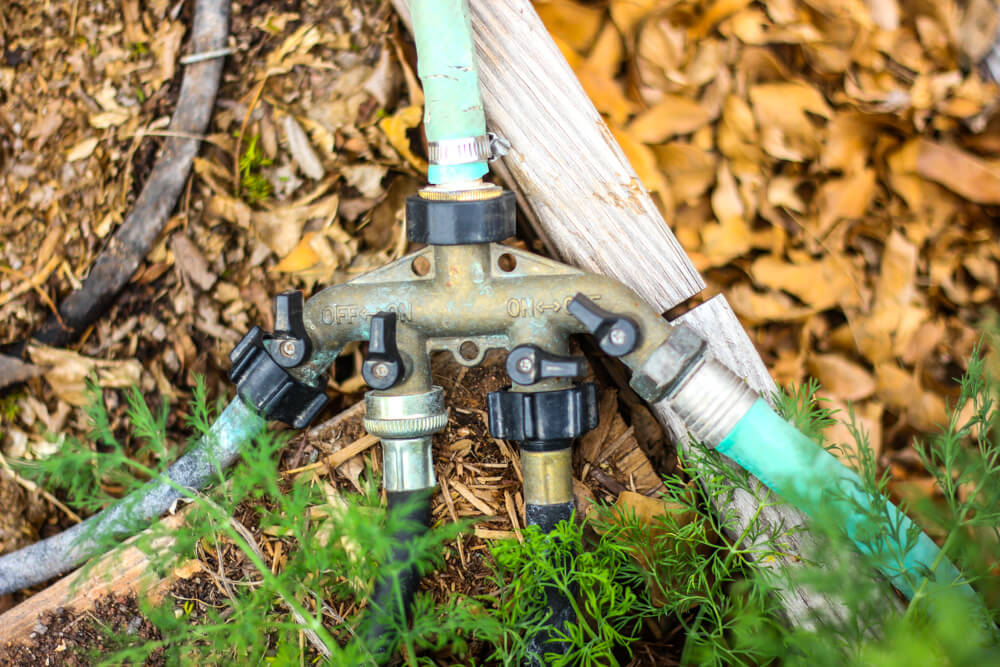 Part 3) Use soaker hoses to water your plants.
The best part about soaker hoses is that they attach perfectly to your four way splitter because they have hose attachments on their ends. They also do a great job of slowly releasing water. We like to lay down the soaker hoses, and use these loop stakes to hold them down.
50 foot soaker hoses seem to work well in an 8×3 raise garden bed. You'll loop them up and down covering as much as the area as possible. If you need to connect something from the four way hose splitter to another area, but you don't want water to leak in that distance, you can purchase these short hose connectors, also called leader hoses.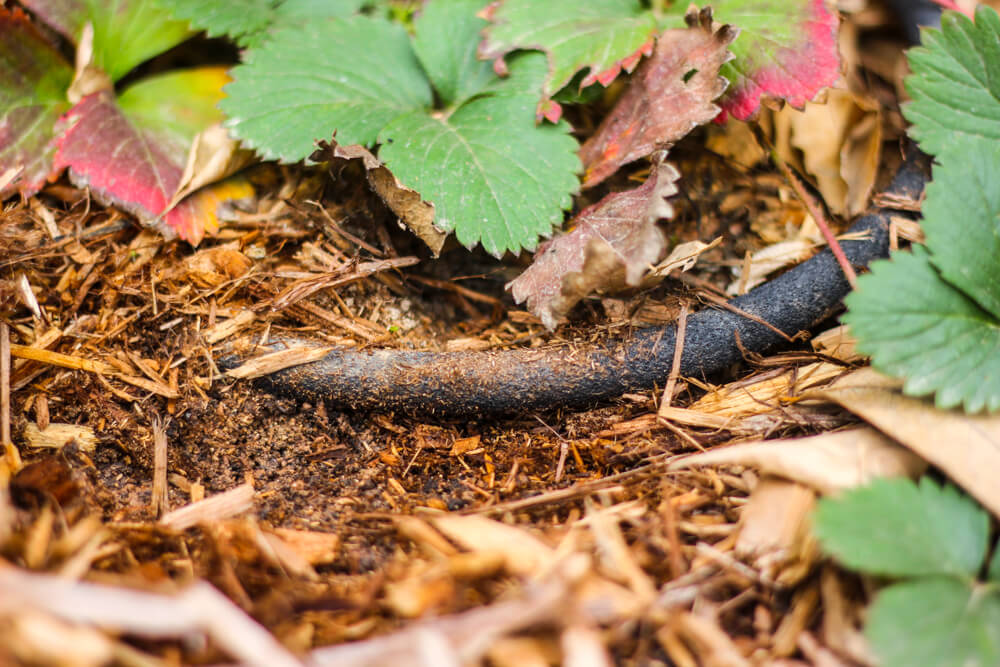 That's it! Pretty easy, eh? Watering your garden can be really simple!
All I do is walk out once a day and turn my manual timer to 15 minutes. Sometimes I'll water more or less depending on the Arizona moisture or if I've just planted seeds (seeds need more water in the beginning). All in all, this simple watering system has worked wonders for us! Enjoy your gardening adventures.