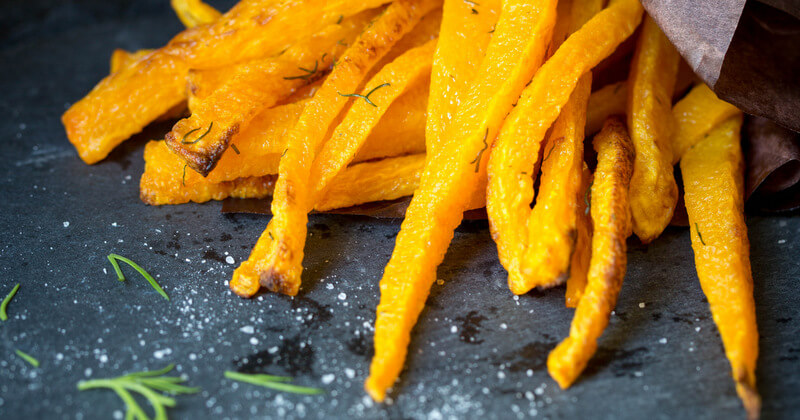 Dill Butternut Squash Fries
The title alone is making my mouth water! Trust me, you're gonna love this recipe!
My friend George Bryant over at Civilized Caveman Cooking was gracious enough to share this amazing recipe from his brand new cookbook. WOOT WOOT!
Now, ya'll know that I don't eat a Paleo diet, but I do eat a real food diet, which is pretty close. I have a lot of Paleo-eatin' friends, and they share my love for meat, eggs, seafood, fruit, veggies, nuts, & healthy fats like avocado, ghee, lard, tallow, & coconut oil. Even if they don't agree with me when it comes to grains or dairy, they are still my besties.
And honestly, my Paleo peeps are some of the best cooks around! Guaranteed!
Meet George. He likes food.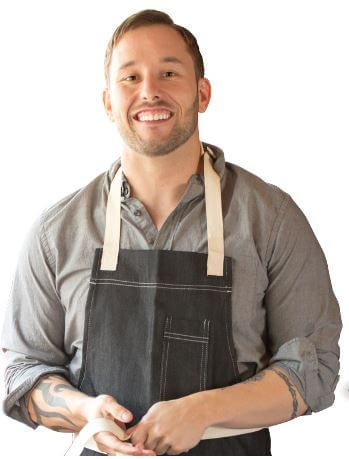 George Bryant is the creative genius behind the wildly popular Paleo food blog "Civilized Caveman Cooking Creations." After spending the first 20-something years of his life in a constant battle with his weight, and then nearly losing both his legs while on deployment as a US Marine, George took matters into his own hands and began his own Paleo-journey. What started as a simple place to post recipes for friends has since turned into an award-winning food blog. After being in the Marines for 12 years, George has since been medically separated and is enjoying working fulltime creating delicious Paleo recipes, while hoping to change as many lives for the better by making REAL food recipes simple and tasty.
Guess what? George just wrote a BRAND NEW Cookbook!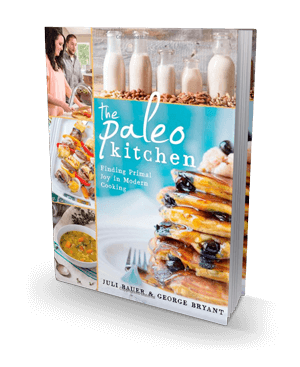 George teamed up with fellow Paleo-lover, Juli Bauer of PaleOMG to create an awesome book called, The Paleo Kitchen.
What can you expect to see in The Paleo Kitchen?
The book features 100 brand new recipes consisting of appetizers, entrées, side dishes, and decadent desserts.
Recipes include:
·         Sage and Shallot Delicata Squash Soup
·         Citrus Mint Sugar Salad
·         Blackberry Lavender Muffins
·         Banana Chip French Toast
·         Creamy Seafood Risotto
·         Pepper Crusted Prime Rib
·         Asian Marinated Bacon-wrapped Asparagus
·         Spinach and Artichoke Stuffed Mushrooms
·         Blueberry Cheesecake
·         Lime Pound Cake with Coconut Lime Frosting
 Watch this HILARIOUS video of George & Juli in the kitchen.
Preorder their book and save $$
By preordering George & Juli's book, The Paleo Kitchen, you'll save 38% off the listing price. Pretty shnazzy, eh?
Now, onto the recipe!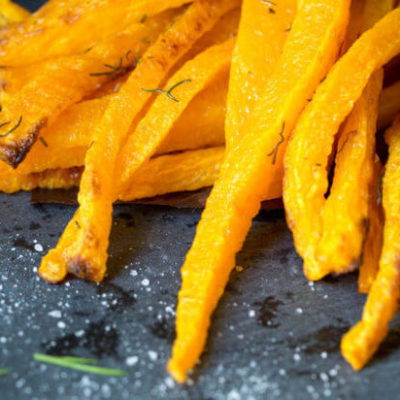 Dill Butternut Squash Fries
Print
Ingredients
1

large butternut squash

(about 2 pounds/860 grams)

1

tablespoon

coconut oil

, melted

3

tablespoons

roughly chopped fresh dill

salt

, to taste
Instructions
Preheat the oven to 400°F (205°C). Line a rimmed baking sheet with parchment paper.

Cut the bottom off of the butternut squash so you have an easy cutting surface. Use a sharp knife or a peeler to remove the skin of the butternut squash. Cut the squash in half, remove the seeds, and cut into fry-size strips.

Toss the fries in a large bowl with the coconut oil, dill, and salt. Place fries on the prepared baking sheet, making sure not to overlap in order to keep the fries cooking evenly.

Bake for 35 minutes, or until tender on the inside and crunchy on the outside. Remove from the baking sheet and place on a cooling rack to help retain their crunch. Eat while still warm.