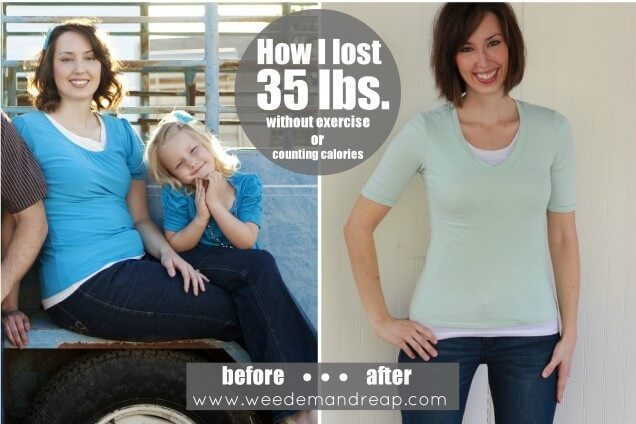 This is a story of how I lost 35 lbs.
Without counting calories.
Without portion control.
Heck, without even exercise.
My weight loss story probably sounds a lot like yours. I didn't think much about healthy eating (or my weight in general, really) until I was fat and sick. Do you remember thinking you were overweight in high school and then when you look back at those pictures, you wish you could look like that NOW? Well, that was me too.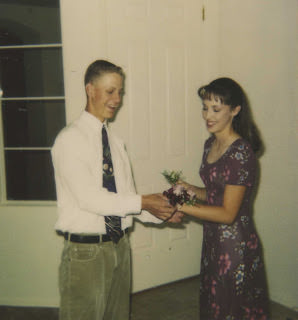 I hate reading
weight
loss
stories without some stats, so here goes. I am 5'6″, and when I got married I was 128 lbs. It's not like I weighed myself on my wedding day (okay, maybe I did). But I got a new drivers license right after we were married in 2001, and that's the number that's been in my wallet for the last 11 years.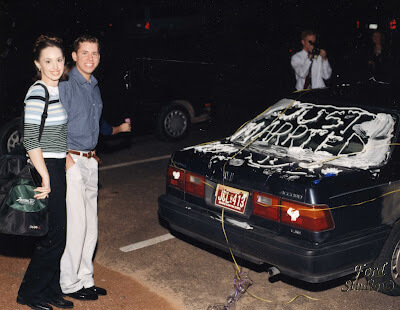 It seemed like only months after we were married, I gained 25 pounds. All of a sudden, I was 155. That's a size 12-14 jeans. I blame it on Kevin.
Just kidding! Actually I should blame it on school, hospital food during nursing school (it was free, you guys!), brownies, and frozen food. Lots of frozen food, because it was cheap. I had no clue what it meant to truly be healthy. I thought eating healthy meant just eating low fat food.
My quest for health began once my health started to decline. After I had my two kids, I had horrible back pain, and I began to feel dizzy a lot. After 2 back surgeries and countless doctors, I felt like I had no help from the medical world at all. It was very difficult to care for my family, and I knew that there had to be something I could do to feel better.
I didn't care about my weight. I just wanted to feel better.
Okay, maybe I cared a little, but STILL it was more important to feel strong and healthy.
It all started with my juice cleanse in September of 2011.
I heard my sister-in-law was doing a juice feast to heal her body, and I became interested because at that point I was willing to try 
anything
 to feel better.
Feasting on juice was great in detoxing me from sugar, white flour, and junk food. But a juice cleanse isn't optimal for long-term health.
Looking back, I can't totally slam juice cleanses because I did experience a significant detox in my body. I only lost 8 pounds, but I was also able to detox from pain medication and junk food. I don't usually recommend this for other people and here's why: I don't think the minimal nutrients in fruit and vegetable juices necessarily help my body as much as the avoidance of all processed foods during that 30 day juice cleanse. As my body detoxed from chemicals primarily found in junk food, I felt so much "cleaner." For that I am thankful. But juice cleansing is a drastic measure, and it can put a lot of stress on your kidneys, liver, thyroid, hormone function and, ultimately, your metabolism. For all the benefits, my body definitely suffered during that juice cleanse. I had extreme flu-like symptoms, experienced kidney pain, and felt weak and dizzy for most of it.
Now I understand that I would have experienced a suitable cleanse just from eating homemade foods and avoiding anything processed or packaged or chemical-laden. I wouldn't have had to experience such horrible symptoms and it definitely would have been cheaper. Not to mention easier on my life!
If you are set on still doing a juice cleanse, I would only recommend a short one. Like one that lasts for 3 days to a week at the most. I would also recommend implementing a cleanse (whether it be with juice or eating fruits and vegetables) only during the summer months. When the weather is hot outside, we tend to crave cleansing foods anyway. Think watermelon, cantaloupe and salads. Your body will naturally do better with a cleanse during summer than it would during the cold months.
By the time I was finished with my 30 day cleanse, I transitioned to a vegetarian, plant-based diet. I lost weight slowly yet steadily on this diet (about 1 pound a week). But I was definitely NOT feeling better health-wise. I was still experiencing significant inflammation, muscle weakness, fatigue, and depression. I continued on my plant-based path and with each step I restricted my diet more and more. After a year on a plant-based diet, not feeling much better than before and still with some weigh to lose, I decided to do something even more drastic.
I decided to give up on plant-based eating and just eat real food! Within two weeks of bringing back real butter, cream, meat and desserts, I began to feel amazing. My energy improved. I was happy again. Even my health issues started to resolve themselves.
And the most surprising thing of all?
I lost even MORE WEIGHT from eating BUTTER!
Here I was, eating REAL FOOD from all food groups without any major restrictions, and was feeling great!
Here's where my research became fun: I started to research why I was feeling better. Why had all these foods touted as unhealthy, disease-causing, and weight-gain-inducing produced the opposite effect on me? In my research I found out this simple truth:
Traditional and sustainable foods HEAL. Modern and unnatural foods KILL.
I think not focusing on the scale, but rather the kind of yummy whole foods I wanted to put in my body, contributed to my success.
When I finally went to buy new jeans, I was sure I would be a size 10.
I tried on a 10. Too loose.
I tried on an 8. Too loose.
I tried on a 6. Pretty good, but I was on a roll, so I tried on a 4.
Whoa, let's not get ahead of ourselves, DaNelle.
And I didn't exercise once.
Not once. With my back issues, I can only do some mild walking. So intense exercise wasn't really an option.
Here's my take on exercise: I think it is amazing, and can give us strong and healthy bodies, I just don't think we HAVE to do it to lose weight. Now that my back is almost healed, I can look forward to strengthening myself and doing some mild exercising.
80% of the time I focus my diet on:
Hydrating myself with filtered water with minerals (but drinking ONLY when thirsty).
Mostly organic fruits and veggies
Since we raise chickens, goats and sheep we have plenty of organic free-range eggs, whole fat goat's milk, and grass fed lamb. I'll take all of the above, please!
When purchasing animal products, we always look for organic, non-GMO and grass fed. This includes grass fed beef, organic, non-GMO chicken and organic, grass fed butter and cheese. Sometimes we'll won't be able to find these and instead we'll opt for "natural" versions (which usually means just hormone and antibiotic free, but not considered organic).
When it comes to beans and grains, we prepare them properly by soaking before cooking and making bread with natural yeast instead of commercial quick-rising yeast.
We eat plenty of healthy oils like grass fed butter, lard, tallow (that's right, it's healthy!), olive oil and coconut oil.
Healthy desserts. There's ice cream, brownies, cookies, and cheesecake. It takes some work to learn the recipes, but they are so worth it!
I mostly just switch out the bad options for the good. I still pan fry, but with coconut oil instead of vegetable or canola. I still eat pancakes slathered with real butter and syrup, plus eggs and homemade hash browns. Yum.
It really is all about eating WHOLE, TRADITIONAL foods. Seriously, people. Forget about egg-whites-only garbage and measuring your food. Eat as much as you want. Just make sure it is a WHOLE food, and not some processed garbage.
20% of the time I chillax and eat whatever I want. We go out to eat on the weekends. I eat Oreos at a family gathering. I simply don't stress about it.
80% of the time I try to avoid it, but I also don't freak out if something has white flour in it. The MOST IMPORTANT THING is that I am not addicted to anything. When I look at something "bad," I really have no opinion on it. I could take it or leave it. And that's how I know I'm not addicted. I could eat it, but I don't stress about it. And let me tell you, IT FEELS GREAT to not be addicted. I hated the thought process of wanting something and then wondering if I should partake or not for an hour until I finally give in).
I think the most important advice I would give someone is that if you are trying to lose weight, be sure to have a higher purpose. Losing weight is really important. But if you focus on learning the principle of TRUE healthy eating, you will find it easier to apply to your life.
If you focus on eating foods that are healthy for you, you won't need to worry about portions or calories.
Because I don't. Not one bit.