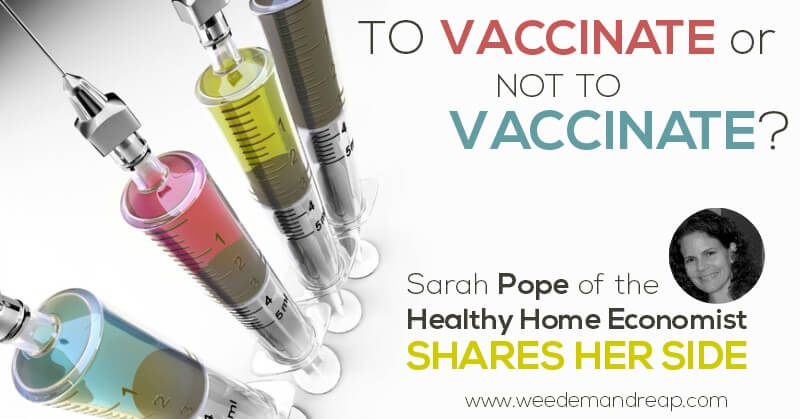 Vaccination is a big subject and the decision to vaccinate or not to vaccinate your child is one that shouldn't be taken lightly.
I often get requests to write on the subject of vaccination but I've never felt qualified to do so. You see, my kids were vaccinated. It's not because I believe that vaccination is the best choice. It's simply because when my children were infants 10-12 years ago, I wasn't interested in natural alternatives. I was fresh out of nursing school where I was told that vaccination was the only way to, well, not die of a horrendous disease. Had I known what I know now, I don't think I would vaccinate, or I would probably at least do a delayed schedule.
My overall view on vaccines is that I don't believe the concept of vaccination is a bad thing, but I do believe that in 2014 we should be able to produce vaccinations without toxins and be smarter about the dosing on such young children.
Recently, Sarah Pope of The Healthy Home Economist was interviewed by The Daily Show on the subject of vaccination. Even though she knew her words would be twisted and she would be made to look like a crazy-hippie-uneducated-blogger, she decided it was more important to bring this issue to the spotlight.
Sarah is my hero. As a blogger, we take our fair share of criticism, but to choose to be put in the national spotlight knowing she'd be criticized? The gal deserves a freaking medal in my opinion! She held her head high while knowing her story wouldn't fully be shared.
There's definitely more to the story than just that. Sarah isn't just some hippie (though what's wrong with that, eh?). She's an incredibly well-educated woman, with 20+ years of health research behind her. Her father, an internal medicine doctor, taught her to question everything—even modern medicine.
Want to hear Sarah's experience on The Daily Show (the side nobody saw), and hear her well-researched take on vaccines? Click here.