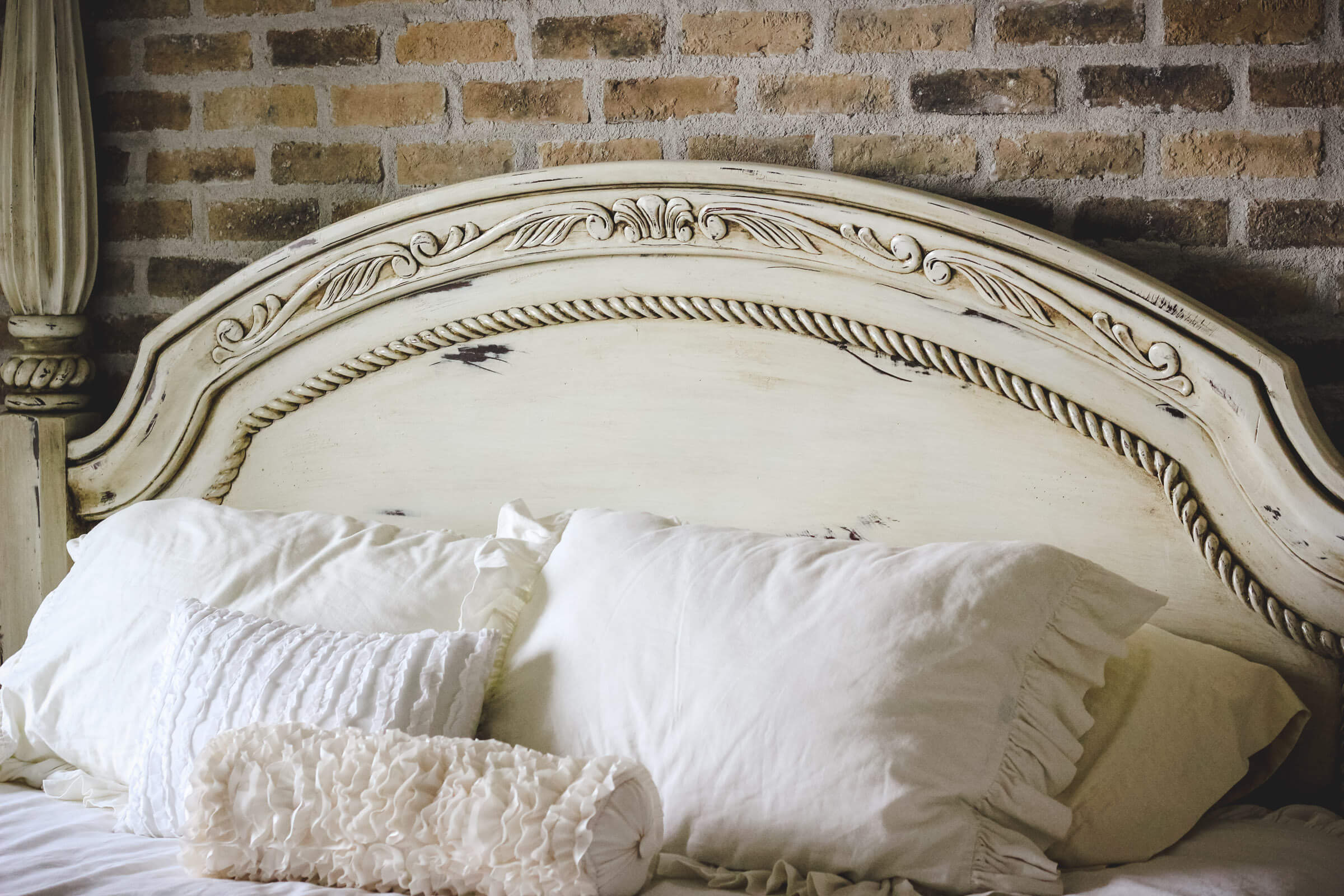 New mattresses are the stuff of dreams. Are they not?
I don't know about you, but when I see a mattress store, I absolutely have to go in and test them all out. I'm like Goldilocks, except without the breaking and entering tendencies.
Sadly though, a nice, new, expensive mattress was never in our humble little budget. For 12 years of marriage, the ol' man and I have slept on a "less than mediocre" mattress.
Until now.
That's right, folks.
Just last week, I was ready and willing to walk right into a mattress store with my big pickle jar of change and purchase a beautifully clean, new, and deliciously comfortable mattress.
Imagine my despair when I found out that new mattresses are completely TOXIC.

GAH! DREAMS SHATTERED!
My sweet friend Caroline (who blogs over at Gutsy) found out the hard way that her mattress was toxic. Blurred vision, slurred speech, headaches, and extreme fatigue were some of the symptoms Caroline experienced just hours after she started sleeping on her new mattress. You can read about her full mattress fiasco here. After extensive research, she found some very disturbing things about those brand spankin' new mattresses.
Why Standard New Mattresses are BAD
Brand new mattresses may seem gorgeous and beautiful on the outside. But really, they're a crapfest of toxic, cancer-causing chemicals. These include polyurethane foam, formaldehyde, boric acid, antimony (a heavy metal similar to arsenic) and worst of all, polybrominated diphenyl ethers (also known as flame retardants). They are all wreaking havoc on your sleep and health.
"What's the big deal? I'm only sleeping on it, I'm not eating it!"
The biggest problem with all mattress chemicals is that they emit strong gasses that can make you and your family sick. Really sick. They're linked to asthma, allergies, neurological disorders, SIDS, reproductive problems, thyroid disruption, and various forms of cancer. Recent testing from the government has confirmed it!
"…growing evidence shows that PBDE compounds are escaping from the products they protect and making their way into the products' users. Moreover, the chemicals may disrupt human thyroid hormone functioning and cause other health effects, prompting many nations to ban or suspend their use in new consumer goods." (source)

Knowing that you may be spending an average of 6-10 hours a day laying on your bed, doesn't it make sense to avoid absorbing these toxic chemicals as much as possible?
Option #1 – Purchase a mattress made before 2007
I knew that the safest way to go was with a company that makes non-toxic mattresses. But, the hefty price tag was difficult to swallow. Keep in mind, I also wanted the bed to be comfortable. In my initial search, organic mattresses don't always have the best track record for that.
I decided to try out some organic mattresses by searching on Craigslist, asking sellers if I could come by and lay on their mattress before I bought it (not awkward at all, by the way). I found a couple organic mattresses for sale and was ready to try them out. But after just talking on the phone to the two separate sellers, they admitted they were selling them because their non-toxic mattresses were uncomfortable. I'm sure there are some great, comfortable, non-toxic mattresses out there. But for me, I just didn't want to risk spending $4,000 on an organic mattress and risk sacrificing comfort.
Luckily, I knew one great tip about the chemicals in new mattresses:
Older mattresses that have been around a few years have out-gassed. This means that they don't emit any gasses anymore. Even better, mattresses that have been made before 2007 should NOT have been sprayed with PBDE's (flame retardants). If any chemicals were used at that time, they should be out-gassed by now.
My new mission: To find a used mattress made before 2007 that was also in excellent condition.
My problem: I was a little grossed out at buying a used mattress and I thought my chances of finding high quality ones were slim.
Luckily, Kevin had a great idea. We searched again on Craigslist for guest beds made before 2007. We made sure the bed had been primarily used as a guest bed and that the seller was the original owner. With those qualifications, there were a ton to choose from!
We tried out a couple, and ended up with a high quality mattress (with a wonderfully soft pillow top) in brand new condition. No toxic chemicals, thank you very much. It had been sitting in a guest room (in a pet-free, smoke-free home) for the last 6 years.
The cost? Only $200! The owner had originally bought the mattress for $3000. I am not kidding.
Here I was, ready to spend all my hard earned pennies on a new mattress. But I got a healthier and non-toxic one, for way less. WIN!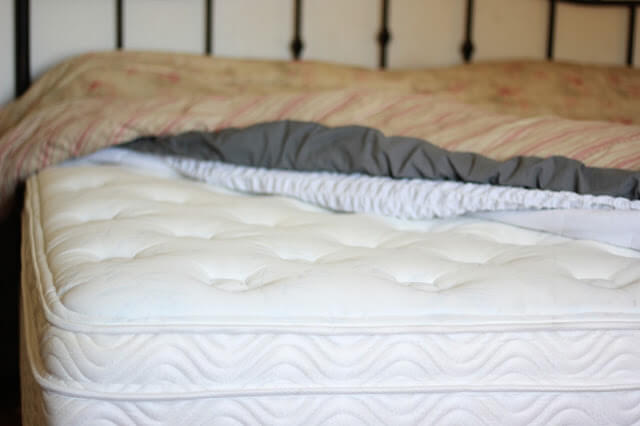 Prepping Your Used (but new to you) Mattress
My great-grandma used to do this thing to her mattress and pillows about once a year. She called it "sunning," and basically all it was was setting them outside in the sun for about day on each side. It's an old-fashioned method of sterilizing and cleaning mattresses, pillows, blankets, etc. Sunning kills bedbugs, dust mites, and basically just makes your used mattress smell amazing.
Ours was barely used and smelled fresh already, but we still sunned it because I knew Great-Grandma Alva would be proud.
This option gave us a toxic-free, insanely comfortable, and inexpensive mattress for those years when purchasing an organic mattress wasn't in the budget. I really don't think you can ask for anything better than that.
Option #2 – Purchase a non-toxic mattress that IS ALSO comfortable.
As our gently used mattress started to get saggy over the years, I knew I was in the market again for YET another solution, so I hunkered down and did my research.
And I found the same name recommended again and again. IntelliBED. Intelli-what?
Turns out, IntelliBED is this non-toxic mattress company that STARTED out with a goal of eliminating bed sores. As somebody who spent years taking care of a bedridden patients in nursing school AND being somebody who suffers from back pain, this impressed me.
So, I called 'em up. And I was fascinated at the results they were getting. Working with nursing homes and chiropractors all over the world, they had some amazing credentials. A good friend of mine described sleeping on an Intellibed mattress was like sleeping on a cloud. She said she could fall asleep and wake up in the exact same position. And honestly, that sounded AMAZING!
But I needed to do a bit more research, and here's how they measured up:
As far as non-toxic goes, they definitely match up. No flame retardants or other nasty chemicals that can mess with your hormones and brain function.
The Intelligel design has been proven to eliminate bed sores by collapsing under *just* the right amount of pressure.This means less tossing & turning for us younger folks and less stiffness when we wake.
They offer the longest warranty around – 30 years!
They have a 60-day guarantee, and when you return it, THEY pay for shipping. If that doesn't boast confidence you'll love it, I don't know what is.
Honestly, after all my research, I was pretty excited to jump on board. Although I can manage a lot of my chronic pain naturally, I loved the idea that during those 8-10 hours a night of sleep, I was providing my back (and my overall body) with the healthiest option there is!
The day it arrived, we both laid on it and said, "Wow, that's a sturdier bed than we thought it would be!" (truth be told our old mattress was pretty saggy, so our perspective was off)
Our first night was truly AMAZING! I really thought it would take an adjustment period, but nope, totally went straight to sleeping soundly and without hardly any tossing or turning.
In the end, we're incredibly happy with our bed! Option #1 of starting with a used mattress was perfect for our budget then, but I wish I wouldn't have waited so long to go with Option #2
UPDATE: I've had so many comments over this post that I've asked IntelliBED if they'd be willing to offer a coupon code to my readers and they AGREED!!! If you go to www.intellibed.com and enter

WEED10

, you'll get 10% anything in the store!
What's your current mattress like? Are you excited about these mattress options and ready to begin the hunt for a better mattress?