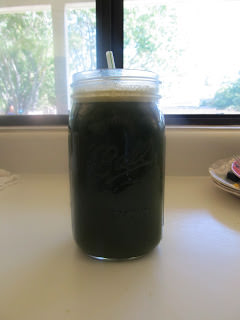 I embarked on a crazy adventure. One filled with lots and lots of JUICE. Yup, 21 days of straight juice. Let me explain…
It's called a Juice Feast, not to be confused with a Juice FAST. In a fast, you usually restrict calories, a Juice
Feast is where you strive to get 1500 calories (or more) of juice. I drank 4 quarts of juice a day. 3 green, 1 fruit.
And do you know what?
It was THE HARDEST THING I HAVE EVER DONE.
Wait, let me rephrase that.
It was the hardest thing I HAVE EVER CHOSEN TO DO.
Because a lot of things in life are hard but we can't necessarily choose or control them. This was hard because I was choosing to put my body through it.
The theory behind a juice feast is that if you be sure to FEAST and not FAST, you can effectively shut down your digestive system whilst not starving yourself. When you give your body pure nutrition and let your digestive system rest a little, your body can really go to work to cleanse and heal. It sounds a little crazy, but it's amazing how fast it becomes normal to well, just drink juice for your meals. I get asked a lot if I was hungry. NEVER. I was full, all the time. Of juice, but yes very full and I really didn't want solid food too bad. The absolute worst part was the detoxing from all the junk. YUCK.
At only Day 2 I started to feel really sick, like the flu. I was weak, I had a sore throat, headaches, soooo tired. I couldn't believe how bad I felt. But I knew it would get better so I stuck with it and gradually it got better and better by Day 6 I felt totally normal. It was kind of amazing to me that I could really live off of just juices. Mind you I was eating about 10 lbs. or fresh organic produce a day, along with some supplements and raw oils. But still, amazing.
I learned some neat things about my body through the process.
I learned I am tougher than I thought.
I learned that raw organic produce can give me lots of energy.
I learned that sugar and junk had a real, live hold on me and I was addicted.
One thing I really wanted to acquire through this process was a healed body. I truly believe that we can heal our bodies with whole foods. It was hard not to get frustrated that my back & dizzy spells weren't instantly healed. I mean, here I was sacrificing food!(which is basically what living is for, right?) and so I should be better.
I don't know if anybody knows my back story but basically I am dealing with scar tissue & nerve damage from my surgeries. Yeah, note to self, don't get back surgeries.
I've had a lot of advice from doctors and it can heal, but it can take time. I am SO SO grateful to this new chiropractor that I've been seeing, because he knew what it was, when everybody other surgeon was shrugging their shoulders at why I still have pain.
After I finished the juice feast and I went back to check on everything he noticed that I have my reflex back in my right leg! Since the last surgery, I've had a "dead" leg. Every doctor tries to hit that leg to get a reflex and until a week ago, there has been nothing. SO, let's celebrate small milestones!
I think the most important thing I've learned is that
Sometimes the small things we do, can bring wonderful changes. But changes can take time.
So, in conclusion, I'm glad I did the Juice Feast. It was a good experience, it was a good thing to do for my body, and it didn't hurt to lose 12 lbs. I am really really enjoying eating better too. I feel free from sugar and the like. I don't crave it but I don't feel like I won't ever have it again. I am looking forward to a piece of Thanksgiving pie for sure.
Also, I am proud to announce I am a (mostly) raw vegetarian now! The only animal products I do eat are our own goat milk and eggs & of course yummy seafood. Mostly I try to eat raw yummy foods until dinner, then I'll usually have my grains or cooked foods and maybe for dessert I'll have a raw dessert, which are awesome! The thing I did the most during the feast is research all kinds of recipes. We decided to not purchase meat, but when we are at family gatherings and sometimes going out to eat, the kids & husband will eat meat then (I may eat meat at holidays). That, in our eyes, is eating meat sparingly.
We are not choosing to eat less meat because we feel sensitive towards animals. It's because meat, processed food, cow's dairy & sugar are extremely acidic and to the body. Here's to eating better!
UPDATE: I am NOT Vegetarian anymore. Read why I chose a Traditional Whole Foods Diet for my family and I feel great!
Visit my blog posts Juicing 101 & Juicing 102 for some great juicing recipes!
Peace out & EAT YOUR VEGGIES.