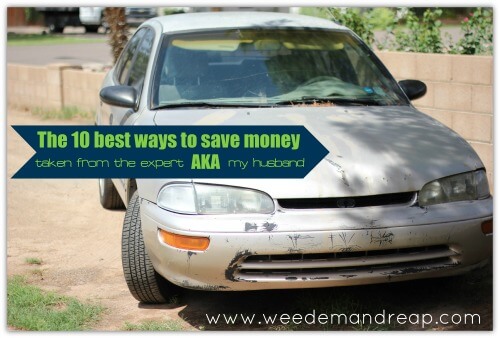 Here is my husband's infamous car. Anybody who knows Kevin, knows that when you talk about him, you talk about the awesomeness of his car, or the unawesomeness of it, whichever way you wanna look at it.
When I say I'm married to THE. CHEAPEST. MAN. let me tell you
I ain't kiddin'.
Oh, you don't believe me?? Well, let me just blow your mind for a sec.
Evidence #1 – On our SECOND DATE, he took me to a Diamondbacks game. He brought a backpack. A backpack full of food, so he wouldn't have to buy any concessions. In his backpack were chips, applesauce, & FROZEN CHIMICHANGAS.
He asked the Subway guy if they would heat it up for him.
YOU GUYS, he asked the Subway guy if they would heat it up for him.
I. AM. NOT. KIDDING. Did I mention this was our SECOND DATE?
Evidence #2 – He needed a new toolbox. NO worries. He just went to the recycle bin and found an old TIDE BOX. "Works great.", he says. "Even has a handle.", he says.
Evidence #3 – After we were married, we loved to go to this restaurant called Fazoli's. It was awesome because they would give you UNLIMITED, FREE BREADSTICKS. Unlimited, people. They literally had an employee whose job was to walk around with a basket of breadsticks and pass them out to whoever wanted more. I would order a meal and eat a couple breadsticks. Kevin would order a kid-sized small piece of pizza and eat about 50 breadsticks. The problem was, the breadstick man would only give out 2 at a time. Now I'm not great at math, but that's A LOT of Kevin asking for more breadsticks, people. In the end, poor Fazoli's went out of business. I still wonder if it's because Kevin ate them out of house and home. And breadsticks.
Give me a sec to wipe my tears from laughing so hard. My kids are staring at my like I'm crazy.
Oh Kevin. Kevin, Kevin, Kevin.
I agree that these examples are EXTREME. But Kevin has always valued the principle of saving his money. He's always shown a great example of sacrifice. He went to college full-time during the day, then worked the graveyard shift at Kinkos at night. He bought a reasonable used car with his money (a sweet '95 Honda) and continued with school & work.
When I met him a year later, he had $12,000 in his savings account. I had exactly $0 and owed $200 on a student credit card. Let's just say being married to the most frugal man in America was not an easy transition! First of all, I didn't understand why the heck he cared about the grocery ads. And why he didn't understand that it was TOTALLY worth it to buy $18 hairspray from Ulta. Slowly, but surely I realized the man I married had another love. And that love was frugality. I knew I was in for it when I opened his wallet one day and instead of finding cash, I found coupons. TONS of coupons.
Don't worry, over the years we have found a balance. As a spender, I made sure of that!

But to his credit, Kevin's frugality has saved us thousands. And over the 11 years we have been married, we have been able to.
Graduate from college without student loans.
Save up an Emergency Fund (8 months of expenses should Kevin ever lose his job)
Save up a "when Kevin's car dies" fund. Which probably will never even happen, that dang car will live forever!
Refinance to a 15 year mortgage, (14 more years and we will be completely debt-free)
KEVIN'S RULES FOR SAVING MONEY:
1. Expensive cars are overrated! Really, they are. To us, it seems kind of ridiculous to spend so much money on something that you are in about 1-2 hours a day at the most. Now, I'm not saying you HAVE to get a clunker like my husband's. (It's more a game to him to see how long that thing will last anyway) Kevin is really into consumer reports and will only buy the Make, Model, & YEAR that a car has a good rating (that's right, the year is very important because car companies make changes every year – some good – some not so good) Then he is PATIENT. And he looks and looks and waits for that used car being sold. And he makes sure it was taken good care of (oil changes, low miles or highway miles, and general care) We've always saved up for our cars and paid cash. When we were young, our car budget was $2500-$3000. Now our budget is $6,000-$10,000. This plan has always worked for us. We've always been able to buy a car that's run well, had low gas mileage, and hardly needed any repairs. No, we don't have super nice cars, but yes, they work great and we're happy in the 1 hour a day that we're in them.
2. Use coupons to determine where you go out to eat, instead of going where you crave the food. Trust me, if you buy those entertainment books, you will ALWAYS have somewhere good to eat and it will cost you half as much each time. Because most of the coupons are Buy 1, Get 1 Free, and most dishes are around $10, we spend about $15.00 total if you include tax+tip. Depending on the restaurant, we can sometimes even share the 2 dishes between all 4 of us, but now that our kids are big enough to have real appetites, we'll have them share a small dish or appetizer along with some of our food. So our total eat out cost for our family of four is about $20-$25. We go out once a week and call it good. We always drink water, because well, it's healthier AND free AND even when we used to drink soda, we would never buy it while eating out because one drink cost as much as 1 liter at the store. And that takes us to #3.
3. Watch your small spending more than your big spending. This is a huge rule because $5 here, $10 there can add up faster than you think. Of course the big things matter, they always matter. But big purchases are usually decided on as a couple with care. Little purchases are often made alone and you shouldn't have to ask your husband if it's okay if you spend $20 at Target, am I right? Enter the MISCELLANEOUS budget. This is SO very important. Not only does it keep you in line, but it's a way to have some autonomy in a marriage. Now, the way we determine what constitutes as "miscellaneous" is basically, "everything that varies from month to month". For example, Mortgage, Utilities, Phone, Cable, Insurance(Car&Life), Gas, Groceries, Eating Out, Animal Feed –those all pretty much stay the same every month. Sometimes they are a tad higher or lower, but mostly stay the same. Now, instead of having a clothing budget, haircut budget, shopping at Target budget, kid's sports budget –we decided to put it all together in a miscellaneous fund budget. IT'S SO MUCH EASIER let me tell you, to stay on top of your goal. And it's fun because whatever's left over at the end I spend on something fun for me! For example, our miscellaneous budget is $300 a month. Now I know that sounds like a lot, but it goes fast. We split it between us and Kevin only gets $30 because we tried $50 and he didn't spend it, so I stole it. On a high month I would have to pay for the kids soccer registration ($160) and school pictures ($50) and some home improvement stuff I got at Lowe's ($50) so I knew that anything extra fun like clothes shopping or sometimes even a haircut, might need to get done in the next month, when I knew we didn't have any expensive miscellaneous things going on. On a low month, I would only spend a little and so I got to do some more shopping! YAY me!
4. Shop thrift stores like nobody's business. Seriously, you guys, we were shopping at Goodwill before it was cool. So, we'd officially like to take full responsibility for hipsters. Wait, I'm not sure if that's a good or bad thing… Anyway, I totally used to scoff at the idea of going to thrift stores, but besides rockin' vintage clothes, there are a lot of great finds. Luggage, dishes, books, shoes, art, furniture, games & toys. Just not underwear. Don't buy underwear. Besides the fact that it saves us money, I like the idea of repurposing things. Like I'm saving the planet or something. One funky frame at a time.
5. Avoid that "Keeping Up With the Joneses" mentality like the plague. When you reaaallllyyy reallllyy want something be sure to ask yourself, am I wanting this because I want it, or because it makes me look cooler? Sometimes I see the beautiful landscaping of my neighbor's home and I tell him that we can't wait to do what he's done. Our neighbor is so nice, he always says, "We've lived here for 30 years, it takes time to make your dream home. Rome wasn't built in a day." So, don't care about what your neighbors have, be happy for them when they get a new awesome car or a boat, but don't feel like you need to keep up with them. Do your own thing. Make your own goals & decide what is most important to you, not to anyone else.
6. Make it a "monthly savings goal" and STICK. TO. IT. When we were first married, we could only save like $200 a month. It was the best we could do at the time and we stuck to it even though it didn't seem like it was growing very fast. As we increased our income and continued to live frugally, we found we could put even more into savings. Our first goal was our Emergency Fund and we now put $1000 a month into it. Our 2 favorite money-saving gurus (Dave Ramsey & Suze Orman) recommend 6-8 months of your personal expenses set aside in a savings or money market account for real emergencies, like losing your job. It took us a long time, in fact we just barely made our goal, and now we are saving for some fun things, like my big garden & a family trip to Hawaii.
7. Find the best deal in town. When shopping for either big or small items, be sure to shop the sales! And honestly, some of the best deals aren't in town, they're on the internet. Just be sure to look for them instead of running to some random store. Also, REFINANCING your home, especially now, is a great deal! The interest rates have never been lower (2-3%) and the closing costs can be rolled into your mortgage. If you need a good mortgage guy, go to ours HERE. He's the most honest man we know and he's always found us great deals.

8. Become a DO-IT-YOURSELF-ER. About a month after we were married, I cut Kevin's hair for the first time. Well, my first time cutting hair, not his first time getting a haircut. And I totally botched it. In fact, he ended up with a buzz cut. But, that's besides the point because I got better and better at it and he hardly ever gets a buzz cut anymore;) Being a do-it-yourself-er pays off! Especially when it comes to home improvement projects. A couple years ago, we needed the exterior of our house painted. We found a great guy we trusted and we asked him if he would lower the price if we did all the prep work and taping off the windows. It saved us about $400 and was totally worth it!

9. Find CHEAP or FREE Entertainment. Family fun time & dates with your partner don't always have to be expensive. And expensive doesn't equal fun. Be creative. Become aware of all your city has to offer because a lot of it is inexpensive. We get all our movie rentals from our library. Redbox is super cheap, I know, but the library is better and here's why. A) It's free. B) You can reserve them online(even before the new releases come out) and they are waiting for you when you get there. C)They carry the newest releases & CLASSICS. D) You can keep them for a week or longer. E) While your there, you're more likely to rent out books too, which gives you educational, free entertainment for your kids.

10. Be patient. Really, the main thing that Kevin is great at and I am, well, NOT SO MUCH is being patient. You want to buy a house? Be patient. Wait for the right one. Want to buy a car? Just keep looking and be patient. You want to save up for something? Just determine how much you want to save without depriving yourself completely and STICK. TO. IT. It adds up faster than you think;)
I hope these help you out in your saving adventures! It's actually kinda fun to save, just remember to treat yourself too! It does take sacrifice, but being financially secure is so worth it!
p.s. I just want to say we are NOT PERFECT. There are a lot of arguments over here about money, that's to be sure! He has his opinion, and I have mine. But we've agreed our goal is to save and somehow we've survived the craziness that is living frugally!