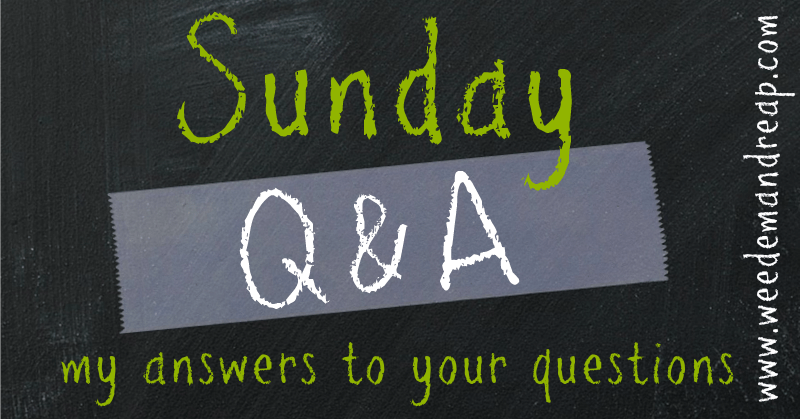 One of my favorite things is to read emails from YOU!
I love hearing about your lives and the changes you're making. Whether you're just getting started with real food or buying your first goat, it's a joy to hear from you all. I truly consider each one of you a personal friend and some of you have had me rolling on the floor laughing about your crazy experiences. I have decided that it might help others if I answer some of the questions here on my blog. I plan on making this a series and posting every Sunday just for you guys.
I need to throw out a disclaimer here that I am not a nutritionist, nor a doctor, nor a scientist, nor a specialist in any way. While I do have a background in nursing, my medical opinions are strictly my own and if you are concerned about your health, you should consult a medical professional.
Okay, let's get started!
Kris asks,

There are a lot of folks out there suggesting ways to heal your gut based on first removing foods, second healing digestion, and finally returning foods. I would love to hear a Weed 'Em & Reap version. What do you suggest removing and for how long? Ideas on the healing? Tips on returning to delicious foods? I have a lot of ideas and have gotten quite far in my own healing, but I'll bet you have some great suggestions.
Hi Kris,
The standard protocol for healing the gut includes healing the gut with homemade probiotics and sealing the wall of the gut with gelatin, healthy fats & bone broth. There are some people who believe you must first avoid foods, particularly dissacharides found in grains, beans, & potatoes. This goes along with the guidelines of the GAPS diet. In my opinion, the GAPS diet is something that is for extreme cases of poor gut health which can be manifested through Autism or other similar neurological disorders or other extreme health issues.
My friend Cara, at Health, Home, & Happiness, reversed her daughter's Autism with the GAPS diet and had great success, but she believes the GAPS diet isn't necessary for everyone.
If I needed to increase my digestion, I would boost my homemade probiotics in the form of kefir, yogurt, kombucha, sauerkraut, and other fermented vegetables. I would also drink a homemade bone broth everyday and take gelatin as a supplement. As far as avoiding certain foods, if I was sensitive, then yes, I would reduce them, but unless I was actually allergic, or had severe symptoms, I wouldn't completely remove them. The reason for this is that over the years I've found that with food restrictions, while initiated with good intentions, over time tend to cause more stress on the body.
I've seen a lot of people avoid a certain food for years, then when it comes time to reintroduce, they have symptoms and then decide to keep avoiding. One thing people overlook is that if a body hasn't been given a food in a while, it make have a slight reaction, but this doesn't necessarily mean the body can't handle it, it just needs time to adjust. So, in answer to your question, I guess what I'm saying is, it depends. Haha, sorry, I wish there was a definitive answer for this, but all of our bodies are so different, so you'll have to determine if you need to avoid a certain food or not. But I do believe healing of the gut is possible without having to limit our food.

Christina asks,

I've been bouncing around reading different Matt Stone books and I notice that you have referenced him here and there. My question pertains to flour, white vs. wheat. Its my understanding that eating certain items of food in there "white" form is better breakdown of linoleic acid, aiding in digestion of those foods. But I see you you prefer whole wheat…does this make sense? if so could you please explain. I love whole wheat bread but with hypothyroid issues don't want to eat the wrong thing. Thanks!!
Hi Christina,
This is such a hard one because people want to hold on to their whole grains with a tight fist and never let go. I'm the same. Here's what I know. I know Dr. Weston A. Price found that a diet of highly processed white flour/sugar and canned/packaged goods produced cavities and other signs of physical degeneration in children. Dr. Price recommended whole grains, BUT, (and this is a bit BUT) it was vital that they be prepared properly. You can read my guide to preparing grains properly here. If you don't prepare whole grains properly, then you are going to be deficient in minerals and have poor gut health. The anti-nutrients found in grains block the absorption of not only their own vitamins, nutrients, & minerals, but also those of other foods in your digestive tract. Eating grains that are not soaked, sprouted, or sour leavened will eventually lead to nutritional deficiencies in the body.
Today, a lot of people deal with thyroid disorders. A host of things could be to blame for this. From fluoride & chlorine in our water supply, to gluten being added as a filler everything, to factory-made PUFA oils, to the reduction of iodine and increase of bromine in enriched foods, to low-fat & low-carb diets, to various "starvation" fad diets, they all can contribute to poor thyroid function.
Matt Stone found that people who suffered from thyroid disorders were quite simply, "burned out". Their metabolisms were suffering and he noticed that those who went on "healthy diets" only got worse. Why is this? Well, first of all, we tend to do things just because they are healthy, like, for example, drinking too much water and not eating enough calories and/or messing around with fad diets.
Matt Stone found that those who suffered from a low thyroid would try to go on a "healthy diet" and find that they didn't feel better or lose weight. It sounds completely backwards, but white flour is a fast source of energy, and to somebody with a sluggish thyroid, this can be incredibly energy boosting. So, what does this mean for somebody who wants to eat a healthy real food diet, but suffers from thyroid issues?
I, too, have struggled with a sluggish thyroid. Here's what I do. I eat a diet primarily with real food. I don't restrict any food group. I eat meat, eggs, dairy, seafood, fruits & vegetables, & whole grains (prepared properly). I also eat healthy fats like butter, coconut oil, and lard or tallow.
BUT, here's what else I do. I make SURE to eat enough calories. I eat until I'm full and then a bit more to make sure I am really full. I eat dessert, and I'm not afraid to eat white flour. I'll have pizza made from white flour, and then go back to eating whole grains prepared properly.
I really try to listen to my body and find that balance between eating primarily whole, real food, balancing it with quick-energy foods like white flour occasionally. I strongly believe that this balance is what helps me maintain my weight and support my thyroid.
I think our society expects the answer to health to be ONE or the OTHER. But honestly, in all my years of researching and trying "healthy diets", I have never been as healthy as I am now, eating EVERYTHING! Like I said, I eat primarily whole, real food, and allow myself to eat things like white flour as well. When I purchase white flour, though, I am sure to buy organic, unbrominated, unbleached white flour. I hope this helps you as you decide what is best.

Julia Mary asks,

I'm loving your blog so much! It is one of my daily stops now!
I have your Good Better Best Chart printed off and on my shopping list clipboard! I was wondering about the Fats. You list Regular Coconut Oil as better. I have been using Lou Ann's from Walmart since it is the cheapest Pure Coconut oil. However, I understand that it is bleached and refined, though not hydrogenated. Does that bump it out of "Better" position into "Good" or "Bad"?
Hi Julia Mary,
I would say that would bump it to the "Good" category. You can also visit my shop page to see the coconut oil I like.

Laura asks,

I love your blog and all you are doing for real-foodies and animal lovers alike! My question:

I struggled with an eating disorder in my late teens and early twenties. I have recovered since then (10 years later) but I did gain quite a bit of weight throughout my recovery. I am having a tough time losing any of it even though I have been following your principals for over 8 months now. I know that my metabolism has been through some tough stuff so I am trying to be patient. Have you had any contact with others in my predicament?
Hi Laura,
Even those who haven't struggled with an eating disorder can have thyroid issues, simply because we've all done various "healthy diets" over the years. I'd recommend reading Matt Stone's book, Diet Recovery 2. Like I said above, it might shock you a bit at first, but it's all about the BALANCE between nutrient-dense foods and quick-energy foods. You need a steady supply of nutrient-dense foods as your BASE, but when recovering from thyroid issues, quick-energy foods like sugar & white flour definitely have their place and can actually HELP somebody recovering from fad diets and thyroid issues. I hope that helps a bit. I feel that this falls in line with my 80/20 rule which a lot of real foodists agree on as a good balance🙂 As far as trying to lose weight in the process, I recommending the following articles to help you on your journey to a healthy metabolism and natural weight:)

Michelle asks,

I was just wondering how to soak noodles. My boys love Mac and cheese and I make a healthier homemade version but I don't know how to properly prepare the noodles to make it easier for them to digest. Any thoughts or suggestions would be great. I absolutely love you blog.
Hi Michelle,
When it comes to noodles, I either purchase a lighter, easier to digest organic white flour noodle or I'll purchase healthier pasta. Another option would be to make your own pasta. Here is a soaked pasta recipe & here is a sprouted pasta recipe. Also, you can use veggies and make pasta out of them with this little device. Hope that helps!

Betty asks,

I am 63 almost 64 is it too late to undo the damage I've done to my body
Hey Betty,
I believe it's NEVER too late to make a difference in the body. Will this completely reverse damage? Maybe not, but I think we can just do the best we can with what we have. I have degenerative disc disease and know that my discs will never regenerate, but I can give my body the best food I can and do my best to prevent anything further. I definitely have my down days, but I am satisfied with my real food diet and I think it's the best shot for optimal body function!

Abby asks,

I was just wondering where you buy your seeds for your garden? I have struggled with this every year I would like NON-GMO organic seeds but not sure where to purchase them from. Do you have any suggestions?
Hey Abby,
I have had great success with Johnny's Seeds. They always work well and I can feel good that they sell Organic (non-GMO) and Heirloom seeds. (Heirloom are great for continual seed production) There are also some other great companies, but I this is the one I've had the most personal experience with 🙂
Got questions for me? Click here to email me!
If you have any more advice for the readers who asked questions, feel free to comment below:)