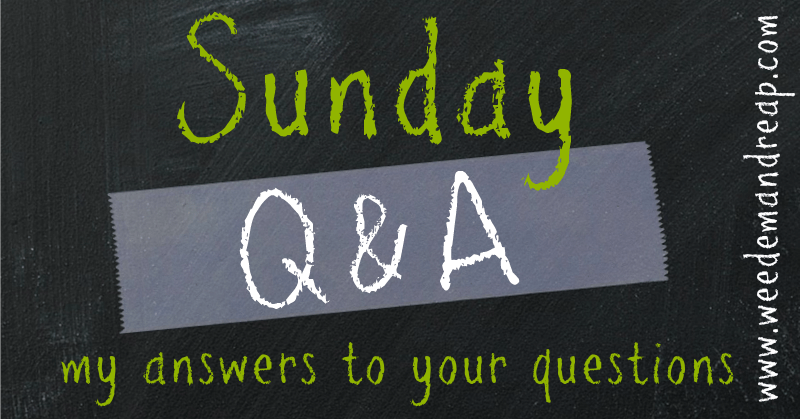 One of my favorite things is to read emails from YOU!
I love hearing about your lives and the changes you're making. Whether you're just getting started with real food or buying your first goat, it's a joy to hear from you all. I truly consider each one of you a personal friend and some of you have had me rolling on the floor laughing about your crazy experiences. I have decided that it might help others if I answer some of the questions here on my blog. I plan on making this a series and posting every Sunday just for you guys.
I need to throw out a disclaimer here that I am not a nutritionist, nor a doctor, nor a scientist, nor a specialist in any way. While I do have a background in nursing, my medical opinions are strictly my own and if you are concerned about your health, you should consult a medical professional.
Okay, let's get started!
Elizabeth asks,

Hey! I've just found your website and love it! I want to spend a lot of time here! My family and I have been on real food for about 10 days, since I found inspiration at 100 days of real food blog. In those 10 days, I have already begun to feel so much better and dropped about 4 lbs! I have 2 questions for you:

1. How long did it take you changing your way of life to see the 35 lbs come off?

2. In the past couple of days,I just had to eat out about 4 times in a row due to traveling and feel like I've gained back all I had lost and accomplished. How do you not face the cravings coming back after you allow a meal of processed food at a restaurant, etc.?
Hi Elizabeth,
I'm so excited for you! I think you'll really love eating a real food diet! There's no restriction and you can enjoy life a bit more! It took me about 9 months to get all the weight off. After that, I was just maintaining. In answer to your second question, I feel the same way after I eat out a lot. I think it's more of a backed-up feeling instead of actual weight gain. Restaurant food isn't too kind on the gut, so I always chalk that feeling up to just my digestion being a little backed up. Going back to real food should clear it up!

Jana asks,

I just finished reading your book and I must say, "what an eye opener!" As someone who is over 40 and was trying to eat healthy and feed my family healthy I was shocked to see that the low fat craze I have been raised in was a bit lacking and in some ways just wrong! I so appreciate your insights and sharing all you have learned. Since reading your book I have come across many sources that back up what you have been and are saying! So thank you!

I must say what got me interested in your book was your story. My husband suffered a severe back injury about 10 years ago and lives with chronic pain daily and it has dramatically affected his quality of life for sure! I am hoping that by following the recommendations in your book, he too will reap similar benefits as his body works to heal by eating real food.

So on to my question….I was reviewing your suggested list of supplements, ordered the Fermented Cod Liver Oil/Butter Blend and the Hydrolyzed Gelatin, but what is a good source for the Magnesium? Do you have a preferred company you buy from or brand you recommend? I'd like to get him started on this soon as his inflammation and pain is getting worse! He sees a chiropractor and just finished a purification/detox program, but he is pretty much at a stand still with progress now. My hope is these supplements added to a real food diet will help him where nothing else seems to have yet!
Hi Jana,
I'm sorry to hear about your husband. Back pain (in any form) is really the worst because it's so limiting and it takes a long time to get the inflammation out. I deal with some inflammation still because I have some nerve damage from surgeries, as well as some congenital spine issues I'm trying to work out. I am MUCH better than before, but it is always something I just have to watch and take care of. For back pain, yes, Magnesium is a great one. You can get it 3 different ways, through a supplement (here's my favorite), through a spray (here's what I use), and through an epsom salt bath. Now, when you do the bath, you'll need the epsom salts (found here) as well as bentonite clay (found here) if your water is fluoridated. The reason being that fluoride bonds with magnesium and it won't absorb in the skin. I never used to think epsom salts helped me at all, then I tried the clay and it was like a miracle! Really does help when you're feeling really bad.
It's recommended to choose two forms of magnesium because it can be hard for the body to absorb. Typically you can only take small doses orally because it can produce loose stools. (some people welcome this, though:)
I also take raw ginger everyday (you can read my tutorial here) to help encourage healing. I should write a blog post about back pain management! I hope this helps and just keep trying to do your best. You won't be perfect, but you can always be better than you used to be:)

Christi asks,

I read your.post on grass fed meat. Where do you get it from?.I am also in Phoenix.
Hi Christi,
The person I bought my grass-fed beef from was a family friend and he doesn't do it anymore. I would suggest some local grass-fed farmers. You can see a list of Arizona grass-fed farmers and pastured meat producers here.

Sarah asks,

I'm in the process of healing my metabolism but i'm also exclusively nursing a 4 month old…because i hear so much that when you're nursing you need to drink a lot..should i be drinking even when i'm not thirsty? would my milk supply go down? or would my body balance out?

i find if i drink too much right now i get cold and tired but i'm worried if i don't drink a lot my supply will go down…
Hi Sarah,
When you're nursing, I'd recommend drinking what feels right to you. I really believe our water intake should be individualized because we all have different activity levels and demands on our bodies. You could make a homemade gatorade, which will hydrate AND replace electrolytes, which supports a healthy metabolism. Another thing you could do is take a spoonful of coconut oil everyday to help support your thyroid, and be sure to eat a lot of calories as well (in real food form, of course.) Hope that helps and kiss that sweet baby for me!

Brian asks,
Thanks for the info on raising goats. It answered most all of my questions. I've raised cattle & hogs, but never goats. The question I still have is, how long is the milk good for? Is it ok or recommended to freeze the milk?
Hi Brian,
Our raw goat's milk can last 2-3 weeks. It never goes bad to the point where it would make us sick, it just starts to taste a teeny bit sour. Some tips to keeping the milk tasting fresh for 2-3 weeks is to make sure and filter the milk fast as well as refrigerate it fast at 38-40 degrees. We actually ended up getting a mini-fridge to hold our milk so we could keep it colder than our regular fridge. Also, be sure to use very clean glass jars.

Got questions for me? Click here to email me!
If you have any more advice for the readers who asked questions, feel free to comment below:)