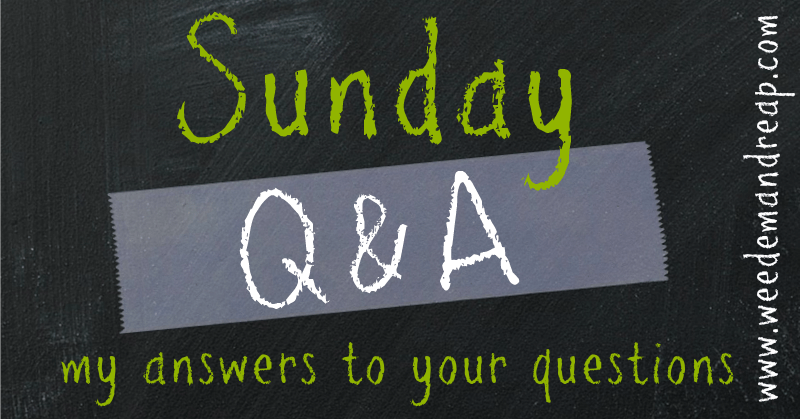 One of my favorite things is to read emails from YOU!
I love hearing about your lives and the changes you're making. Whether you're just getting started with real food or buying your first goat, it's a joy to hear from you all. I truly consider each one of you a personal friend and some of you have had me rolling on the floor laughing about your crazy experiences. I have decided that it might help others if I answer some of the questions here on my blog. I plan on making this a series and posting every Sunday just for you guys.
I need to throw out a disclaimer here that I am not a nutritionist, nor a doctor, nor a scientist, nor a specialist in any way. While I do have a background in nursing, my medical opinions are strictly my own and if you are concerned about your health, you should consult a medical professional.
Okay, let's get started!
Shannon asks,

1. Are glass canning jar lids suppose to stink bad? I bought a pack of Kerr glass canning jars and when I opened them the lids smell like STROONG plastic smell. I washed them and they seemed to be fine, but I screwed them back on the jar and opened it up again a day later and the smell was still as strong as ever. Is this safe? Is there a way to get that smell out? Does it make the food in the jar smell like that?

2. What supplements do you recommend a pregnant woman take and how much? Do you recommend a full on prenatal vitamin, or just a mix of stuff like fermented cod liver oil and b-vitamins?

As always, thank you so much for your wisdom!
Hi Shannon,

The smell could be coming from the lids, not the jars themselves. But overall, I wouldn't worry about it unless it's overwhelmingly strong.
As far as pregnancy supplements go, my friend Genevieve at Mama Natural has a great video called, "Supplements I take during Pregnancy."

Sarah asks,

I hope you are able to read this email, I'm not sure how many you receive, but I hope this one makes the cut! I say that because you truly have changed my life. My out look on diet and restriction was interfering with my life before I read your blog! Every day was a battle because I lived in a world of RESTRICTION. But now I am eating full fat (DELICIOUS) products and I have lost weight!!!! I'm hoping my husband and I can own some more land to purchase a goat and cow but we are not there yet 🙂

We are 25 so we need a little more $$$ but then we hope to! Anyway, I have a personal question to ask, I have thoroughly enjoyed by diet over the last 6 months but my one vice is wine. I usually have about 1 to 2 bottles a week (2 is unique and really only for special occasions). How do you feel about alcohol? Do you drink wine? And if so, how should I buy wine? Do I need to be concerned about it is produced and how they treat the grapes?

Again, thank you for your book and blog! I am so thankful! Hope you and your family are doing well 🙂
Hi Sarah,
I'm so happy for you! You will be one sexy lady (with goats)! As far as wine goes, I think "in moderation" is a good phrase to use here. I don't think it's good to be extremely strict in anything, and letting go a bit can really help us de-stress in our lives. When deciding on the brand and type of wine to purchase, my friend Emily at Holistic Squid wrote an article on this titled, "Is Organic Wine Better?"I think her article will really help you!

Keisha asks,

Hi, DaNelle! I am new to your blog, but I am really enjoying what I am discovering – thank you!

My question is, I'm curious what your thoughts on unbleached organic white flour are. Over the past several months, I have heard that everything we have heard about whole wheat being healthier than white bread is largely exaggerated. Do you ever bake / cook with white flour?

(I was thinking about this after reading your biscuits recipe, which I'm going to make next week… they look amazing!!!)
Hi Keisha,
I still use some white flour, but here's how I look at it. I definitely buy Organic, Unbleached, Unbromated White Flour and I also try to remember that the nutrients are low, so I definitely don't eat a lot of it. I'll use it when I need to make a last minute sprouted bread/pizza and I'll use the white flour as a filler, to lighten it up a bit and hold it together. Other than that, I don't use it much:)

Chris asks,

I purchased and read your book. I have been following your site for about a month and have been slowly starting to change the food in our house. I want to take the plunge and try the 4 week meal plan in you book but my kids attend public school and some of the recipe's are not lunch box friendly. Can I substitute other things like your jerky, fruits and veggies? They are junior highers and eat like they have 2 hollow legs!! They are always hungry so I hope by fixing the menu's in your book, we can eliminate the "snackies". What are the best things to put in their lunches? And also for an afternoon snack.
Hi Chris,
As long as it's real food, you can basically do anything. I would just make sure it's balanced with some fruit & vegetables, good fat, along with protein & carbs. A good example would be a chicken salad sandwich with fruit & veg on the side, and maybe some homemade cookies. Another example could be homemade quesadillas (with store bought sprouted tortillas or homemade soaked tortillas) with salsa & avocado, fruit & veg, & yogurt with honey.

Monika asks,

I was cruising around on the net, found you by searching homemade probiotics… been interested in making kefir and sauerkraut for a while. Do you live near Phoenix? I live in Phoenix.I am studying to be a special needs teacher.

I want land and goats and an urban homestead…somewhere outside the city. WHERE would you recommend someone settle these days?
Hi Monika,
I do live near Phoenix! There are some great places in Arizona to settle. There are a lot of small 1/3 acre lots around Tempe, Mesa, & Chandler. You can go to Queen Creek or Buckeye for bigger lots. To make kefir, here's my recipe. For sauerkraut, use this one. Good luck!

Charlotte asks,

I've just finished your book. Love it! It makes perfect sense. I am one of those who has always believed in whole real food just because I'm a little old fashioned, but I have still used a lot of processed food without realizing it. I'm also overweight. I have been for many years. I've also been on every diet imaginable. My question is since starting to make changes like the ones you describe in your book I've gained about 10 pounds. Is that normal or am I still doing something wrong. The old me says, cut the fat, cut the sugar, get out and exercise so it doesn't keep going up. Any suggestions?
Hey Charlotte,
I have noticed that those who have been on every diet imaginable tend to have a body that puts on weight quickly at first. The reason for this is that your body is used to being in starvation mode. Your body is trying to build up reserves in case you do some crazy diet again:) The best way to get over this hump is to first focus on eating nutrient-dense food. Forget about calories, fat, sugar. You are welcome to exercise, but don't overdo it in that department either. Second, I'd recommend you make sure you are taking care of your metabolism. You can read my two articles where I talk about ways I ruined my metabolism and ways I improved my metabolism. Small practices can really make a huge improvement in your body's ability to function correctly and not pack on extra pounds. I'm confident your body will be able to find it's natural weight:)

Leslie asks,

Hi there! We live in Tonopah AZ. Where are you? I currently have a nubian doeling. Poor baby's momma rejected her at birth and she is almost a month old. She weighs 9 lbs. We were lucky if she weighed 2 at birth.

Anyway…. she has had some tummy issues…. gas constipation….wondering when I should start her on hay. She loves chewing on rocks (I know not good). She has mineral block but doesn't seem to care about It. She takes 50 to 64 oz a day of milk right now. Started doing better when I put her on whole milk instead or milk replacer…

She is a single goat and I have 5 dogs that she has known since day 3 of life. As well as my 4 kids and us adults. Do you think she will be ok? Kinda only have the budget for the 1…….
Hey Leslie,
What kind of milk are you feeding the baby goat? If it's a milk replacer powder, that could be the cause of constipation & gas. The best possible milk for a baby goat is raw goat's milk because it has the enzymes and cofactors needed to digest properly. I'd definitely recommend trying to find a good source for that.
As far as hay goes, you can leave hay out free choice as soon as 1 week old. The baby goat will eat it when she is ready to:) Good luck, I hope your baby goat gets better!
Got questions for me? Click here to email me!
If you have any more advice for the readers who asked questions, feel free to comment below:)