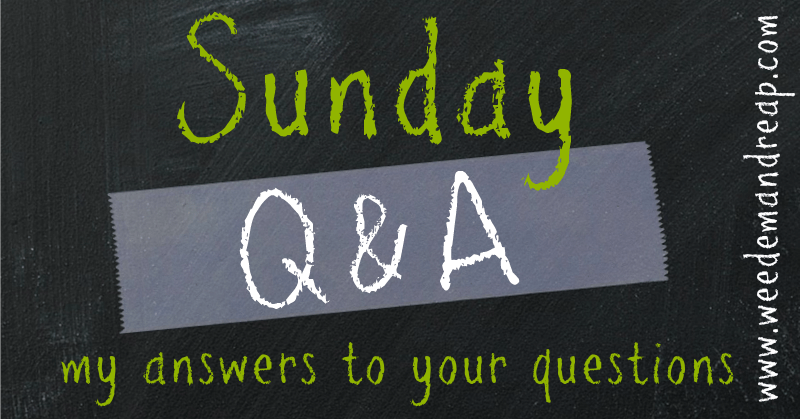 One of my favorite things is to read emails from YOU!
I love hearing about your lives and the changes you're making. Whether you're just getting started with real food or buying your first goat, it's a joy to hear from you all. I truly consider each one of you a personal friend and some of you have had me rolling on the floor laughing about your crazy experiences. I have decided that it might help others if I answer some of the questions here on my blog. I plan on making this a series and posting every Sunday just for you guys.
I need to throw out a disclaimer here that I am not a nutritionist, nor a doctor, nor a scientist, nor a specialist in any way. While I do have a background in nursing, my medical opinions are strictly my own and if you are concerned about your health, you should consult a medical professional.
Okay, let's get started!
Claudia asks,

I love your insight and my family and I have changed the way we eat. Nothing processed in our house at all. Whatever we have for dinner we have for lunch and breakfast is oatmeal (properly cooked) sweetened with 2 teaspoons of maple syrup and a teaspoon do chia seeds or eggs and real bacon or sausage with raw milk cheese. We are all very happy eating this way but I have some baby weight to lose and it's been a month of eating this way but I won't lose any weight. I have 33 lbs to lose. Do you have any suggestions? I purchased your book in look for answers but as much as it was rich in information and I am so glad we bought it I still didn't find anything different than I am currently doing. Please help, I really want to keep living this life style but I want to lose this weight.
Hi Claudia,

What I've found with weight loss is that sometimes the reason we don't lose weight is because we need to be more strict in our real food diet, and sometimes it's because we need to work on improving our metabolism to help our body find its natural weight. In the book and on my website, I advocate following the 80/20 rule when eating a real food diet. But I have found that if you have previously been eating a SAD (Standard American Diet), then a 95/5 rule would be more appropriate as you work towards a natural goal weight. The 80/20 rule is great to maintain the weight loss, but a stricter diet may be needed at first to help your body detox from bad food.
The other thing to consider is your metabolism. Having a slow metabolism is common today. I recently wrote about this in my article, 5 Ways I Ruined my Metabolism. I've also got a blog post coming this week where I talk about the 5 Ways I Improved my Metabolism. I think it'll really help you on your weight loss & health journey!

Teri asks,

First, thanks for a great website with lots of good information! I recently got a bread machine, primarily for making gluten free loaf breads but also baking regular bread for my family and have been baking away when I read your blog on the importance of natural leavening for healthy home made bread. I ordered 3 leavens from Dr. Dough and started two starters: Dark Rye and Gluten Free, per their specific instructions. I measured with a scale my recently bought flours and set the 1 quart jars in the kitchen after covering them. I waited the 36 hours and not a great deal happened. Both increased in volume and got "holes" in them. Both jars went from 1/3 to 3/4 full, but not double in volume, light or airy.

I put the GF jar in the fridge and attempted to make rye bread with the other. I utilized a recipe for bread machine rye bread and used 1/3 cup of natural leavening (from Amy's recipe for Naturally Leavened loaf bread); used the machine to mix the dough as well as 1 knead cycle. Transferred dough to a pan to rise – and nothing happened for up to 24 hours later. Expensive experiment! I refreshed the rye leaven per instructions; waited up to 24 hours-nothing at all. Took the GF leaven out of the fridge, let it sit for up to 24 hours – nothing. Looked exactly the same as when I put it in, holes, volume, but thick not light and airy. I dumped it rather than risk another expensive mistake

Have some questions and discovered that Amy McClean passed away 6 months ago, leaving behind Dr Dough and their 5 children, so I don't want to bother him. Would you be able to help?

1. What am I doing wrong with the initial starters?

2. Can one use a bread machine to mix and knead the natural leavened dough? I know natural leavened bread must rise for 8 + Hours so one cannot use anything but the dough cycle of a bread machine – still beats kneading the dough by hand

3. How adapt a regular bread recipe or regular bread machine recipe to utilize natural leavening?

4. Amy's Naturally leavened loaf bread recipe does not mention any kneading of the dough-is that correct?

You convinced me that natural leavening is the only way to make healthy bread and looking forward to making it!
Hi Teri,
A few different factors can influence how well a starter grows. In my experience, my starter has never doubled in size. The most important thing is that your starter bubbles and increases in size, but don't worry about the exact size it has grown. With that being said, I've also noticed that my success with natural leavening yeast is based on how much time I've spend preparing my starter. I recommend feeding your starter for 2-3 weeks before using it. You can toss whatever you have extra, or you can use it to make natural yeast waffles, like in this recipe. The reason I recommend feeding it multiple times before using is because then you can get really familiar with how the natural yeast works, and also because over time, the yeast and good bacteria will multiply, making your bread turn out better. In answer to your second question, I don't see any reason why you couldn't use the bread machine. In regards to your third question, it's too complicated for me to explain how to adapt a regular bread recipe to incorporate natural leavening yeast. I'd recommend getting really good at tried & true recipes before trying to make your own. For your last question, there are a lot of breads that don't knead. The reason being that sometimes the ingredients are too fragile and do better without the kneading. I hope that helps! You can also read my post on using natural yeast called, The Ultimate Guide to Soaking, Sprouting, & Sour Leavening Grains – Part 4

Hannah asks,

What is your opinion on food combining? I can notice a sluggish feeling eating grains with meat, even soaked brown rice. Do you soak your white rice?
Hi Hannah,
In my experience, I don't do any food combining. I do try to make sure that I have a variety of nutrients on my plate like protein, carbohydrates, & fat. I also make sure to provide something salty and something sweet as well. This helps satisfy my body completely, and I like to feel satisfied after a meal:) There isn't a lot of research on food combining, but I found this great podcast you can listen to here on food combining.
I do soak my white rice, but only for about 2-4 hours before consuming. I also don't sweat it if I forget because white rice is more digestible than brown anyway.

Samantha asks,

I just discovered your blog last night in my search for more info on milking goats and am on my own path to healing. I suffer from severe migraines. So debilitating that I can sometimes spend days at a time forcing myself to sleep because absolutely nothing can reduce the pain and suffering through it only makes the migraines worse and last even longer. I've tried everything any friend or family member has ever suggested, seen doctor after doctor and neurologists only to have horrible neurological side effects to medication (like having my entire face go numb or getting ridiculously forgetful)and it didn't even keep my migraines at bay! I think finding your blog, and your book, are going to be a real miracle. The last year or so I've been trying to move toward a more natural diet. Natural in the sense that it's whole and real. I've tried the low fat, no carb, no meat, no "desserts", supplement blah blah blah only to have gained over a hundred pounds in the last 3 years. So thank you for your new inspiration to eat my way to being healthy!

Anywhoodles I e-mailed you because you occasionally mention you live in the desert. I was wondering where exactly that is? My husband and I (currently without children but most likely taking my MIL with us, I'm 23 and he's 25) are looking to buy an acre or two and build a small home so we can raise our own little farm and garden. Our biggest concern is water. We live in Tucson AZ, and have no plans to ever move anywhere else, our entire extended family lives here, we have friends and family and church community and want to do it without having to leave all the things in life that make us happy.

How do you afford to grow grass for your animals? I am hoping to grow some of our own alfalfa and bermuda for goats and my bunnies (we currently have meat rabbits, I think this will be my version of sheep, as I have never much liked sheep and rabbit meat is fun to raise, easy to butcher, and tasty to eat =) How do you water all that greenery?

What about your garden? How do you grow and water in the desert? I have many a friend in their retirement years with successful gardens, but they all use automated watering systems that cost obscene amounts of money to put in and of course the actual cost of water is through the roof. My husband is an elementary school teacher, and although I spent many years in school (most recently finished my certificate in Vet Assistant, but had to drop from the Vet Tech program because of my health) because of my migraines I've been unable to finish with a degree or hold a job. We live off his salary alone, and of course anything I can bring in or break even with my animals is helpful.

How do you do it?
Hi Samantha,
Yay! Another Arizonian! I live in the Easy Valley, about 30 minutes east of Phoenix. We live on about an acre and we made sure to purchase a home that had irrigation. Irrigation is the desert's solution to conserving water:) We only pay about $150 a year to water our acre of land for a year. So, I'd definitely recommend you find a home that has irrigation. Tuscon should have irrigation through the Central Arizona Project, so I'd look into that:)
For our garden, we decided to raise it up off the ground to help keep the bermuda grass out. So, we have a small dripper line set up. We hook it to a garden hose and I manually turn it on everyday. I definitely need to do a blog post on it, now that I think of it! It would probably be easier to have something set up automatically, but watering it manually forces me to weed my garden while it's watering:) Our water bill for our 1000 sq. foot garden is about $15 extra a month. Not too bad.

Kalli asks,

I read your post about the signs of nutritional deficiencies in kids. I have never read about spacing being related to diet, but I'm very interested to hear more as I have four girls and my first two have very crowded teeth. Is there any change in diet that can help with spacing after the fact? My 8yo has teeth coming in like a shark. We have a pretty good diet with little processed food, but I know it could be better, and I'm trying to switch to a complete real food diet. Any info you can give me is much appreciated.
Hi Kalli,
When I first heard that theory, I thought it was crazy. In Dr. Weston A. Price's book, Nutrition & Physical Degeneration, he has some pretty hard research showing that the incidence of cavities and poor spacing/crooked teeth rose when the diet was lacking in a few things, like:
Lack of Adequate Fat-Soluble Vitamins in the Diet – The fat soluble vitamins like Vitamins A, D, E, & K are found in foods with fat, and because of the low-fat craze, we all probably have been lacking in these vitamins.
Lack of Activator X in the Diet – Activator X was what Dr. Price identified in as a superfood vitamin found in the deep yellow butter & cheese of cows grazing on green grass. He found that the Swiss people living on this diet had an incredible resistance to cavities and other degenerative diseases. There were 80 year old women carrying bales of hay over their shoulder for miles and their health was amazing. Today, we now know that Activator X is the Vitamin K2. If you read online, you'll find that Vitamin K is found in green plants, and that is only partly true. Technically, it's the Vitamin K1 found in plants. The body will use Vitamin K1 for clotting and convert the rest to Vitamin K2 so the body can assimilate minerals. Animals are much better at converting green grass & plants to the K2 usable form. The deep yellow butter & cheese from grass-fed animals has Activator X (or Vitamin K2) in a more bioavailable form for humans. We now know that Vitamin K2 is necessary in order for the body to assimilate and absorb our minerals.
Lack of Proper Minerals in the Diet – Minerals are hard to come by these days because of the depletion of our soil from the use of pesticides, fungicides, & herbicides. Buying organic is better, and growing your own garden is best. We grow our own greens, and we make sure to eat them with a healthy fat in order for our bodies to assimilate the minerals from them:)

This is a very short summary of the theory behind what causes crowded teeth/poor spacing. People get upset because Dr. Price claims that the deficiency happens in utero. Moms don't like to hear this because it makes them feel guilty. I had very crowded teeth and my children's spacing isn't as bad as mine was, but they could definitely be better. I think the point is to not worry about the past and just try to do better in the future. We try to consider the above factors when feeding our children. Instead of being afraid of fat, we follow a traditional diet and consider high fat, nutrient-dense animal foods very important. So, we eat plenty of eggs from our chickens that are a deep orange color, and drink raw milk from our grass-fed goats. We hide liver in sauces & soups, and purchase or make raw cheese and then of course grow our own mineral-rich greens and then we also try to eat mineral-rich seafood & soaked nuts as well. Homemade broth is also a great source of minerals. In the end, if you're eating a real food diet and making sure to value traditional fats, then you are doing great!
I'll write a blog post more in depth on this topic and exactly what we feed our kids:) You can visit the Weston. A. Price Foundation and read more on this topic and find helpful resources.

Candi asks,

Have you ever tried pasteurizing your milk at home?
Hey Candi,
We don't pasteurize our milk because we believe that drinking our milk raw is very important. We like to be able to take advantage of the beneficial enzymes and co-factors that help our bodies digest the milk properly. We were able to reverse my son's asthma by switching to raw goat's milk.
There are a few times when I've had to heat my milk, like in soups, sauces, etc. but I don't worry about it when I have to do that. Also, when making yogurt, I do have to scald it in order for the good bacteria in milk to not overpower the yogurt cultures.
Other than that, we drink our milk raw. You can read more about why we drink raw milk here.

Sue asks,

Every year we plant tomatoes and before we can harvest our first tomato the leaves on the bottom of the plants start to wilt and die. We have never gotten more than one crop per plant. We have tried everything the local farmers suggest and nothing has worked. Anything you can suggest we will give a try.
Hey Sue,
I have a great article for you! My good friend Halle over at Whole Lifestyle Nutrition has some great tips for growing delicious tomatoes! Check out her article here:
Follow This One Tip In Your Garden & Get A Ton Of Organic Tomatoes!
Got questions for me? Click here to email me!
If you have any more advice for the readers who asked questions, feel free to comment below:)