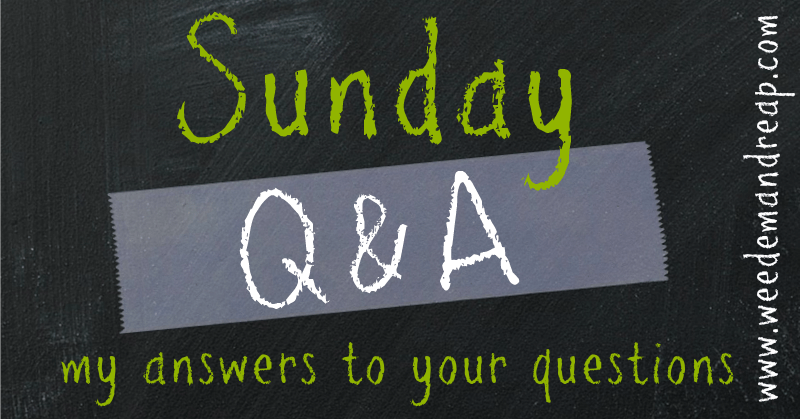 One of my favorite things is to read emails from YOU!
I love hearing about your lives and the changes you're making. Whether you're just getting started with real food or buying your first goat, it's a joy to hear from you all. I truly consider each one of you a personal friend and some of you have had me rolling on the floor laughing about your crazy experiences. I have decided that it might help others if I answer some of the questions here on my blog. I plan on making this a series and posting every Sunday just for you guys.
I need to throw out a disclaimer here that I am not a nutritionist, nor a doctor, nor a scientist, nor a specialist in any way. While I do have a background in nursing, my medical opinions are strictly my own and if you are concerned about your health, you should consult a medical professional.
Okay, let's get started!
Michelle asks,

I am a newbie to your website and LOVE your humor and passion! I am also new to the world of Traditional Diet. I had previously tried to following a gluten free diet, but was left irritated and unsatisfied; having to cut out good 'ol fashion bread and baked goods. When I learned your method of soaking, the heaven's opened up!! I mastered the soaked blueberry muffins on my first go. Unfortunately, I am struggling with the one thing I am dying to master! Homemade bread!!!! I have followed your recipe for soaked whole wheat bread to a T, but the dough is way too wet and sticky. I was wondering if you have had any other followers having difficulty? Or if you had any advice for this Canadian Traditional Diet newbie? Regards, Michelle.
Hi Michelle,

Bread is definitely a tough one at first. The most important thing you have to know is how to do is find a good flour to water ratio. Even though my soaked bread recipe has exact measurements, it may vary depending on your altitude/location. Also, if you're using freshly ground flour, then there could be more air in it and you'll need more cups of flour than the recipe states. I'm planning on doing a bread making video this week, so hopefully that will help you as you make your bread! I'll update the original bread recipe article with the video:)

Allie asks,

Where do you buy your pellets? I want goats so badly but my husband is fighting me on the whole paying for food issue. He wants to grow our own but being a hardcore gardener hates Bermuda grass with a passion. Do you know if goats would eat Sudan grass? Plus we don't have irrigation so we would have to install sprinklers, we have a well and so have an unlimited water supply but getting the water to our yard is the problem. Also he wants to make sure the feed is organic and non GMO, and the easiest way to do that is to grow our own. But I want goaties now! Thanks for your help. Ps I am loving the updates on Luna 🙂 thanks for sharing
Hi Allie,
I live in Arizona and I purchase my chicken feed, goat grain (for the milking stand), and goat alfalfa pellets all from a Buyer's Club called the Phoenix Organic Feed Wholesale Group. A group like this could be started in any city in the US. You just need a big enough group of people ordering and somebody to organize it:) You can also purchase organic feed through Azure Standard. Call them, and they'll tell you if there is a drop off point close to where you live. I think your goats would eat Sudan grass, but you do have to remember that goats are browsers, not grazers, and they prefer a variety. They probably won't be happy to eat ONLY the grass, so purchasing some pellets would be good:)


Katie asks,

Hello there, I love your blog!! I have a question, how you make your natural yeast. I always make my own bread at home but am looking to a better alternative for the instant yeast. Can you please help me out? Thanks
Hi Katie,
You can either purchase a natural yeast starter from here, or make your own sourdough yeast starter with this recipe here. I also have a blog post all about feeding & maintaining your yeast starter🙂

Nicki asks,

I discovered your blog recently & have loved all the information you have on there! We have Nigerian Dwarf milk goats & our own chickens & veggie garden…AND are currently in the process of raising a pig for meat. Hopefully finding a calf & some meat chickens soon as well. So, we are well on our way to eating a 'whole foods' diet. With that said…I have some health issues that I'm concerned about. I am on thyroid meds (which I can't tell is doing a thing!)have gained a lot of weight & in general am just tired & moody. My hair is all frizzy & brittle, I have acne…& the list goes on. I know it must be something to do with my gut (I also bloat up…like seriously look preggo after meals sometimes) I've been researching the gaps diet. What is your opinion on the gaps plan? Do you feel that it's a necessary process to heal your gut & body..or can it be just as simple as eating a whole foods diet?
Hi Nicki,
I have mixed feelings about the GAPS diet. I really believe it can help those suffering from sever gut issues, and neurological issues, but I think you can also do a lot of healing with a real food diet if you can emphasize the gut healing foods like homemade probiotics, broths/gelatin, and go easy on the grains. I'm not totally against the GAPS diet, I just want to encourage people to be careful with food restriction as it can be pretty stressful on the body too. My friend Cara, who reversed her daughters Autism with the GAPS diet, has an article to determine if the GAPS diet is right for you:)

Jowhar asks,

My name is Jowhar, I live in Goodyear, AZ. My family and dogs(we breed Boxers – Raw fed) LOVE lamb and would like to get more info from you. Two questions: Do you sell your lambs already butchered? My second question is something I've been curious about for some time and that is, is it possible to raise goats on leased grazing land? We buy the goats and rent the land for them to graze on?
Hi Jowhar,
We don't sell our lamb meat, we just raise enough for our family here on our acre:) In answer to your second question, you could lease land and put the goats there, as long as you're willing to drive over and take care of them twice a day, more if one has kids. It would work great if you could find some land close to you:)

Emily asks,

I stumbled across your site through a pin on Pinterest just the other day and I am hooked/obsessed/think this sounds too good to be true 🙂 For the past 8+ years I have done some sort of cardio workout 6 days every week without fail, watched what I ate (salads, chicken, etc) and my weight has not changed (I'm not overweight- 5'2 ~115, but would like to be ~105-110). I've done the juice cleanse (only 3 days at a time), but it makes me eat more after 😛 I'm trying this new real foods deal after reading your blog and can't wait to see what benefits will come from it (outside of weight loss). One thing I do want to get your thought on is exercise. I know you mentioned not working out but still losing weight. Sometimes I wish I could just forego my workout but my fear is that because I've done it for so long and my body is used to it, if I were to ever work out less, I would gain weight. I would love to get your thoughts on this.
Hey Emily,
Personally, I couldn't exercise because of my limitations from previous back surgery. I don't totally hate exercise, I just know from my experience and from interviewing others that losing weight is about 90% diet and maybe 10% exercise, if that. I try to look at exercise for it's other health benefits like stress relief, heart health, strong muscles, etc. I think being active is great, but the whole "if I exercise more, I'll lose more" is based on the calorie-burning theory, which isn't really true because calories aren't created equal. It's really the quality of calories that matter. 2 tootsie rolls have 70 calories…but so does one egg. BUT, which one will be denser in nutrients? The egg, for sure. So, counting calories and burning calories just don't work. I'd suggest you find some kind of activity you love and just do it. Don't kill yourself working out, just find the joy in it:)

Christi asks,

Trying to find out what is best in terms of tea on the full traditional diet? please advise…
Hey Christi,
When it comes to tea, there are a lot of options. Herbal is always great. When it comes to regular tea, I stick with white organic, because the white leaves are the younger leaves and have less fluoride (all tea has organic fluoride and some people debate if it's okay or not. The synthetic fluoride is bad, but some argue that the organic, naturally occurring fluoride is fine.) So really, it's up to you! There are a lot of options, and I think you'll be safest going with an organic variety overall:)
Got questions for me? Click here to email me!
If you have any more advice for the readers who asked questions, feel free to comment below:)