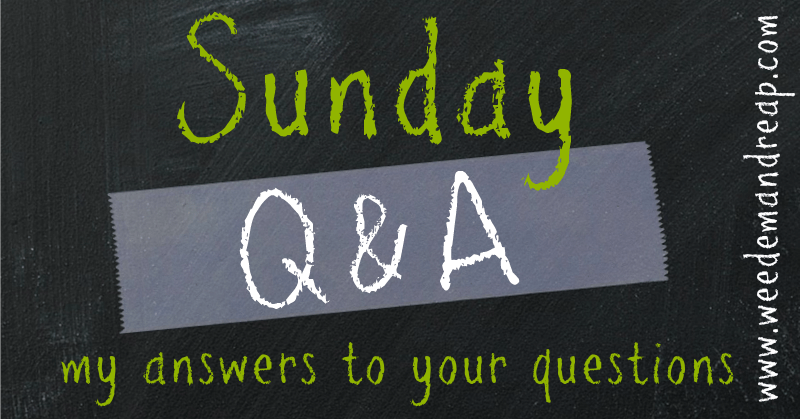 One of my favorite things is to read emails from YOU!
I love hearing about your lives and the changes you're making. Whether you're just getting started with real food or buying your first goat, it's a joy to hear from you all. I truly consider each one of you a personal friend and some of you have had me rolling on the floor laughing about your crazy experiences. I have decided that it might help others if I answer some of the questions here on my blog. I plan on making this a series and posting every Sunday just for you guys.
I need to throw out a disclaimer here that I am not a nutritionist, nor a doctor, nor a scientist, nor a specialist in any way. While I do have a background in nursing, my medical opinions are strictly my own and if you are concerned about your health, you should consult a medical professional.
Okay, let's get started!
Carol asks,

I have recently found your blog and I'm enjoying browsing around. I'm pretty much a beginner with learning to eat a traditional diet. (My toughest obstacle may be convincing the hubby to ditch conventional wisdom about things like whole milk, lard and butter.) I'm wondering if you are careful about how much of the good fats you consume? I'm sure you don't eat endless amounts of good fat, but do you have a certain goal in mind for a daily intake? (personally I could eat 10 avocados a day! 🙂 ) Thanks for your great blog and taking the time to answer my question.
Hi Carol,
This is a great question. I remember when I first embraced REAL fat, I still found myself wanting to limit my portions. Now, I am the opposite. I put huge amounts of butter on my bread, potatoes, & vegetables, drink full-fat whole milk, and will fry foods in lard, tallow, or coconut oil. I had such a great experience with weight loss & elimination of my depression after I included these real fats in my diet, that I have my full faith in them:) Trying to go against what we've been taught our whole lives can be harder on some people than others, so be patient with your husband, I'm sure he'll come around. Once he does, he'll thank you like mine does!
Sources for good fats:

Brenda asks,

I have a few questions.

-My husband I made soap with from your recipe. We only got 8 bars and the recipe said that we were suppose to get 24. We cut our soap bars like standard size bars.

-There was a frothy film on top and around the side of the soap. We let the bars stand a little bit longer 30 hours but it didn't change the froth that was around the soap. We were able to cut the soap with no problem.

-We must be doing something wrong with the purchase of essential oils. The citrus essential oil costs $38.00 for 3- 15ml bottles of Citrus Blend from Rock Mountain oils.

That seems to me to be a very expensive soap making process. It seems like a lot of citrus oil.

-I know that we are doing something wrong. We made your recipe with one bottle of oil and made 8 bars.

So Thankful for your help.
Hi Brenda,
I do cut my bars rather small. I would say they are about half the size of a normal bar, so that could be the reason why. Congrats on making your own soap! (Other readers can view my homemade soap recipe here.)

Janet asks,

I have 2 – 9 month old 1/4 nigerian dwarf 3/4 nubian brother (fixed) and sister that I keep in a larger stall with attached paddock so they don't graze. I know they were dewormed once when I picked them up but have not done it since brought home. They had there shot with tetanus and look great and happy.

Know this needs to be done but how often and what kind? Should it be herbal? Also they are not exactly trained and can't imagine me using paste with them now! I feed alfalfa bermuda mix and they get crimped oats at night.
Hi Janet,
Deworming your goats is really easy. I purchase Formula 1 & 2 Herbal Dewormer from Molly's Herbals. I've never had a worm problem, and most breeders swear by her stuff, so it's legit! You simply sprinkle it in their oats when it's time to feed them. (The de-worming schedule will be on the package) If your goats turn their noses up at it, just drizzle a little molasses on top and they'll eat it up! Good luck!

Lindy asks,

I saw your post on FB a while back on Candida and you seemed a little skeptical, as I am! I was wondering what you found out about it. It all seems to make sense but it's just odd that I've never heard of it before. Every site I read pretty much tells me to buy their products. I have been having so many of the symptoms I'm excited to hopefully have an answer for them all. I'm just skeptical since I've never heard of it before… I would love to hear your thoughts!
Hi Lindy,
The only reason candida makes me skeptical is all the sales pitches out there on various websites promising to "cure" it. I do believe that some people have some real symptoms related to candida, but I also feel that people are too quick to diagnose themselves as ridden with candida. I really believe that a real food diet can do wonders for a number of issues, and if I had trouble with candida, I would simply focus on healing the gut well with homemade probiotics and gelatin in the form of supplements and homemade chicken broth or beef/lamb broth., as well as being sure to prepare grains properly and/or eat a low grain diet as an diet very heavy in grains can throw the digestive system off balance. Hope that helps!
If you have any more advice for the readers who asked questions, feel free to comment below:)