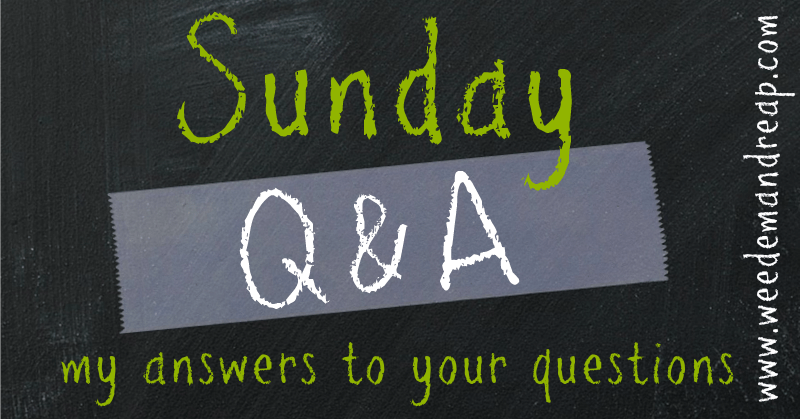 One of my favorite things is to read emails from YOU!
I love hearing about your lives and the changes you're making. Whether you're just getting started with real food or buying your first goat, it's a joy to hear from you all. I truly consider each one of you a personal friend and some of you have had me rolling on the floor laughing about your crazy experiences. I have decided that it might help others if I answer some of the questions here on my blog. I plan on making this a series and posting every Sunday just for you guys.
I need to throw out a disclaimer here that I am not a nutritionist, nor a doctor, nor a scientist, nor a specialist in any way. While I do have a background in nursing, my medical opinions are strictly my own and if you are concerned about your health, you should consult a medical professional.
Okay, let's get started!
Karen asks,

Hi there. With great interest, i listened to your interview the other day and learned of you and then visited your site. I've printed lots of recipes and am excited to get going on this!

My question is this: for whom does this not work (if they were doing "everything" you suggested)?

I mean…if EVERYBODY does what you suggest, will EVERYONE have the same success? What have you seen as you (i'm certain) work with the public…

Thank you!
Hi Karen,
Many people have lost weight with my book and meal plans, but I've noticed that there are some people who suffer from hypothyroidism that struggle with a sluggish metabolism and losing weight in general. For those people, I usually recommend watching things that could bind with the T4 receptors in the blood. Those are fluoride (found in toothpastes & often your water supply), bromine (found in enriched white flour products), PUFA's – polyunsaturated fatty acids (found in fast foods/packaged foods). Gluten can also be a culprit, but if you prepare your grains properly, and eat in low to moderate amount, you can still do well with it. I also recommend increasing their intake of coconut oil, and supplementing with iodine & magnesium. People with hypothyroidism tend to have success with low-carb diets, but then gain the weight back quickly. The key I've found with hypothyroidism is to eat a strict Real Food Diet, and cut out the things which bind to the T4 thyroid receptor in the body, so the thyroid can function properly.
I'm sure there are other circumstances where somebody would still not lose weight, but in my experience, I have found that people do really well once they break up with fast food, packaged foods, and junk food. Real food is nourishing and delicious. Although it does take some time and planning, it is a very realistic and attainable goal to lose weight eating real food!

Leah asks,

What stores do you recommend shopping for high quality foods with the option of buying in bulk for a reasonable price? We are making the transition to real food, and are not familiar with some of the bigger stores that can be found in cities. Thanks for your suggestions.
Hi Leah,
My favorite bulk foods are Kerrygold butter & Coconut Oil from Costco. In Arizona where I live, this is the best price I can find. As far as fats go, they can be your most expensive purchase, but we've found that Costco has really reasonable prices. I'll also buy coconut sugar in bulk on Amazon. It's the best price I've found.

Ruth asks,

I bought your book and I've been eating better for three weeks! As a former vegetarian I have to say I feel much better, but I'm still really confused about milk. I don't have access to raw milk in my area. The best that I can find is the organic 365 brand at Whole Foods, but they have just started stocking Organic Valley 100% Grassfed Non-homogenized milk. If raw is unavailable is non-homogenized the next best thing? I just want to be sure since it is significantly more expensive. Should I use the regular organic milk to make cultured dairy products and drink the non-homogenized or would it be better to use the non-homogenized for drinking and culturing? In Nourishing Traditions the recipe calls for raw or non-homogenized. Or should we just not drink milk since we can't get it raw? I just wonder about my 15 month old…Also, do you have any good recipes for convenience toddler finger food for when we're on the go?
Hi Ruth,
That's a tough one, but I'd have to say that non-homogenized is your 2nd best option after raw milk. The homogenization process make the globules smaller, but it also destroys the molecules of the milk, making it harder to digest. I'm not saying that you should NEVER drink it, but if that is your only source, over time, it's not going to be the best option. It can be so hard with milk to find the best, but just use your judgement and remember that you don't have to be perfect. We all have to make compromises with what's available to us, so don't worry about it too much.

Zoey asks,

I'm looking at starting my own farm and I have been researching a lot on goats. I really love your blog and how you explain about the Nigerian Dwarfs(I feel like I'm already in love with that breed too)! Here is my question, Have you tried to make cheeses, butter, and yogurt with you goats milk?? I'm curious on how well that breeds milk will do?? Thank You So Much For Taking The Time To Read This and Answer!! I Look Forward To Hearing For You Soon!! – Zoey
Hi Zoey,
Awesome! Another goat lover! I have been able to make cheese (Elliott Homestead Recipe), yogurt, & soap with goat's milk, but butter is a bit difficult because goat's milk is naturally homogenized. This means that the cream doesn't separate from the milk like cow's milk does. There is a little bit of cream that collects at the top, but not much. You could scoop off the little bit of cream that you do have, or you can even purchase a cream separator to do the job, although they're a bit pricey. Nigerian, Nubian, La Mancha, & Alpine milk are my top favorites and I think they all have good flavor. Have fun making all your goodies!

Mary asks,

I am completely fascinated by your website and your thoughts/experiences with diet and nutrition. It all makes total sense. I have a few questions and concerns in regards to feeding an 8 month old and a 2 1/2 year on this diet with the supplements you mention. I bought Kefir and my 2year old really liked it… my 8mo has had yogurt so I feel comfortable offering it to her, but the Kombucha drink, is that something suitable for them to drink as well? My understanding is that it is tea based, is the caffeine of concern?

I am also about to purchase the fermented cod liver oil as well. On the website it does mention a dose to give to infants… I was just curious what your pediatrician thinks of all this. I am all for healthy babes and this winter has been especially hard at our house.

So anything that could offer relief I am all for trying!

Also, I know you properly prepare your grains… do you make your own noodles or have you eliminated them for the most part? Its just such an easy finger food I would love alternatives.

And any suggestions on plan ahead prep would be great appreciated … I work full time about an hour and 1/2 away from home so any planning ahead or an example of a schedule would be most appreciated.

Thanks so much! I truly enjoy your website!!!!
Hi Mary,
As far as kombucha goes, you can give it to children and infants in very small amounts, just as a bubbly treat:) The caffeine in the tea is digested by the scoby bacteria, so there shouldn't be any left when you drink it.
With fermented cod liver oil, I've actually never asked my pediatrician about it, because honestly, I don't believe he has had a proper nutritional education. We only go to the doctor if we are really sick or injured, which hasn't happened in over 5 years.
We still eat pasta, and when I purchase it, I like to purchase an "older grain" variety like this one, because I haven't found a sprouted variety I like and I don't really want to make it myself. Older grains like Einkorn, Emer, & Spelt all are much easier to digest. It's optimal to prepare them properly, but if you can't, then they are the safer ones to each plain.
As far as meal prep, I've found that my simple planning method really helps. I'm coming out with a free printable to help everybody plan their meals better with real food. Hopefully that'll make it easier for everybody!

Richie asks,
I was looking at your awesome page…. there is a lot to catch up on… but I was wondering if you homeschooled your kids as well. If so, could you please tell me how that is going and how your kids are doing with it? I would love to have goats, chickens, etc…and homeschool. My kids are 4 and 5 years old. I think this would be an awesome life for them. We are about eating "real food" as well. I am about 60 lbs lighter than when I graduated high school… even after two kids! and I don't spend all day exercising… it is about eating the right foods! Anyway, thank you for sharing!
Hey Richie,
Yes! We homeschool! My kids actually went to public school until a year ago, then we yanked 'em out and started homeschooling:) We love it. I was really nervous having my kids home all day with me because I had gotten so used to them being in school all day, but it's just wonderful. They are such a help to me here on the farm and they are hilarious to be around. I'm so glad I decided to homeschool. We actually do a method of homeschooling called "unschooling". You can read more about our experience with it here. I'm planning on writing more about the unschooling method soon!
If you have any more advice for the readers who asked questions, feel free to comment below:)