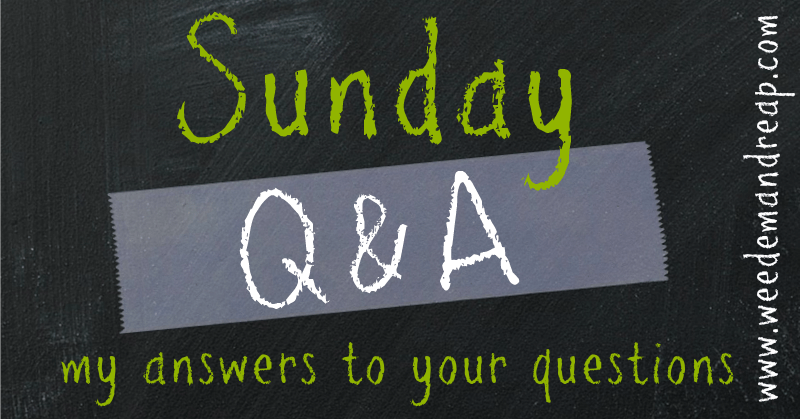 One of my favorite things is to read emails from YOU!
I love hearing about your lives and the changes you're making. Whether you're just getting started with real food or buying your first goat, it's a joy to hear from you all. I truly consider each one of you a personal friend and some of you have had me rolling on the floor laughing about your crazy experiences. I have decided that it might help others if I answer some of the questions here on my blog. I plan on making this a series and posting every Sunday just for you guys.
I need to throw out a disclaimer here that I am not a nutritionist, nor a doctor, nor a scientist, nor a specialist in any way. While I do have a background in nursing, my medical opinions are strictly my own and if you are concerned about your health, you should consult a medical professional.
Okay, let's get started!
Mary asks,

I had a question but I don't know if you can answer it. I am lactose intolerant and have no problems drinking raw goats milk. I purchased some pasteurized milk and its giving me sinus issues, which is what happens when I eat dairy. Do you know why the raw milk doesn't have this effect? Thanks!
Hi Mary,
Pasteurized milk has been heated to such high temperatures that the fragile proteins become denatured. "Denatured" means they have been altered at the molecular level. So, when you ingest pasteurized milk, your body literally does not know how to digest it. Instead, your body thinks it's a foreign substance, and attacks it as such. Your body alerts it's best defense, the immune system, and does all it can to get rid of this invader. This is the exact reason why so many people have trouble digesting pasteurized milk. Raw milk has live enzymes and co-factors that make it easy to digest. You can read more about the benefits of raw milk here. Go raw goat's milk!

Jessica asks,

Hi DaNelle, can you please please please help me with this craziness? I read all these Real Food recipes (From Scratch) that sound great but I don't understand the soaking. I have Organic unbleached flour, do I (or actually can I) soak that? If I don't have sprouted flour can I use my organic flour? Is it interchangable? Please help.
Hi Jessica,
Learning all about soaking and sprouting grains can be confusing. Think of it this way — when starting with a WHOLE KERNEL of GRAIN, you sprout first, then dehydrate and grind into a 'sprouted flour'. When starting with WHOLE GRAIN FLOUR, you soak or sour leaven. Both ways break down the phytic acid and allow for easier digestion. You can read more about preparing grains properly here.

Gina asks,

I have recently made the change to real foods (loving it) but I hoped you might be able to help with the weight loss part? What did a week of foods look like while you were losing and portions? Your book is awesome and I'm trying recipes out as we speak! Just hoping you might have some suggestions or helpful hints. Thank you in advance for your time. Waiting patiently. … Ha ha
Hi Gina,
I am SO glad you are enjoying my book. Real food ROCKS! As for a week's worth of food, I'm glad you asked. I'm currently writing meal plans to go along with my book. If you already purchased my book, you'll receive a separate download link:) So, if you can wait just a bit longer, I promise, it'll be worth it!

Kris asks,

Just tried some coconut milk and bloating big time!!! Coconut oil is okay. An idea for a post would be the pros and cons of various coconut products 🙂

Started making my own grain kefir, but bloated (as with just about anything right now . . .). What do you think? Still drink it, but start with just a spoonful per day and slowly work up to a glass?

Or is this a case of having such messed up digestion that I need to go on GAPS? Love to hear your opinion 🙂
Hi Kris,
The GAPS diet is great for healing the gut, but I'd only recommend it for those who have serious health problems, specifically related to neurological disorders such as Autism, Aspergers, ADD, ADHD. The GAPS diet is extremely difficult and very limiting. I would suggest you first read the book Your Personal Paleo Code by Chris Kresser. He specializes in helping heal the gut through a modified Paleo diet. I don't eat Paleo, but it can be very helpful when trying to heal food sensitivities. Another great book is The 30 Day Heartburn Solution by Craig Fear. His book covers other digestive issues as well.

Leanne asks,

Hi DaNelle, I just found you site via pinterest and have sat here for an hour longer then I planned! I recently read Sally Fallon's book 'Nourishing Traditions' and we're making changes to the way we eat. I recently bought a grain grinder and have been soaking my fresh ground spelt and oats. I would like to do some sprouting soon. My question is, if I sprout the grain, dry and grind it, do I still need to soak it before using the flour, or has the phytic acid all been taken care of?
Hi Leanne,
I'm so happy that you've started making changes! In answer to your question, if you sprout the grain, dry it and grind it, then you have successfully broken down the phytic acid, and there is no need to soak it. This comes in handy when you want to make cookies, muffins, pancakes, waffles, etc. last minute and you don't have the time for a soaking period. I sometimes make my own sprouted flour, or sometimes I buy sprouted flour and keep it in my fridge for last minute baking. For the times I have prepared ahead, I simply do a soaking time. I have a recipe for soaked donuts, soaked biscuits, soaked cornbread, soaked tortillas, & soaked bread. All of these recipes start with plain whole-wheat or spelt flour. Hope that helps!
If you have any more advice for the readers who asked questions, feel free to comment below:)