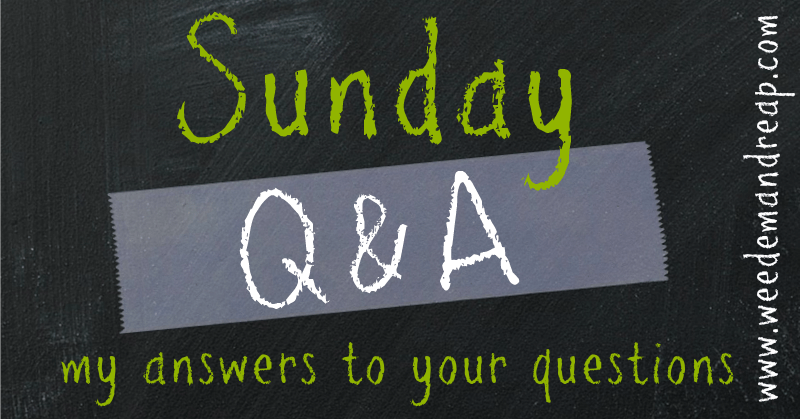 One of my favorite things is to read emails from YOU!
I love hearing about your lives and the changes you're making. Whether you're just getting started with real food or buying your first goat, it's a joy to hear from you all. I truly consider each one of you a personal friend and some of you have had me rolling on the floor laughing about your crazy experiences. I have decided that it might help others if I answer some of the questions here on my blog. I plan on making this a series and posting every Sunday just for you guys.
I need to throw out a disclaimer here that I am not a nutritionist, nor a doctor, nor a scientist, nor a specialist in any way. While I do have a background in nursing, my medical opinions are strictly my own and if you are concerned about your health, you should consult a medical professional.
Okay, let's get started!
Anne Marie asks,

Love your down to earth weight loss story and many congratulations to you!

I thought I'd ask in case you have any insights, I've been eating the healthiest I ever have, absolutely no processed food, making my own desserts, eating without counting and such AND YET, I'm the heaviest I've ever been!!!!! It's been 4 years on this journey (since I had my daughter) and I can't figure this out, despite my research and commitment to eating real food. Yikes! Any insights would be greatly appreciated.
Hi Anne Marie,
If you are still having trouble losing weight with real food, I would look at things other than food. Give yourself a huge pat on the back for doing so well eating primarily healthy, nutrient-dense foods, and look at your stress, your sleep, & your energy level/metabolism. If you are tired, overwhelmed, and have generally low energy, you may need to focus on some things to help your metabolism heal. I've been doing this Thyroid Program here and having great results!

Kathleen asks,

I'm asking about your littlest baby goat. I know you sold it but was wondering, what kind of goat was it? Did it ever get a name? And how big do they get?
Hi Kathleen,
The littlest baby goat was so adorable! (You can read her survival story here). We did sell her to a great family who love her with all of their heart:) She was a Nigerian Dwarf, but a VERY small one, weighing in at 15 ounces at delivery. Goats that are born as runts will stay slightly smaller, but with good nutrition can get pretty close to a full grown doe (70 lbs.) The family chose the named her Bunny. Haha, very appropriate for her little adorableness:)

Heather asks,

I have a small kitchen, so I'm trying to keep my counter space as free as possible. Can I make yogurt in my oven, it has a bread dough proofing setting and I was wondering if that would be too hot for the bacterial culture? I was also wondering about Greek yogurt, I read on another site that you make it the same as regular yogurt, but after the fermentation process is done you put the yogurt in cheese clothe and let in drain for about 5-12 hours. Is that right?
Hi Heather,
You'll have to check the manufacturer's manual to find out the actual temperature of the bread-proofing setting. Yogurt incubates best at 110 degrees. So, I'd try to stick as close to that as possible. You're exactly right about the Greek yogurt. You can strain liquid from the yogurt and get it as thick as you want:)

Brenda asks,

This is a three part question. 1. I made my first batch of mayo with olive oil and I hated it! Is there another good oil option that does not have such a strong flavor? 2. I read a post saying that you could use Spectrum Naturals Organic High Heat Sunflower Oil for a no flavor oil. Is Sunflower oil safe? I didn't see it listed on the oil chart you recently posted. 3. I see on your oil chart that grape seed oil is in the ditch list. The company wild tree sells an organic grape seed oil that they say is super healthy. It is a no go?

Thank you so much for your help! I love your blog, your advice and your humor!!

Thank you
Hi Brenda,
I understand your woes:) Homemade mayo can be difficult to get 'just right'. You can do a couple different things. You can purchase a lighter tasting olive oil, you can try this homemade mayo recipe. She uses half olive oil and half coconut oil. Finally, you could also try avocado oil as your main oil in mayo. (click here to buy). As far as which oils are good and bad, just imagine which ones you could make in your home. Those are the ones that are the purest and most natural for your body. Lard, Tallow, Coconut Oil & Olive Oil could be made in your home with a simple press or rendering process. Avocado oil, Macadamia Nut oil, & Walnut oil could also technically be made in your home. Seed oils like grapeseed, flaxseed, hempseed, would be incredible hard to make yourself and you would need high powered machinery to make them. There's a reason for this. These tiny seeds, once exposed to air, become rancid very fast because they have a high amount of polyunsaturated fatty acids. So, I try to avoid using them. One exception to this rule is sesame seed oil. It is a little more stable than it's fellow seed-mates, but I would still use it in moderation. (asian dishes/sauces)

Claire asks,

Hi! I am a mom of 3 who has celiac and a dairy sensitivity (worsens my palmar pustular psoriasis). All 3 of my kids have gluten sensitivity, and one also has a dairy sensitivity. After trying multiple "diets" to help our autoimmune issues, I would like to try a traditional diet and was wondering if you could recommend some books that would help me to transition to that and take into account our dietary needs. What advice would you give someone who has to avoid dairy? Thanks so much!
Hi Claire,
That can be difficult, but not impossible. More and more people are creating awesome cookbooks for people just like you! My friend Hannah at Healy Real Food Vegetarian just wrote a cookbook titled, Gluten Free Vegetarian. I'm not vegetarian, and I'm not recommending you eat vegetarian, but meat isn't necessary at every single meal and she provides some great dairy & gluten free recipes in her book! Hannah also wrote a dessert book that is gluten & dairy free as well. You can see her dessert book here.
If you have any more advice for the readers who asked questions, feel free to comment below:)