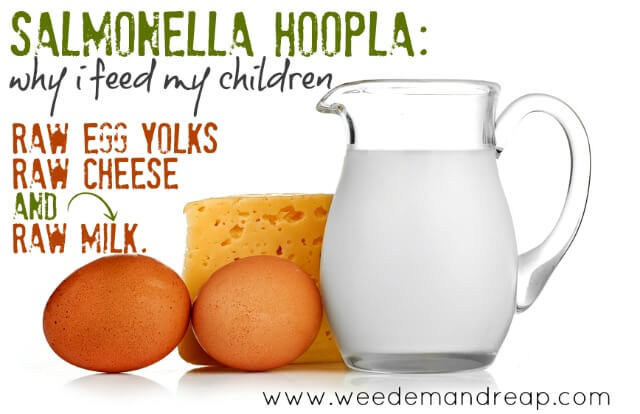 You say I'm crazy.
I say I'm smart.
You say it's risky.
I say it's safe.
What am I talking about here?
I'm talking about my family's diet, but more specifically, how we incoporate raw egg yolks, raw milk, & raw cheese into it. Oh yes, we have all sorts of shenanigans goin' on over here.
If you're expecting a greasy-haired, crazy-eyed, abnormal family over here, I'm sorry to say we'll disappoint you.
Other than the fact that we run an urban farm and milk goats everyday, we're not all that much different than you. My husband and I have normal lives, drive normal cars, live in a normal house, and have some pretty normal kids. We both grew up in the city, attended public school, and played on the local little league teams. We're both movie-buffs, and have an extensive knowledge of all things Harry Potter.
So why for the crazy diet? Why take a risk on all these sorts of "dangerous" foods?
Your Great-Grandma would love me.
I don't know about you, but I've always wanted to live on a farm. Happiness, to me, is waking up to a rooster crowing and spending my morning gathering eggs, milking a cow (or goat), and gathering fresh fruit & vegetables for a delicious farm fresh breakfast. Before the industrialization of food, everybody had farms. Raising chickens, pigs, goats, rabbits, cows, & sheep was the norm. It wasn't an easy life and it took some dedication and big dose of patience, but it had its rewards, both physically & mentally.
Before we created our urban farm, we were living a life of processed food, and our health was suffering. From newly married college kids to new parents, we did what came natural, and sadly, that also included processed foods. I began to have some serious health problems, including crippling back pain and a vestibular disorder. My son, at age 2, began to suffer from severe asthma as well. We need a change, and I knew a big part of that change included getting back to our roots.
I wanted a traditional life for my family. I wanted fresh air, sunshine, and some dirt on my hands. I wanted fresh, real, traditional food. I wanted to feel nourished and satisfied, and dang it, I wanted to do it just like my Great-Grandma did.
Safety Measures or Scare Tactics?
One of the first things people say to me when they learn of my diet is…
"Aren't you afraid of getting sick?"
To put it bluntly, no. I'm not afraid of getting salmonella from drinking raw milk, eating raw cheese, or eating raw egg yolks. Why?
Simple. Our ancestors have been eating this way for THOUSANDS of years. Raw milk & cheese are the foods they thrived on! Dr. Price's book Nutrition and Physical Degeneration shows proof of that. His travels around the world studying traditional societies and the foods they ate shows that the human body does best on whole, traditional foods, which includes a good supply of raw milk! Raw milk is full of nutrients, enzymes, minerals, digestible proteins, and many other vitamins needed to supplement the human diet.
With the industrialization of food and the increase of factory farming, raw milk was no longer possible, as bacteria levels rose incredibly high as a result of keeping animals in confinement. More and more people are becoming intolerant to milk, and this is all due to the fact that the milk most people drink today is heated to extremely high temperatures.
"Pasteurization does not create clean milk; it just kills filthy milk."

Mark McAfee of Organic Pastures
We're told that raw milk is dangerous and that we are very likely to get sick from Salmonella and other bacterial strains. The data, however, shows a very different story.
Causes of Food borne Illness:
Approximately 5,000 people in America die every year from a food borne illness.
From 2009-2011, THREE outbreaks with products involving cantaloupe, peanuts, & eggs contributed to 2,729 sicknesses & 39 deaths.
There hasn't been ONE SINGLE DEATH associated with raw milk consumption since 1986.
Today, green leafy vegetables are the most frequent cause of food-borne illness in the United States.
During the 2000 − 2007 period, there were 12 hospitalizations for illnesses associated with raw fluid milk. That's an average of 1.5 per year. With approximately 9.4 million people drinking raw milk, that means you have about a 1 in 6 million chance of being hospitalized from drinking raw milk.

-Chris Kresser
Raw Milk & Raw Cheese Benefits:
Raw milk & cheese are in and of themselves are a complete protein, meaning they carry the full spectrum of amino acids. Raw milk & cheese carries with it important carbohydrates, as well as high amounts of saturated fat with low amount of poly-unsaturated fat. On top of that you've also got some great fat-soluble vitamins, which are vital for the assimilation of minerals. Not only does raw milk & cheese have the minerals calcium, selenium, & magnesium, it also has phosphate, which is needed for your body to absorb calcium. Pasteurization completely destroys phosphate which does NOT do your body any good if you can't absorb calcium. It's got plenty of B vitamins along with a nice healthy supply of live enzymes making it incredibly easy to digest.
Why raw egg yolks?
Uncooked, raw egg yolks can provide a good dose of simple, whole, and easy assimilated protein & fats, along with other nutrients and minerals. When we make smoothies, I ALWAYS toss in a couple raw egg yolks. In fact, many people use slightly cooked egg yolks as a first food for their babies. The reason we don't eat raw egg whites is that egg whites contain avidin, a substance that can deplete our bodies of biotin. We stick with raw egg yolks, which contains most of the nutrients anyway.
**NOTE** I wouldn't feed my family raw egg yolks unless they came from healthy, pasture-raised, organic chickens, like the ones we raise. Read more about finding healthy eggs here.
Finding raw milk & raw cheese that are both healthy & safe isn't as hard as you might think. Read my previous post here on finding a good raw milk source.
So, what do you think? Have you joined the weird side? Do you feed your family raw milk, raw cheese, or even raw egg yolks?
Sources:
https://chriskresser.com/raw-milk-reality-is-raw-milk-dangerous
https://www.cspinet.org/new/pdf/outbreak_alert_2008_report_final.pdf
https://www.globenewswire.com/news-release/2013/06/11/553459/10036057/en/New-Studies-Confirm-Raw-Milk-A-Low-Risk-Food.html