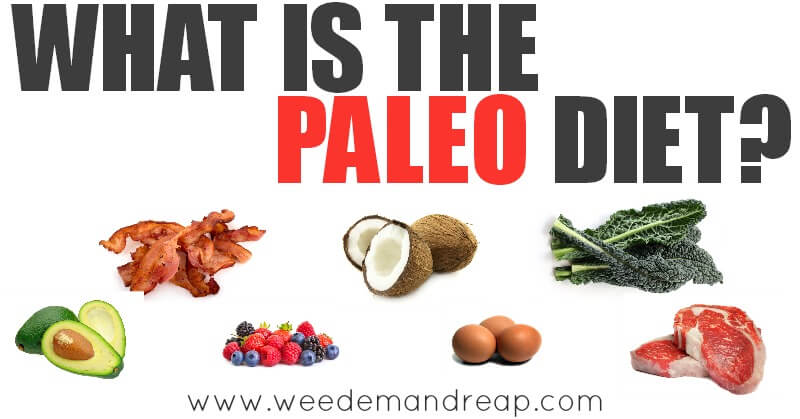 What is the Paleo Diet and why is everybody talking about it?
Well, today I'm going to dive right into the Paleo world, explain the history and the benefits of this popular diet along with my opinion about it.
The Paleo diet is focused on foods the human body is biologically adapted to eat. It excludes foods that are more recent in the human diet, and some of these exclusions may shock you. The Paleo diet is also referred to as The Caveman diet, because it can be traced back to caveman or "hunter-gatherer" tribes.
The Paleo diet includes foods like meat, eggs, shellfish, vegetables, fruits, some nuts & seeds, and traditional fats & oils. See here for a complete list of foods in the Paleo Diet.
The Paleo diet excludes foods like dairy, grains, & beans.
The History of the Paleo Diet
Those who eat a Paleolithic diet believe that this was the sustaining diet for thousands of years. Then, about 10,000 years ago, humans went from "hunter-gatherers" to "agriculturists" and started to grow & harvest grain as well as raise animals for dairy. Although 10,000 years seems like a long time, according to some experts on the subject, 10,000 years isn't very long on the timeline of evolution.
Because dairy and grains weren't included in the human diet until 10,000 years ago, the argument for the Paleo Diet is that we simply haven't had enough time to adapt to the inclusion of these foods in our human bodies. I'll tell you what I think about that below.
The Health Benefits of the Paleo Diet
The Paleo diet emphasizes foods that are anti-inflammatory, promote gut integrity, normalize hormonal function and balance energy levels. Many Paleo friends of mine don't focus on the history of the Paleo diet as much, but rather, the health benefits for their bodies. Many people have noticed other health benefits like:
Increased and more stable energy levels
Improved sleep
Clearer skin and healthier looking hair
Mental clarity
Improved mood and attitude
Improvements in those suffering depression or anxieties
Less or no bloating, decreased gas
Sustained weight loss
Muscle growth; increased fitness
Lowered risk of heart disease, diabetes and cancer
Higher immune function and a general feeling of well being
Improved glucose tolerance; decreased insulin secretion and increased insulin sensitivity
Improved lipid profiles
Healthier gut flora
Better absorption of nutrients from food
Reduced allergies
Paleo diet is anti-inflammatory, most people experience reduction of pain associated with inflammation
Improvements in those with respiratory problems such as asthma
Are there any Negative Effects of the Paleo Diet?
Robb Wolf, author of The Paleo Solution, answers this question in this video below…
The Myths of the Paleo Diet
Myth #1 – It's another low-carb diet fad.
Truth #1 – The Paleo diet excludes processed, high-glycemic carbohydrates, but includes high amounts of other carbohydrates in the form of fruits & vegetables.
Myth #2 – It's expensive and hard to follow.
Truth #2 – Actually, the Paleo diet can be eaten on a budget, just check out this article here called How to Eat Paleo on a Budget.
Myth #3 – It seems like too much cholesterol
Truth #3 – Cholesterol is actually a very important part of a healthy diet. Just check out this article here debunking cholesterol myths.
Does my family eat Paleo?
Because we choose to eat grains, beans, & dairy so we don't consider our diet Paleo. I'm not opposed to the diet, I just feel that we do well with our home-raised goats milk, and properly prepared grains & beans. We do, however, eat a low-grain diet, which means we try to avoid centering our plate of food on grains & beans and just try to find the balance that's right for us.
I may in the future do a Paleo diet, possibly for a cleanse, but I don't think I'll ever completely exclude grains, beans, or dairy. I've spent years restricting my diet, and I feel great about including all foods in my family's diet right now. I love to learn and keep my mind open and learn from friends and fellow authors, but for now, I feel comfortable where I'm at food-wise.
My Recommended Paleo Resources
Favorite Paleo Blogs:
Favorite Paleo Books:
So, what do YOU think? Have you ever eaten Paleo? Are you thinking of trying it?