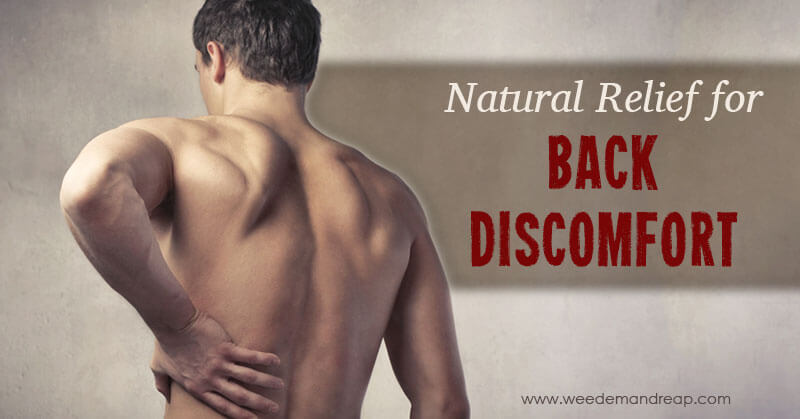 Raise your hand if your back hates you.
With my history of muscle tension & disc surgeries, I've really been through the gamut of back management and relief. Yikes, it's not a fun road to take. Years of relying on medication really brought me to my all time low about four years ago. My sensitive stomach needed a more natural treatment. Over the years though, I've found some pretty great natural solutions that have kept me feeling great and have given me such a better outlook on life!
The natural solutions I use come in the form of minerals, plants, or the essential oils of plants. I've found that sticking with natural options really serves my body best and give me exactly what I need:
RELIEF!
It's no secret that my switch to a healthier lifestyle of REAL food was directly because I was suffering from poor health. Without a doubt, changing my diet and eliminating processed food had a HUGE impact on how my body could get rid of inflammation. I'm telling you, if you can keep your diet clean, you'll notice your body isn't as quick to respond negatively! You can read more here about my real food diet here.
Natural Solutions for Back Discomfort
One of my first life-changing solutions was Magnesium. Magnesium is the "feel-good" mineral. It is essential for over 300 different chemical reactions in the body, including maintaining your energy level, relaxing your muscles, regulating your blood sugar, and sustaining the health of your heart and blood vessels. A deficiency can lead to a HOST of problems (including muscle discomfort) and this deficiency can be caused by carbonated beverages, sugar, & stress, just to name a few.Nearly half of the population is deficient in magnesium and it's often said that if you deal with muscle tension, odds are you're low in magnesium.

The problem is, magnesium is really tough to supplement with. In my experience, oral varieties (like magnesium citrate) can irritate the gut and cause diarrhea and topical sprays (like magnesium oil) can irritate the skin. I have found two ways to supplement my body with magnesium that work!

The first is supplementing orally with Magnesium Orotate. The orotate form is most easily absorbed by the body and doesn't cause me any digestive upset!The second is supplementing topically with a homemade concoction called "Mag-a-hol" Mag-a-hol is a mixture of Magnesium Chloride Flakes & 80 proof alcohol (Vodka). This combination absorbs into the skin beautifully and has been call the "muscle tension spray". This is more of an "as-needed" spray. I will use this if my back feels fatigued or if it's feeling particularly tight and my muscles relax down immediately! The recipe for Mag-a-hol can be found here.
Herbs & the essential oils of herbs have been used for thousands of years to aid the body and fill in the gaps that stress or nutritional deficiencies leave us with and I'm telling you, after years of back discomfort, it's always shocking to me how well plants from the earth work! One of my FAVORITE natural solutions is simply taking raw ginger as a natural anti-inflammatory! Check out my post here on the details of how I take it. When choosing an essential oil for back discomfort, it's important to know how they work. It was recently discovered that the essential oils of Thyme, Clove, Rose, Eucalyptus, Fennel, and Bergamot all can "suppress the inflammatory COX-2 enzyme, in a manner similar to resveratrol, the chemical linked with the health benefits of red wine." (source) Wintergreen, Peppermint, Lemongrass, Marjoram, White Fir, & Helichrysum are all good for muscle fatigue or achy joints. Seriously, the BEST thing about using essential oils is that you can find blends specific to sore muscles so you don't have to purchase all the essential oils separately! My favorite is a Soothing blend of the essential oils wintergreen, camphor, peppermint, blue tansy, german chamomile, helichrysum and osmanthus. It's the perfect combo to knock out that discomfort! This blend also has a hot & cooling effect that you feel almost instantly. Because essential oils are lipophillic, they can absorb deeply into the skin and muscles, giving you results FAST.
When I began to suffer from back discomfort in my 20s, I really thought my life was over.
Finding relief seemed impossible and I felt trapped by my body. My hope is that you'll find relief and that hopefully natural solutions are your answer! I've learned a lot about back health in the last 10 years I've suffered, and I hope that my advice gives you comfort. Just know that it can get better!