I get a little irked when people call juicing a "fad". Hello!, everybody drinks apple juice and orange juice like it's going out of style, so I don't see the difference with making vegetable juices too. With that being said, Kevin still prefers green smoothies. But the thing is, we have to remember Kevin's judgement system is based on money, and if he can get more bang for his buck, he'll do it. So, he doesn't like the idea of throwing away all that good for you fiber. And I see his point. Kind of. Juicing is great if you're trying to heal. The good thing about juicing is that you get more nutrients per oz. Also, your body absorbs it right away and giving your digestive system a rest which allows your body to go deep within and do a little detoxing. I think a little of both is good. Just depends what your in the mood for and what you feel your body needs.
I don't always buy organic, but for our smoothies and juicing I really try to. Makes me feel better, so there. I am itching to get my garden going, but we're not quite there yet, so Sprouts is my go-to for produce. The main focus with your vegetables should be celery, carrots and spinach. Together they provide a good base of nutrients & minerals. Every thing else is extra. Organic cucumber are super expensive so I only occasionally buy them. Kale & beets are totally optional and just if you are brave enough for a strong "green" taste. If you don't want these, just get more of the other stuff or use a little more fruit if you want. Basically, just look for what's on sale and what you're in the mood for. WARNING: don't try broccoli. It's nasty!
One thing I forgot to put in the picture is organic apples. Yeah, that's kind of important, you need a little sweetness to counteract all these vegetables. This set-up and about 12 apples would provide you with 12 quarts of juice. This should last us 2 weeks.
All of this organic produce, plus a 3 lb. bag of organic apples cost me $20.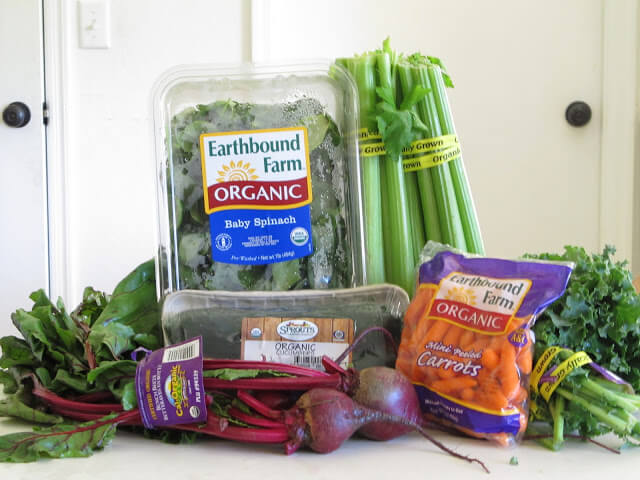 It helps to wash everything and get it prepped. I chop up the veggies and wash the Kale & Beet greens. Now everything's ready for you to become a juicing monster.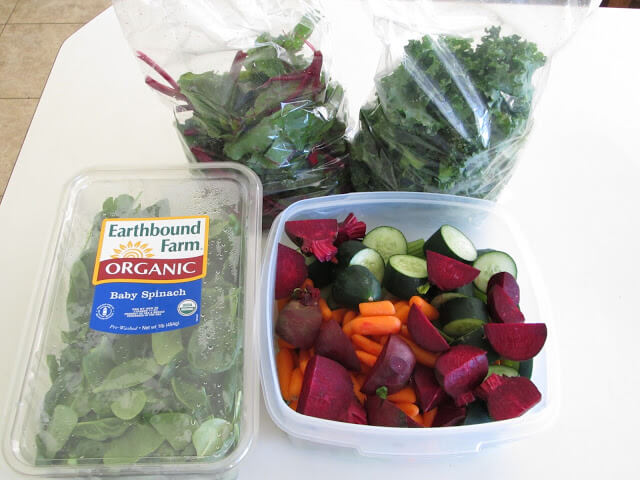 Now, I don't juice with a juicer. It's not because I don't want to buy one. The problem is, when you are juicing greens, juicers are not very good with them unless they are the REALLY EXPENSIVE juicers. You'll find that the normal juicer will just spit the greens into the waste and not much juice will come out. When I first heard of the "blender" method, it sounded like way too much work, so I borrowed my mother-in-laws juicer and was a pain to clean, not to mention it wasted all my greens. So, I went to the blender method and it's faster and more efficient.
This is my favorite blender HERE.
I go by handfuls. A handful of celery, a handful of carrots, a handful of spinach and the other greens. One chopped up apple. Then about 2 cups of water. Blend, then strain through a PAINT STRAINER BAG.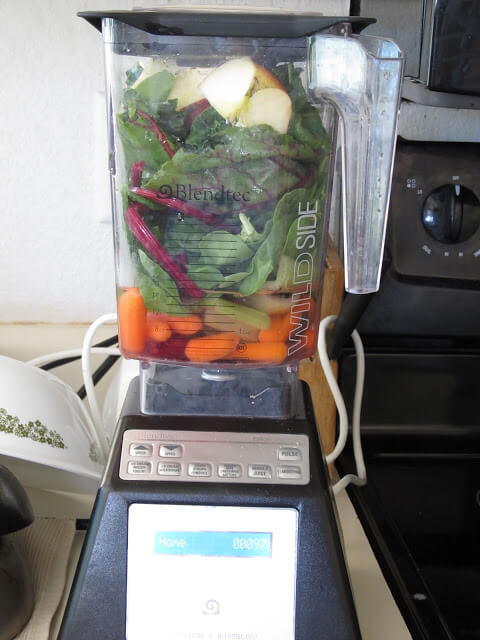 You can find paint strainer bags
HERE
. They come in a 2 pack for $2. There are different sizes so be sure to buy the 1 gallon size, not the 5 gallon, like I did my first time.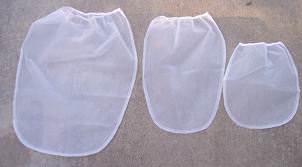 Now squeeze away! Just don't squeeze too hard or else you'll blow a hole in your bag. You probably won't have this problem unless you have super-duper strength from milking goats like me.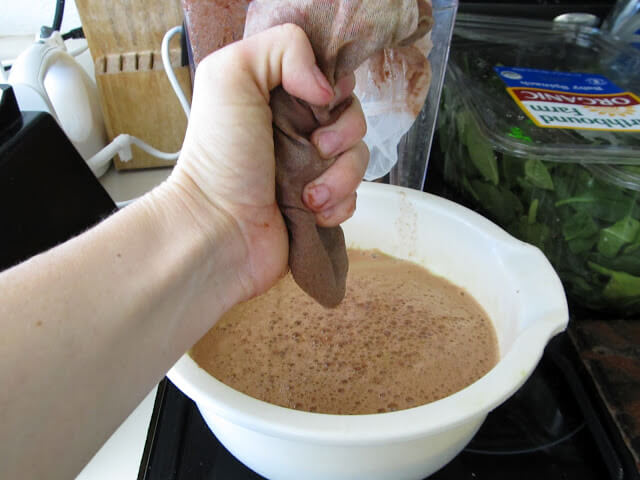 I only put a small piece of beet in this, but it sure made it a dark purple color. Check out my birthday roses. Try not to notice the dirty table, mkay? Have fun drinkin' your juices! YUM! Feel free to email me if you have any questions.