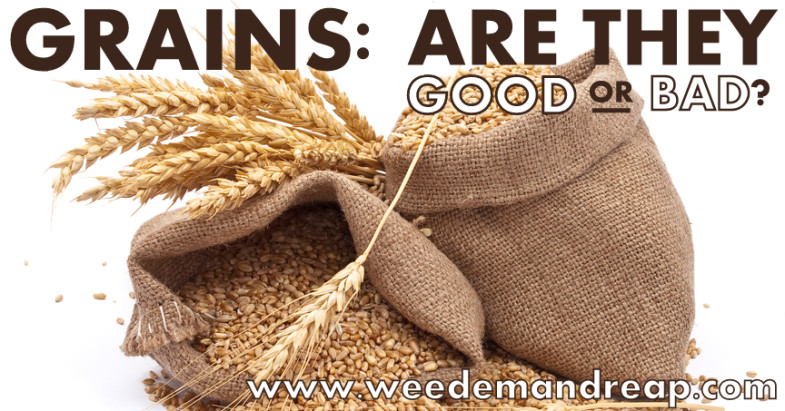 Are grains good or bad?
While perusing the internet for real food recipes, you've probably come across recipes titled "grain-free". You've also probably read a few articles or books on the subject of grains and a recommendation for avoiding them completely.
There's a lot of confusing information out there on whether or not grains are meant for human consumption. The nutritional pyramid tells us that grains should be a good portion of our diet, yet, many nutritionists and bloggers recommend eliminating grains completely.
So, why such opposite views? And what's the REAL scoop on whether grains are good or bad for us?
Today, I'm going to give ya'll my opinion on grains. First, let's go over the arguments AGAINST grains:
Grains have phytic acid – phytic acid inhibits the absorption of minerals from grains and the foods eaten with grains. A high consumption of phytic acid will make the body deficient in minerals.
Grains have enzyme-inhibitors – we need enzymes to digest our food and simply put, without enzymes, grains can't be fully digested.
Grains have lectins – Lectins are sugar-binding proteins, and as protectors of the grain, can produce toxic effects in the body.
Some grains have gluten – Wheat, Spelt, Barley, & Rye all contain gluten, which, can irritate a sensitive gut and produce inflammatory responses for those who are sensitive.
Sounds pretty bad right? Are you ready to jump on the grain-free boat now? I'll admit, all of these arguments can be pretty convincing when it comes to deciding if grains are bad.
So, what do I think about grains?
I believe that grains can be included in a healthy diet, as long as they're properly prepared. I don't think we need to eat a diet high in grains, but I think we can find a healthy balance. Do I consider it at the base of my pyramid? No. I eat a balance of whole meat, fats, vegetables, fruits, and grains. I don't eliminate, I just eat the best version possible of each group.
My argument FOR grains:
Phytic acid, enzyme inhibitors, lectins, and gluten can all be greatly reduced if not completely neutralized by methods of soaking, sprouting, or sour leavening, as well as cooking.
Most of these anti-nutrients are part of the seed's system of preservation—they prevent sprouting until the conditions are right. Plants need moisture, warmth, time and slight acidity in order to sprout. Proper preparation of grains is a kind and gentle process that imitates the process that occurs in nature. It involves soaking for a period in warm, acidulated water in the preparation of porridge, or long, slow sour dough fermentation in the making of bread. Such processes neutralize phytic acid and enzyme inhibitors. Vitamin content increases, particularly B vitamins. Tannins, complex sugars, gluten and other difficult-to-digest substances are partially broken down into simpler components that are more readily available for absorption. (source)
Here are some of my grain recipes (prepared properly of course):
I don't see lectins as a major concern because they are also found in tomatoes, potatoes, string beans, zucchini, green peas, asparagus, radish, sweet peppers, cucumber seeds, mushrooms, cherries, pomegranate, grape seeds, raspberry seeds, apples, watermelon, grapefruit, banana, lemon, orange, strawberries, currants, plums, garlic, marjoram, allspice, nutmeg, peppermint, cocoa beans, walnuts, hazelnuts, sesame seeds and sunflower seeds. The amount of lectins also depends on the ripeness of the plant and the time of season harvested. Lectins are also greatly reduced in properly prepared grains.
Many healthy traditional societies have consumed grains prepared properly and have thrived for thousands of years.
In India, rice and lentils are fermented for at least two days before they are prepared as idli and dosas; in Africa the natives soak coarsely ground corn overnight before adding it to soups and stews and they ferment corn or millet for several days to produce a sour porridge called ogi; a similar dish made from oats was traditional among the Welsh; in some Oriental and Latin American countries rice receives a long fermentation before it is prepared; Ethiopians make their distinctive injera bread by fermenting a grain called teff for several days; Mexican corn cakes, called pozol, are fermented for several days and for as long as two weeks in banana leaves; before the introduction of commercial brewers yeast, Europeans made slow-rise breads from fermented starters; in America the pioneers were famous for their sourdough breads, pancakes and biscuits; and throughout Europe grains were soaked overnight, and for as long as several days, in water or soured milk before they were cooked and served as porridge or gruel. (Many of our senior citizens may remember that in earlier times the instructions on the oatmeal box called for an overnight soaking.) (source)
When should grains be avoided?
In my opinion, grains shouldn't be viewed as all good or all bad. You really have to determine if your body can tolerate them and if you can commit to preparing grains properly. Those with Celiac, Crohn's diease, or IBS certainly need to work on healing their gut before consuming properly prepared grains.
Also, when eating grains, you need to understand that in order to absorb the calcium, phosphorus, iron, B vitamins and others in grains, they need to be eaten with foods that contain fat-soluble vitamins A and D found in animal fats like butter, lard and cream. And honestly, doesn't it taste better that way too? Fresh, sourdough bread with butter is one of my favorites!
Let me just end here with saying that whether you eat grains or not isn't up to me. You have to decide for yourself what is best. I have friends who eat all sorts of diets From Grain-free to Paleo to Vegan, and I think the most important thing to remember is that we all have a common goal of eating real food and avoiding processed, factory-farmed foods. A real food diet will always win! So choose if you want to eat grains, and if you do, preparing them properly is the way to go!
In the next 4 weeks, I'm going to share 4 different blog posts all dedicated to teaching you how to prepare grains properly, so if you're interested, stick around to learn all about it!

What's your opinion on grains? In your experience, have you found if they are good or bad?