Breastfeeding is a tough job…
but somebody's got to feed that baby of yours, and it ain't gonna be the family dog. However, we all know things don't always go as planned and sometimes our bodies don't work the way we want them to. Choosing to formula feed is a big choice. For some, it isn't a choice, they simple cannot physically breastfeed their child. For others, it's a decision that's made based on a number of factors.
I'm not going to discuss the difference between breastfeeding & formula feeding. While I do believe that breastfeeding is best and that mothers have a responsibility to do all they can to prepare their bodies to breastfeed, I understand that sometimes things just don't work out they way we want them to.
Enter goat's milk…
Whenever I share that our family owns goats and milks them each day, I always find people who say they were given goat's milk as a baby, or that goat's milk saved their son when no other milk would work. I LOVE hearing this! One of the reasons why we moved to goat's milk in the first place was because of my son's asthma. He was having experiencing frequent bouts of croup and asthma attacks, and my research led me to goats (and their milk). A change in our diet in other aspects helped as well, but goat's milk was the first thing we changed about our diet and the first thing I attribute to our first winter season with no sickness!
What's so wrong with formula?
There's no question that store bought formula can sustain and keep a baby alive, but what should be done to help a baby thrive? The problem with store bought infant formula is that it is highly-processed and full of denatured proteins (indigestible proteins), GMO corn & soy oils, corn syrup, and other harmful additives.
Even worse, soy-based infant formulas contain phytic acid, which blocks the absorption of minerals and protease inhibitors, which block the body from absorbing protein. It also contains aluminum, fluoride, MSG (and MSG derivitives), which can negatively affect a baby's nervous system. Soy also contains phytoestrogens which can have long-term hormonal effects, including reduced thyroid function.
What may look like a 'healthy baby' according to your pediatrician's standards, may not be the whole story. A formula-fed baby will have deficiencies which may not be noticeable as a young infant, particularly in the areas proper neurological & digestive development. Today, more and more children are being diagnose with delayed development as well as gut-related issues like eczema, asthma, allergies, ADHD, & autism. While these health issues are not all attributed to the fact that a baby has been formula fed, the links are strong.
Why Goat's Milk is the perfect alternative to Breast Milk

Of all the milk in the world, goat's milk most closely resembles human breast milk! Isn't that something? Goat's milk is also very gentle on the digestive tract, which is great for an infant! Because goat's milk has smaller globules, goat's milk is more easily digested. Many people with lactose intolerance can tolerate goat's milk.
A few areas that goat's milk is lacking
You can see that goat's milk lacking slightly in a few areas, particularly in the carbohydrate section. Also, the protein content is a little too high.  There are also some micronutrients that need to be replaced as well. For goat's milk to be a proper formula supplement, it also needs folic acid & B12. (source)
The Weston A. Price Foundation has worked tirelessly to provide a nutritionally accurate formula recipe that is a sufficient replacement for store bought formula. This recipe is a very slight adaptation of the original recipe as the WAPF recommend cow's milk (because of the higher levels of B12). In this recipe we substitute liver & nutritional yeast to provide B12 & folic acid.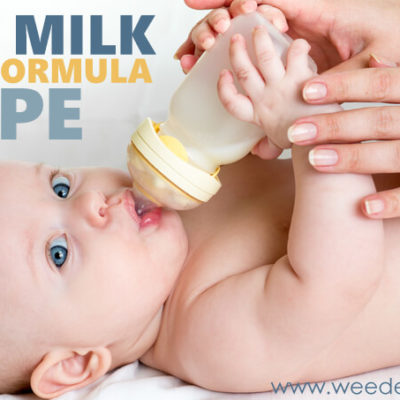 Goat's Milk Baby Formula
Print
Ingredients
Makes 36 ounces of formula

2

c

raw goat's milk

1 7/8

cups

filtered water

(you can begin to reduce this water at 9 months)

1/4

c

liquid whey

(from yogurt only - not cheese. Breast milk is richer in whey than goat's milk)

4

TBS

lactose

(this provides more carbohydrates and is critical for the baby's nervous system - if you want to avoid cow's milk lactose, you can substitute 2 tsp. Grade B Maple Syrup instead)

1/4

tsp

bifidobacterium infantis

(this provides probiotics gentle for an infant)

1/2

teaspoon

high-vitamin cod liver oil

(provides Vitamin D & A)

1

tsp

unrefined sunflower oil

(for Vitamin E)

1

tsp

extra virgin olive oil

(for monosaturated fats)

2

tsp

coconut oil

(this provides lauric acid. It's an important which is a medium-chain fatty acid and provides antiviral, antifungal properties similar to breast milk)

2

tsp

gelatin

(aids in digestibility)

2

tsp

nutritional yeast flakes

(this provides folic acid)

2

tsp

organic raw chicken liver

, previously frozen for 14 days, finely grated (this provides a good source of B12)

1/4

tsp

acerola powder

(this provides a natural source of Vitamin C)

1 -2

tsp

organic blackstrap molasses

(this relieves constipation and is a good source of B vitamins, trace minerals, & iron)
Instructions
Directions to Make the Formula:

In a pan over medium heat, warm the water, dissolve the gelatin, lactose, coconut oil, & molasses, then remove from heat. Set aside.

In a blender, add goat's milk, whey, acerola powder, bifidobacterium infantis, nutritional yeast, cod liver oil, sunflower oil, olive oil, and liver. Pulse until smooth.

Add contents in saucepan to blender and pulse a few times to blend.

Directions to Warm the Bottle:

You can either warm the bottle by placing in a pan of hot water or use a baby bottle warmer. Avoid using a microwave as it destroys the enzymes needed to digest and could heat unevenly which could create hot pockets and burn your baby's mouth.
Recipe Notes
Finding all the Ingredients:
You can visit the Radiant Life Company here to purchase all of your ingredients. Some of them may also be available on Amazon. To find a source of raw goat's milk in your area, check out www.realmilk.com.
Adapted from Weston A. Price Foundation
Frequently Asked Questions

Q. This is a lot of ingredients. How much will this cost compared to formula?
A. Over the first year of life, average store-bought infant formula to feed a baby costs $1,733.75. This goat's milk formula recipe will cost you $897.90 for a year's worth of ingredients plus the cost of raw goat's milk. For this recipe, you would need roughly 4 gallons of goat's milk per month. An average gallon of goat's milk can run from $5 a gallon all the way up to $20 a gallon, depending on the availability in your area.
The final price would depend on the cost of your goat's milk, but even if you paid top dollar for goat's milk, the cost of this homemade goat's milk recipe would be the same, if not MUCH less than the average formula cost.
Q. Can I freeze this goat's milk infant formula?
A. You can make large batches ahead of time and freeze for convenience, but it's recommended to make fresh every day or two.
Q. Can I use liquid B vitamins & folic acid instead of the nutritional yeast and liver?
Currently there is no food based supplement of B vitamins & folic acid that doesn't also contain harmful ingredients, so it's recommended to use nutritional yeast instead, unless your baby cannot tolerate liver or nutritional yeast.
Q. Can I make any other variations to this recipe?
A. That decision is ultimately up to you, but it is recommended that you not deviate far from the recipe, as this recipe contains the proper amount of vitamins, nutrients, & minerals for a growing baby.
More questions?
To connect with other mothers who are using this recipe as an alternative to store bought formula, check out this Yahoo Group here.