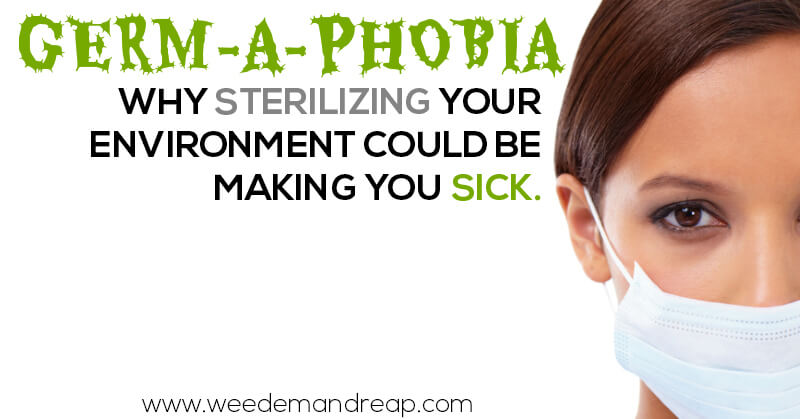 The place was nursing school, in the dreaded Microbiology 205 class. It was me vs. a public restroom.
I was about to test the bacteria count of (what I thought) was the worst, most disgusting filled germ-fested place I knew. A college campus toilet.
I learned a lot of things in that class. Like how to grow stuff in petri dishes. And how to tell the difference between staphylococcus, botulism & listeria. And probably most importantly, that a public restroom wasn't nearly as full of bacteria as….
My cellphone.
*gag*
My husband says I wasn't always germ-a phobic. I don't know, all I remember about Microbiology is that worms…and bacteria…and viruses that I grew in petri dishes — also lived everywhere. In everything. And my life was basically one big germ-fest.
I'm not sure when I got over it. Probably somewhere around the time I got the courage to milk my own goat, strain out the flecks of dirt and occasional hair, and take a big swig.
Yeah, probably sometime around there.
Bacteria breaks down our soil, helps us digest our food, builds a strong immunity —
— and yet we are dousing it daily with anti-bacterial wipes, anti-bacterial cleaners, anti-bacterial hand-goo & internal anti-biotics. In fact, billions and billions of dollars are spent each year on these bacteria-fighting products. What are we so worried about?
A recent study in 2012 showed how early age exposure to germs resulted in better immunity throughout life! The researchers at Brigham and Women's Hospital took two groups of rats — one was raised in a sterile environment since birth, and the other was raised in a "normal" laboratory environment.
What did the find? The rats who were raised in a sterile environment had a weak immune system. The rats who had lived in the normal environment had a awesome immunity. They even noticed that the sterile rats who were exposed to germs in adulthood could still never "catch up" to those healthier germ-raised rats.
"These studies show the critical importance of proper immune conditioning during the earliest periods of life." said Richard
Blumberg, MD, chief for the BWH Division of Gastroenterology, Hepatology and Endoscopy.
It's no wonder that Amish children are nearly immune to asthma & allergies.

The Hygiene Hypothesis theorizes that a lack of early childhood exposure to germs can lead to development of asthma, allergies & autoimmune disorders. Countless studies, including a string of studies performed by the researchers at Immune Tolerance Network, have proved this theory to be true. In their research they found that anti-biotic exposure at a young age contributed to the development of asthma as well as the fact that children exposed to endotoxin-releasing bacteria are less likely to be allergic to animals.
It's called the hygiene hypothesis," says Marc McMorris, M.D., a
pediatruc allergist at the University of Michigan Health System.
"We've developed a cleaner lifestyle, and our bodies no longer
need to fight germs as much as they did in the past. As a result,
the immune system has shifted away from fighting infection to
developing more allergic tendencies.
The bottom line? Children need a NON-sterile environment to produce a life-long robust immune system. That's right folks, that NON-sterile environment will actually HELP them fight infection for the rest of their lives.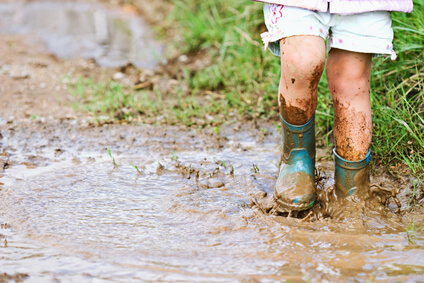 A heaping dose of dirt:
Does this mean we should stop bathing our children and make them take naps in the dirt? No. Well, unless we are camping. But good nutrition that supports healthy gut bacteria and an avoidance of antibiotics & GMOs, healthy activity & a good dose of outside air and exposure to bacteria should do the trick. And please, don't hover around your children with a tub of Purell. In fact, while we're on the subject, let's just toss out the ol' Purell anyway.
Why? When we use anti-bacterial products, were not only preventing our children from developing a great immune system, we are also contributing to the mutation of bacteria and creating superbugs. Superbugs are like GMOs. They are something your body doesn't recognize and are no bueno.
Recently, my children's school was discussing a policy where sick children shouldn't be allowed to attend school. The vote was unanimous in favor of keeping the sick kids home. Me? Personally, I'm like "Bring it on!" Let those sick kids cough and hack around mine. We eat a nourishing diet, we eat gut healing foods — bring on the immune strengthening power of germs! My children rarely (and I mean RARELY) get sick. I attribute this whole-heartily to their nourishing diet including drinking raw milk, being raised on a farm around animals, and being allowed to do unconventional things like swim in the unchlorinated irrigation water, kissing the baby chicks on the head, or bringing Mr. & Mrs. Wiggles and their 17 children (pet worms) to the dinner table.It didn't always used to be this way, we used to get sick all the time. When they were toddlers I was already bleaching the house when word came that my neighbor's family had the pukes. It seemed like every little sickness from play dates was passed around without fail. But I have since learned better.

We need microorganisms, simply because our bodies depend on them. Mycobacterium Vaccae, a bacteria found in soil can increase serotonin levels and improve learning. The gut is full of hundreds of strains of good bacteria, needed for the breakdown and assimilation of nutrients. Remember PRO-biotics? As in yogurt, kefir, & fermented foods as in cheese, lacto-fermented pickles & sauerkraut They are the exact opposite of anti-biotics! PRO-biotics promote a healthy flora in your gut and produce an efficient system on which your body depends.
So what can we do to get away from the gross-ness factor and embrace the germy world in which we live?
Well, for starters we can provide our children with a nourishing diet.
We can stop cloroxing our homes and use natural cleaners instead.
We can hold back a bit before we accept the antibiotics our pediatricians are handing out like candy and try natural methods first.
And we can send our kids out to play in the dirt and not gasp when they eat a handful or two. Or three.