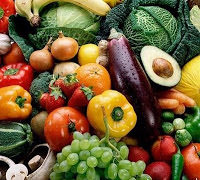 I just had to report that I have been doing great eating healthy. A high raw diet has SO MANY amazing benefits. I see a major difference in my body. Here is my routine..
Right when I wake up I drink a quart of lemon water. To me, warm tastes better than cold because it feels like a "morning tea".
(This detoxes the body, by flushing out all the waste your body has been working on getting rid of at night. At first it's hard to swallow, but you feel SO good afterward and the best part is you get CLEANED OUT. I'm talking about poop people.)
For breakfast, I make a quart of green juice. Organic celery, cucumber, carrots, green apple, spinach, swiss chard. You don't need a juicer. In fact it's better to blend it in your blender and then strain it through a paint strainer bag (Lowe's $2.00) The reason I juice is because you can get a lot more nutrients if you juice by removing the fiber. Also, in the morning, giving yourself green vegetables is the best thing for you, but your digestion isn't quite ready to work on all that fiber yet. I know, we hear EVERYWHERE that we need oatmeal or some other fiber-rich food so we aren't hungry till lunch. But, actually, we want fast digesting foods so we are clean in and out. That's why so many people are gravitating toward raw diets. I get all my protein, minerals and nutrients in my green juice and again, it CLEANS ME OUT. If I'm hungry before lunch I'll eat fruit, but I am usually not. P.S I'll usually add 1 TBS. of Hemp oil to my juice. It provides me with a good 3-6-9 blend of healthy fats.
At lunch I'll eat raw foods. There are SO MANY amazing raw meals to make. I have been enjoying trying new things, and there are some I am stuck on because I love them SO MUCH. Eating raw is SO much more than salads. If you look online, you might get discouraged with complex dishes, but there are amazing simple ones too. My absolute favorite is asian lettuce wraps. Think Cheesecake factory chicken lettuce wraps without the chicken. SO good, that if I'm out on the town I rush home instead of going out to eat because I am so excited to eat my lettuce wraps. Basically it's shredded carrots, shredded purple cabbage, avocado, bean sprouts & cilantro wrapped in lettuce and dipped in this amazing tahini sauce. Tahini is ground sesame seeds and tastes and looks just like peanut butter. The sauce is a mixture of tahini, garlic, ginger, soy sauce & honey. Seriously, love this dish I think I'm salivating right now just thinking of it.
NOTE: I'm still new at this raw 'till dinner thing so I have been taking it easy, eating the same lunch for a week then trying a new thing the next week. I have been kind of loving soups lately too, so I'll have to try some raw soups this week.
If I'm hungry before dinner I'll eat a LaraBar. If you want to eat healthy, seriously go buy a billion larabars. They are all raw, with simple ingredients yet taste amazing. No soy or bran or anything in it. Dates for sweetness and nuts to provide your body with healthy fats. Just pure raw goodness that your body will love you for.
Dinner is something I am always ready for because after eating raw during the day, I am ready for some good cooked grains and such. I just pick something from my vegetarian recipe book and go for it. We have some definite favorites like vegetarian pot pie, salmon patties & couscous, mango quinoa salad, and spelt/oat pancakes with organic butter, bananas & real maple syrup. Tomorrow I'm going to try orange shrimp with fried brown rice.
Dessert THE ABSOLUTE best thing about eating raw is the desserts. I know your thinking fruit, but no way this is way better. I have made cherry chocolate bomb shakes(organic frozen cherries, cocoa powder, ice, honey, goat milk), cheesecake (did you know if you soak cashews in water for an hour then blend with lemon, honey, coconut oil & vanilla you get cheesecake filling? Slap that on a natural graham cracker crust or a date and nut crust and you are good to go!
I have noticed SUCH a change in my body. My tummy is nice and flat (because of the quick-exit foods), I feel satisfied and NOT deprived. I don't eat anything with sugar or white flour. I cannot believe I just said that sentence. It's really nice to not feel addicted to that junk. One quote I loved from a book I read said,
"If it takes a lab to make, it takes a lab to digest and your body will not bother with it. It will recognize it as toxic and store it with all the other toxins, in your comfy FAT CELLS."
I thought after I did the juice feast I would probably gain weight back, but it has been opposite. I keep losing but I feel like I'm eating a TON of food. No more portion control over here, I eat as much as I want. I have noticed a difference in the inflammation and chronic pain in my body. It's easing up and I feel mostly only pain at night when I'm tired and ready for bed. As far as Thanksgiving goes, I am eating turkey and anything that looks good to me including pies with all kinds of junk in it. Because I am eating so well, I feel confident about letting go for one day.
You will not be sorry for eating a raw, plant-based diet. You will be freed from your addiction to food.