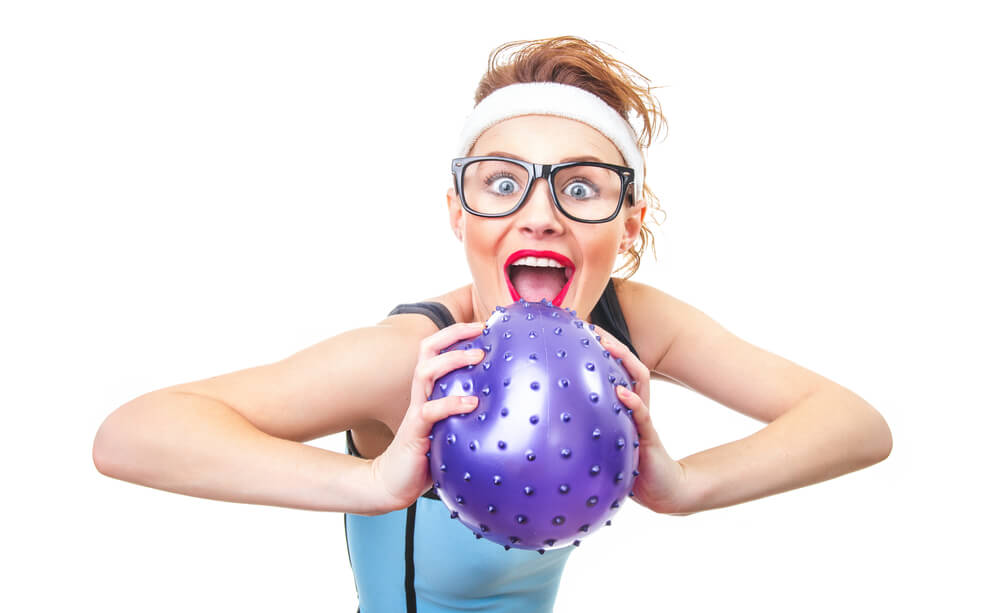 Hey Everyone! I'm so excited to be posting for DaNelle today! My name is Alyssa and I'm a fitness instructor, mama to a 1 year old little girl and a 2 year old overgrown puppy, a football coach's wife and totally a wannabe goat-owner. I'm so jealous of DaNelle! I also blog over at Home Field Fitness.
People who meet me often assume I'm a total athlete.
I'm married to a football coach, I love to run and I work in health and fitness. Well, let me tell you: Most sports are SO not my thing. I LOVE to watch them and I liked doing individual sports like swimming and gymnastics while I was kid,. But if there was a team or a ball involved I was a total wreck.
I HATED P.E.
The personal trainer who hated P.E.?
What? Yeah. I was totally that girl who would try to get "out" in dodgeball so I could stop playing, and I would take advantage of any excuse to leave class. I was the queen of "running errands" for the teacher.
But while I'm totally not good at basketball/volleyball/softball/dodgeball/you name the sport that ends with ball, that doesn't mean I don't like to channel my inner athlete sometimes! It can be really fun to get a little competitive sometimes, and taking some aspects of team sports can be a great way to get an awesome workout! So, even if you are super sucky at sports, these little tips can help you feel like an athlete!
Head to the local track or high school football field. It can be really fun to get a change of scenery when you exercise, and there is something motivating about being on a sports field that makes you want to work a little harder. Even walking or jogging around the track can be really fun! If strength is what you're working on, I've got two really fun workouts to do on a football field HERE and HERE.
Do some planks while you watch sports on TV. This is my favorite. I feel totally lazy just sitting on the couch watching sports all day, so during the commercials – get down on the ground and hold a plank!
Run Suicides. You remember these, right? The dreaded suicides on the basketball court? Well, turns out they are a great workout. Head to a basketball court or makeshift a place in your driveway and spend a few minutes during suicide sprints! After this, you'll be happy that you never excelled at basketball.
Use sports equipment to enhance your workout. Check out an at home workout with all kinds of fun sports equipment (that you likely already have at home!) over on the Home Field Fitness blog today!
Sign up for a 5K! I love so many things about the 5K. A 5K is a 3.1 mile run/walk event that you will find are held in communities all over the country. They typically support a good local cause and are totally family friendly. You can do any combination of running and walking. If you're not into competition or have never liked racing, a 5K is the event for you. They are really, really fun! Who knows? Maybe you'll get a bit by the competitive bug?!