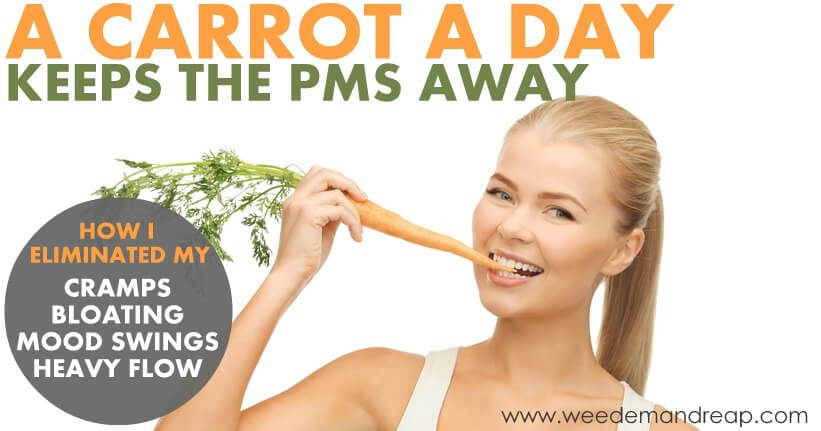 Hold the phone. Stop what you're doing. Pause the TV.
I have found the secret to eliminating those horrible period symptoms for good. Listen up, 'cause I can't to wait to change all of your lives. You can thank me later. Just read on…
I don't know about you, but every time I hear people talking about their heavy periods, all I can think about is…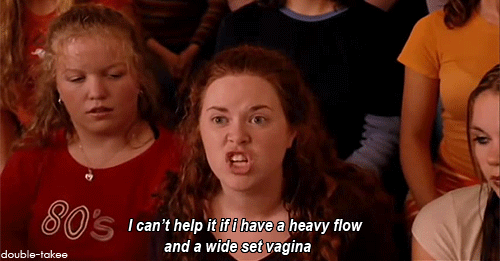 Please tell me you've seen the movie, Mean Girls. Please.
Otherwise you'll think I've gone crazy. Honestly though, I've always been crazy so…no surprise there!!! (wink, wink, nudge, nudge)
I'm telling you that today I'm going to show you how ONE SIMPLE THING can make your PMS-ing days a thing of the past.
What causes all those horrible period symptoms?
Many of those symptoms like cramping, bloating, mood swings, and heavy flow are all related to an imbalance of hormones, more specifically, estrogen dominance:
"This may blow your mind, but periods aren't supposed to be miserable. They aren't supposed to hurt. They aren't supposed to mean a whole day of crying and a gallon of Ben and Jerry's. PMS, cramping, bloating and all the rest of it is the result of imbalanced hormones. If we can manipulate those hormones into balance with diet and lifestyle changes, the unpleasant symptoms will disappear." -Lauren Geersten, Quit PMS
Lauren also writes in her book, Quit PMS, that estrogen dominance can be relieved by diet. Along with moving away from processed food, she also talks about the importance of eating a raw carrot every day.
Raw carrots contain a special fiber that binds to estrogen in the digestive tract and as it works through your digestive tract, it carries the hormone out with it!
In the 1970's, Ray Peat, Ph,D performed research on hormones and nutrition. He found that eating on raw carrot a day helped detox the body and also reduced levels of estrogen within only 3 days! He also noticed that it lowered inflammation and helped thyroid function. Raw carrots contain unique fibers that help the body naturally detox. It binds to unused hormones and toxins. Raw carrots can also lower serotonin and histamine with tells the body it needs less cortisol (the stress hormone).
So, it's as simple as eating one carrot a day?
YEP! That is the only change I made to my diet and I noticed an incredible difference in my period. I actually thought something was wrong with me!
"No cramping, no bloating, no mood swings — was I okay?"
Then I reminded myself, this is how it's SUPPOSED TO BE!
All I'm saying is, thank freaking goodness for raw carrots! I like to buy organic carrots and just chomp away once a day. I also split one and give a half to my kids. I swear it helps with 8 year old my daughter's moodiness.
What if my symptoms are more severe?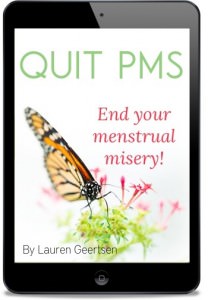 If you suffer from extremely heavy periods, ovarian cysts, or endometriosis, I'd still recommend eating a raw carrot a day, but I'd also recommend reading Lauren's book, Quit PMS. She has an in depth view and plan on how to correctly balance hormones, even for difficult cases.
So, who's ready to take the raw carrot challenge?