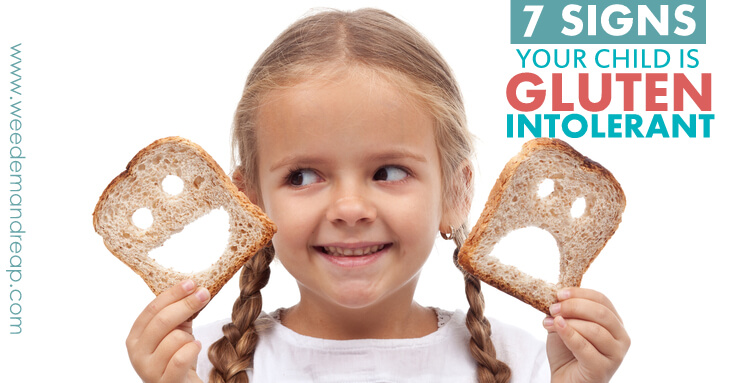 Is your child gluten intolerant?
According to Dr. Fasano, roughly 6% to 7% of the U.S. population may be gluten-sensitive. It's become a growing concern for parents who have children with possible symptoms. I typically don't like to jump to any conclusions when diagnosing my children, so I urge you to do the same. However, I do think it's important to be aware of the symptoms of gluten intolerance in children so as parents, we can help them achieve a healthy lifestyle.
What is Gluten Intolerance anyway?
Gluten is a protein found in grains like oats, barley, wheat and rye. Most people think to avoid gluten they just need to avoid bread, but gluten is often added to processed foods.Over the years, we have been unknowingly ingesting high amounts of gluten. If you are eating packaged foods & processed foods, chances are you are eating too much gluten and as a result, may become more susceptible to developing a gluten intolerance.
What are the 7 signs of gluten intolerance in children?
A gluten intolerance can be mild, moderate, or severe. In children, a gluten intolerance can manifest as severe as a constant complaint, or can be as mild as an underlying symptom that affects your child's mood & general behavior. These 7 signs can help alert you to a possible gluten intolerance…
Eczema
Agitation and mood swings
Unexplained short stature or delayed puberty
Pain in joints
Headaches
Extreme fatigue
Gastrointestinal issues like constipation or diarrhea
Can Gluten Intolerance be Reversed?
Most people can have success with healing their gluten intolerance, and if you are suffering from a gluten intolerance and not allergy, then you have a good chance at being able to eat gluten again. There is a mistaken belief today that if a person is sensitive to a food, then that person must avoid that food until they are no longer sensitive. The sad thing is, simply avoiding that food will not magically make the body heal. It may relieve your symptoms, but the restriction itself doesn't heal the body.
On top of avoiding foods you're sensitive to, you need to make sure that you are doing all you can to heal your gut with homemade probiotics like kefir, yogurt, kombucha, sauerkraut, & other fermented vegetables, and sealing your gut with gelatin, healthy fats, and homemade nutrient-rich bone broth.
How difficult is it to go Gluten-free?
I've only been on a gluten-free diet for a short time when I was in the process of trying out different healing diets, but I've never put my children on a gluten-free diet. We try to focus on eating real food from scratch. This helps us avoid the gluten found in processed and packaged foods. When we do eat foods with gluten, we try to prepare them properly by soaking, sprouting, or sour leavening. This helps change the gluten to transforming to a more 'digestible' form.
If you are struggling with the decision to put your child on a gluten-free diet, I'd suggest first trying to prepare your grains by soaking, sprouting, or sour leavening. If, after a time, you still feel you need to go gluten-free, then you still have the option to do that. No matter what diet you decide, I recommend trying not to strive for perfection. You can burn out pretty fast on a perfect diet, so I think it's okay to step off the wagon occasionally.
Where do I start if I want to put my child on a gluten-free diet?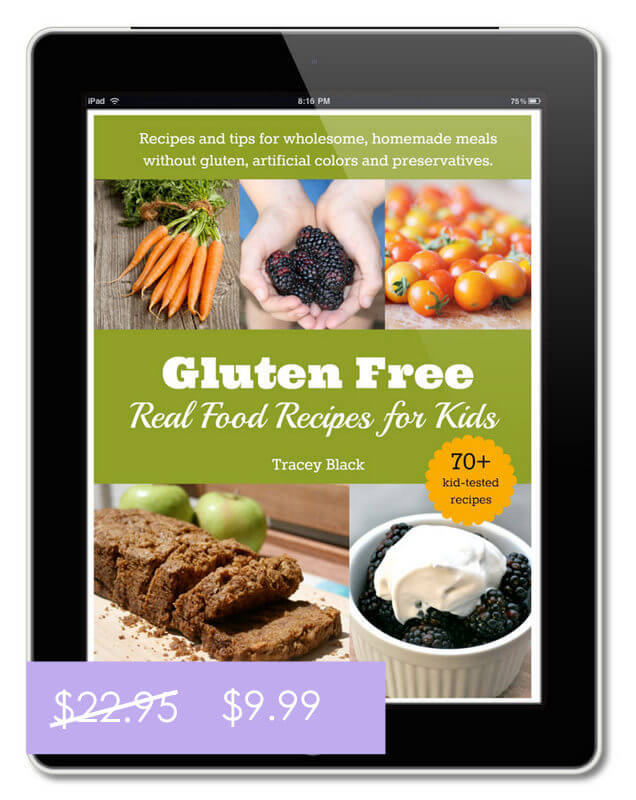 My friend Tracey Black from Real Fit Mama has a book specifically designed to help families provide gluten-free meals for their children. Her book is a great resource for anybody looking to try a gluten-free diet.
This month, Tracey's book, Gluten Free: Real Food Recipes for Kids, is on sale for 56% OFF for the month of March. Just enter the coupon code SPRING at checkout.
Sources:
https://www.healthy-holistic-living.com/?s=signs+symptoms+gluten+intolerance
https://www.yahoo.com/
https://www.mindbodygreen.com/0-7482/10-signs-youre-gluten-intolerant.html