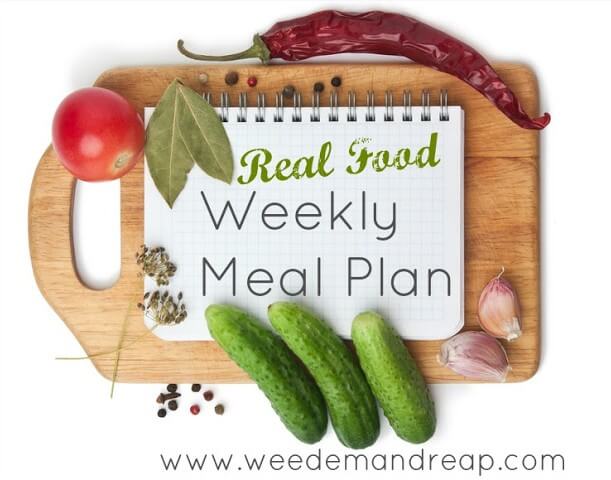 If you're new here, you may want to get caught up on
how I do meal planning
. If you are a die-hard reader bordering on stalker, then let's just get right to it!
I love eating leftovers the next day because I save myself time by turning dinner cleanup into packing the next day's lunches
into my awesome stainless steel lunchboxes
and let's face it, life is just plain easier when you only have to worry about providing a healthy breakfast & dinner! Real food can be easy! Let's begin, shall we?
Sunday
Homemade yogurt sweetened with honey, toast, raw milk.
Fresh garden salad with homemade ranch dressing
Monday
Scrambled eggs, raw milk & toast
LEFTOVERS from Sunday dinner.
Hamburgers with homemade Hamburger Buns & homemade french fries
Tuesday
Oatmeal & almonds (initially soaked overnight in water and 1 TBS. of whey) topped with butter, honey, cinnamon.
LEFTOVERS from Monday dinner.
Lettuce wraps with leftover chicken & pecans, Sweet Potato Chips with Rosemary & Black Pepper,
Wednesday
Fried eggs, toast, fresh fruit with cream
LEFTOVERS from Tuesday dinner.
Nachos made with lard-fried corn tortilla chips, cheese, garden tomatoes, green onions & my homemade salsa.
Thursday
PB & J Yogurt
LEFTOVERS from Wednesday dinner.
Baked Salmon
Friday
Farm Fresh Fritatta
LEFTOVERS from Thursday dinner.
Homemade Pizza Night – here's my fail-proof dough recipe
Saturday
Peanut Butter & Banana Smoothie
LEFTOVERS from Friday dinner.
Out-to-eat