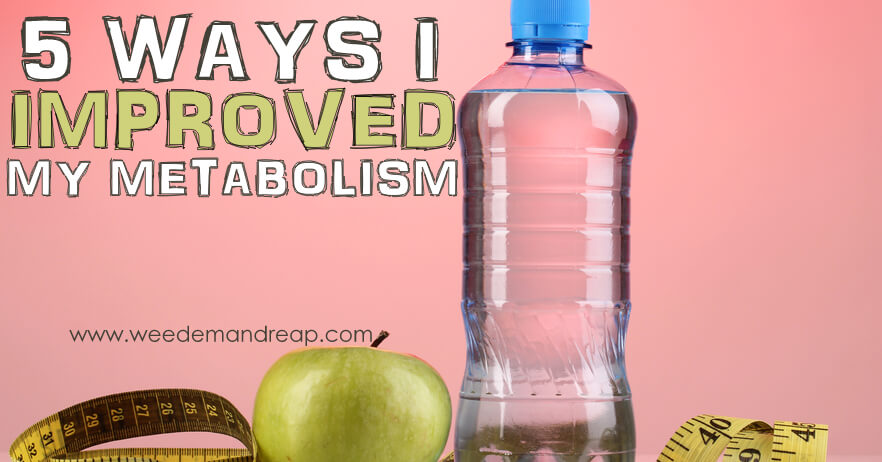 How did I Improve my Metabolism?
If you were here last week, I talked all about how I ruined my metabolism. When I look back at all those things, I realize now that the biggest mistake I made was following "health advice" blindly, not thinking about what it really did to my body.
To just give you a quick refresher: When I say 'metabolism,' I'm referring to the wide variety of functions in the body that convert nutrients into energy at the cellular level. The word metabolism is sort of a vague term. But improving how your body converts nutrients to energy can have a huge impact on multiple levels.
Personally, I've found that I have a MUCH easier time maintaining my weight, sustaining my energy throughout the day, and balancing my hormones with an improved metabolism.
5 Ways I Improved my Metabolism
1. SALT, SALT, SALT
The health world has vilified salt for quite a while. The fear behind it is of gaining excess water weight with the consumption of too much salt. People also worry about salt raising their blood pressure. So why do I go against the thread and eat salt?
Well, for starters, studies have shown that increased levels of sodium actually have a hypertonic effect on the cells. This means the cells don't carry excess water, in fact, they rid themselves of it. The Japanese, who have one of the highest life expectancy rates, consume an average of 4650 milligrams of sodium per day, and they also happen to have one of the lowest rates of cardiovascular disease. (source) Americans, on the other hand, consume an average of 3700 milligrams of sodium per day, and have actually been consuming this amount consistently for the past 50 years. (source)
In my experience, I was craving salt. Odds are, if you have a sustained craving for something (not just a last minute craving), your body needs it. Salt is great at clearing cortisol from the blood, and for this reason, salt helps us deal with stress better and reduce levels of inflammation. So, how much salt do I eat a day? I can't give you an exact amount because I don't measure it, but I am sure to listen to my body and put enough salt on my food until it feels "right" for me.
I take care to purchase unprocessed salt, like this one. I even buy these salt granules and pop one in my mouth when I have a craving or feel particularly stressed or tired. Works like a charm. I make sure to avoid table salt, which is full of anti-caking additives, heavily processed and devoid of trace minerals. I also avoid Dead Sea salt, which has a high amount of bromide. Bromide can bind with T4 thyroid receptors in the blood and create low-thyroid symptoms.
You can read more articles on salt here:
2. BALANCING MY WATER INTAKE
This really goes along with salt. Because water is hypotonic, it has the ability to hydrate us, but it also has the ability to over-hydrate our bodies. A surefire way to do this is to drink water because it is "healthy" and not because you're thirsty. The saying that says "once you're thirsty, you're already dehydrated" is completely false. In fact, the body's thirst mechanism is specifically designed to ask for water exactly when you need it.
People often forget that many different drinks and foods contain a high amount of water already. Kombucha, kefir, yogurt, fruits & vegetables, coffee, tea, broth, juice, and milk all contain more water than you think. It's important to realize that if you are eating a real food diet, you're probably getting a good amount of water through your food. This doesn't mean you should never ever drink water. It just means that you should drink it when you're thirsty. Yes, it's that simple.
I learned in the book Eat for Heat by Matt Stone that our body goes through different needs throughout the day. In the morning, we typically are less thirsty for water, and want more salty foods. Then as the day progresses, we crave more water. I noticed this is the case for me as well. In the mornings, I want a full breakfast (including salt). In the evenings, I typically drink more water as I'm "cooling" down for the night (when we sleep, our body temperature naturally lowers).
When my metabolism was sluggish, it was harder for me to determine what my cravings for water or salt actually were. I think this is due to years of me doing what's "healthy" instead of what's right for my body. Now I feel balanced with my water and salt intake throughout the day.
"How many fluids should you take in daily? That is an unanswerable question with all of the variables that affect our fluid needs at any given time. If you meet anyone who can answer that question for you, run away quickly." – Matt Stone, Diet Recovery
You can read more articles on water intake here:
3. EATING ENOUGH CALORIES/LISTENING TO MY CRAVINGS
Did you know that the ability to skip meals without discomfort is a symptoms of a low metabolism? It's true. Those with a fast metabolism tend to be hungry at meal time ,and there's no waiting for these folks! Children are a good example. They typically have a fast metabolism and well, everybody know that if their child is hungry, then tantrums are about to ensue.
When you don't eat enough calories, it slows down your metabolism in two ways. First, your body goes into starvation mode, so it will slow down your functions including your calorie-burning capacity in order to "survive." Second, your body will eventually become ravenous. Just before bed, your body will want to go on a binge so your body can hang on to the food through the night in preparation for another day of "starving."
If you body is good at converting your nutrients into energy, then you'll be hungry around the same time everyday. If you can wait until noon to eat breakfast, that isn't something to be proud of. I used to be the same way. I would eat a very small breakfast, then eat lunch at 2 or 3pm, and by dinner I wasn't even hungry. But by 9pm, I was ravenous. Oddly enough, this was the time when I weighed the most. Now, I eat a lot more than you'd think and I eat a lot of food!
I absolutely do not count calories or exercise portion control. I eat real food, and I eat as much of it as I want.
"Cutting carbs, fats, or calories (dieting) is like trying to hold your breath. The longer you do it, the more your body resists it until you finally gasp for air – taking in more than ever to overcome the short-term deficit you induced." – Matt Stone, Diet Recovery
4. INCREASING MY SATURATED FAT INTAKE
Up until about 100 years ago, saturated fat was a welcome addition to the human diet. Before any of you claim that people back then died in their 40s, read my article on how long your ancestors lived while eating bacon, lard, and whole milk. It'll change the way you think about your ancestors.
So, why have we been told that saturated fat is bad for us? It started with a theory by a scientist named Ancel Keys. He conducted a study of 22 countries and determined that a diet high in saturated fat was linked to heart disease. The problem is, Ancel made his conclusions based on only 6 of the 22 studies. When we really look at ALL 22 countries, we find that those who consumed the highest amount of saturated fat actually had the lowest rates of heart disease. Ancel Keys later admitted that "saturated fat had no effect on blood cholesterol levels." (source)
Now, we have come to realize that the main detriment to our society has been the invention of processed trans fats. Hydrogenated fats like margarine and Crisco are more harmful than the traditional saturated fat ever was.
The human body needs fat to support a healthy functioning brain. This is why breast milk is 54% saturated fat. We NEED it! Saturated fats from plant & animal sources help the body in various functions. Your liver, heart, lungs, bones, immune system, and hormones all need saturated fats to function correctly. Traditional societies knew this and took care to include saturated fat in their diets. Not many traditional societies exist today, but the ones that do such as the Maasai tribe in Kenya/Tanzania, Inuit Eskimos in the Arctic, the Rendille tribe in northeast Kenya, and the Tokealu people in the New Zealand Atoll islands all eat a diet of 60-70% saturated fat and all have a very low incidence of heart disease. (source)
I prefer to eat saturated fat in the form of butter, lard, tallow, and coconut oil. I also include raw milk and cheese in my diet, as well as eat whole meat that includes the fat on the cuts. Coconut oil is especially helpful for a low metabolism because it has a special fatty acid called lauric acid, which can help raise cell membrane function and increase your metabolic rate.
5. IMPROVING MY SLEEPING HABITS
Did you know that our bodies can withstand years of poor nutrition, but if we go more than 11 days without sleep, we will DIE? It's true. People who have tried to set a world record for longer than 11 days have actually died! Sleep deprivation is so damaging to the body that it is used in war as a form of torture! Isn't it amazing that we spend so much time analyzing our diets, yet we forget about the quality and quantity of our sleep?
I am guilty of this. I like to stay up late, but what staying up late does is alert our stress hormones cortisol and adrenaline to kick in. In the short-term, this is fine. But over a long period, the human body doesn't do well with high levels of stress hormones in the blood.
Fortunately, for me, I wasn't suffering from insomnia. I had just developed some bad habits. After I incorporated some healthy sleeping habits, (8-9 hours a night and using a healthy and supportive mattress), I found that my metabolism recovered.
If you suffer from insomnia, I highly recommend this sleep book.
So, how's your metabolism? Have you noticed that certain changes have helped improve your metabolic function?