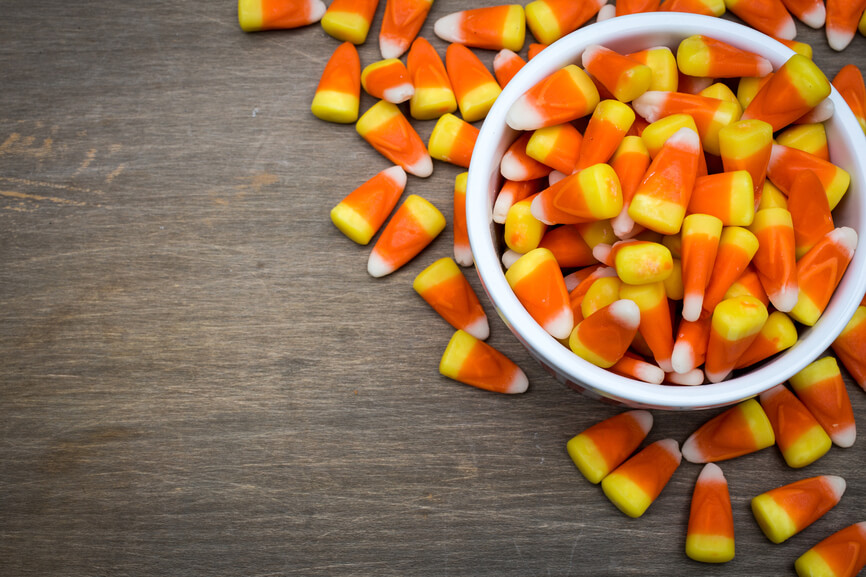 Type 1 Diabetes in children is often mistaken as being caused by high sugar in the diet. Type 1 Diabetes in children isn't caused by a high amount of sugar in the diet. However, Type 2 Diabetes is another story. Fifteen years ago, Type 2 diabetes in children was almost unheard of. So was childhood obesity. A 2007 study in the Journal of the American Medical Association estimated that there are about 3,700 new cases of Type 2 diabetes a year among youth in the United States. (source) I'm not saying that Halloween candy will necessarily give your child Type 2 Diabetes, but my purpose here is to encourage others to seek out better food choices for their children when possible.

Using the word "Diabeetus" is not meant to make fun of the disease, but rather, make fun at those who mispronounce the word. My grandmother often uses the word and we always chuckle at the "old-fashioned" pronouncement. I don't think Diabetes is a funny disease in any way.
Oh Halloween!
That magical time of the year when blood and gore is adorable and children beg, door to door, for nutritionally craptastic candy. Aren't you just getting the warm fuzzies thinking about it?
No? I didn't think so.
If this is your first Halloween since switching to a real food lifestyle, I know what you're thinking…
"Since I am obviously the living embodiment of eating real food, how can I pass out poison (AKA, cheap candy) to the sweet, innocent children of my neighborhood?"
And you're right. As much as I love to live the 80/20 rule, I don't think that we need to encourage high-fructose corn syrup, GMO-laden binge-eating come Halloween time. Don't get me wrong, that craptastic candy tastes addicting-ly good, but there are some other great options too, and by golly, I'm gonna share some of them with you!
Some of these options are real food sweets, some of them are fun little gadgets, and some are just plain weird. (Because I just wouldn't be me if I didn't throw a bit of weirdness into the mix). Just so we're clear, I'm not going to suggest giving away toothbrushes or a pencils. 'Cause that's just plain child abuse, am I right?
Okay, let's get crackin'.
1. Bulk Bag of Organic Lollipops Organic lollipops in bulk. Need I say more?

2. Glow in the Dark Vampire Fangs Because you haven't lived until your child wakes you up in the middle of the night with these in his mouth.
3. Glow Stick Bracelets Hint: these make great glow-in-the-dark bath time fun! And you can let your kids use them in the bath too.
4. Glow in the Dark Sticky Eyes What IS it with kids and sticky toys? My kids go nuts over all things sticky.
5. Fake Mustaches 'Cause it's funny. Especially when you put one on the family dog. Or the family goat.
6. Creep Martian Fingers Just like those creepy witch fingers, only martian. Which is scarier. Because martians are real. At least that's what my 10 year old keeps telling me.
7. Animal Noses To wear all the time, of course. Ya' know, because people don't think we're weird enough yet.
8. Fruit Leather Great candy trade-in (see below) if you don't want to buy for the whole neighborhood.
9. Justin's Peanut Butter Cups I'm tellin' you, we love this candy. I'm not planning on buying for the whole neighborhood, but I DO plan on having some at home for a candy trade-in.
10. The Mountain Three Wolf Moon Short Sleeve Tee Okay, okay. So, I know you can't buy these for your whole neighborhood, but you could buy for your kids as a candy trade-in. I mean, imagine the rockstar status your kids would obtain by wearing these to school. P.S. Read the Amazon reviews on this one for a good laugh!
The Parent Candy Trade-In Operation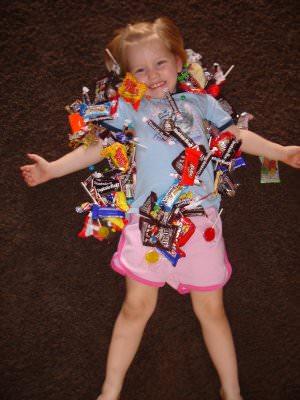 This is a great idea if you want to lessen the amount of sugar-coma inducing candy this year. My kids LOVE doing trades and bartering, and I'm guessing your kids would love it too. Those sneaky little bargainers. After all the trick-or-treating is over, and our kids dump their spoils in a huge heap on the living room floor, we do trade-ins. They get to trade their junk in for other fun stuff. So, it's a WIN-WIN for everybody!
This year, avoid turning Halloween into a week long sugar binge, and trade that craptastic candy for better choices instead!
*UPDATE: This post was shared on a board for parents of Type 1 Diabetes. Many comments were posted on this blog post and many emails were sent to me by angry parents. I originally wrote this post with the thought of "Type 2" diabetes in my head, a disease that can often be developed after a poor diet. I made the mistake of thinking that others would assume I was referring to "Type 2" as well. I even consulted a friend of mine with Type 1 Diabetes before writing this blog post, and she assured me it wasn't offensive. The rude, hateful comments below are disappointing to me, and I want all those who left rude comments to know that encouraging change through bullying is not an effective method. We're all on the same side here in trying to provide the best diet for our children, and there's no need to be hateful, especially in a world with already so much hate. I have since added the words, "Type 2" to the title. If you are still not happy with this blog post, I encourage you to find another blog that suits your needs.